Learn the Stories Behind Notable Careers in Neuroscience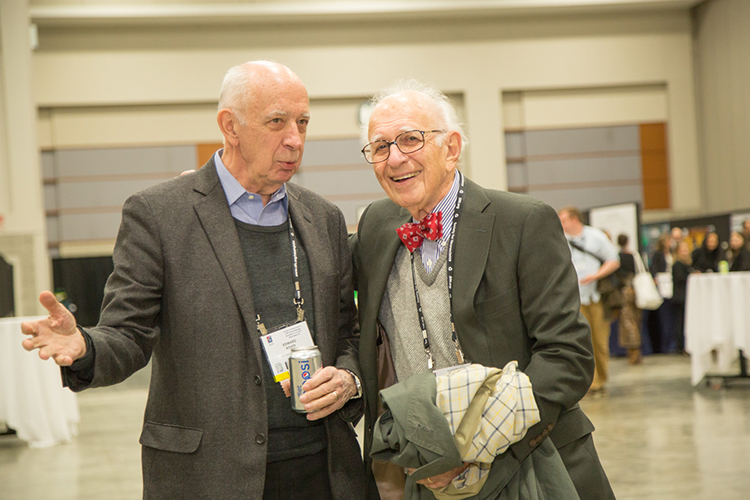 Eric Kandel (right) is one of 12 esteemed neuroscientists featured in Volume 9 of
The History of Neuroscience in Autobiography
.
When famed neuroscientist Eric Kandel was just a young boy, he lived for a year under Nazi rule in Vienna, Austria, experiencing firsthand the humiliating anti-Semitism that had taken over his hometown before escaping to the United States in April of 1939.
"I cannot help but think that the experiences of my last year in Vienna helped to determine my later interests in mind, in how people behave, the unpredictability of motivation, and the persistence of memory," Kandel writes in the newly released Volume 9 of The History of Neuroscience in Autobiography. Kandel is a past president of SfN and a recipient of the Nobel Prize.
Kandel's story is just one of many compelling narratives in this collection of short memoirs, published by SfN, that details the personal lives and careers of some of the field's most notable neuroscientists. For the past 20 years, Larry Squire, the book's founding editor and a past president of SfN (1993-94), has collected these stories, compiling a series of 130 chapters.
"These are stories that one can find nowhere else," Squire said. "They tell of the many unlikely beginnings that have led to prominent careers in science and, in that sense, can provide information and even inspiration to young scientists."
Volume 9 contains 12 chapters, each a short narrative in the author's own style and voice telling their story from early childhood, through their career, and sometimes into retirement, and how their experiences shaped them as a scientist. Every story in the series is different, though many tell of surviving war, of humble beginnings, or of struggling with learning disabilities. But all describe the discovery of the love of science.
After reading these narratives over the years, Tom Albright, director of the Vision Center Laboratory at the Salk Institute, joined the effort as co-editor for Volume 9. "For a fast-growing field such as neuroscience, it's always important to have a historical record of what has transpired," Albright said. "There are lessons in there on how to do this right — how to succeed. But they are also just really engaging stories of personal lives that are worth reading."
Explore these individual stories by downloading free PDFs from SfN.org or purchase the full series in the SfN store.