Register for Neuroscience 2016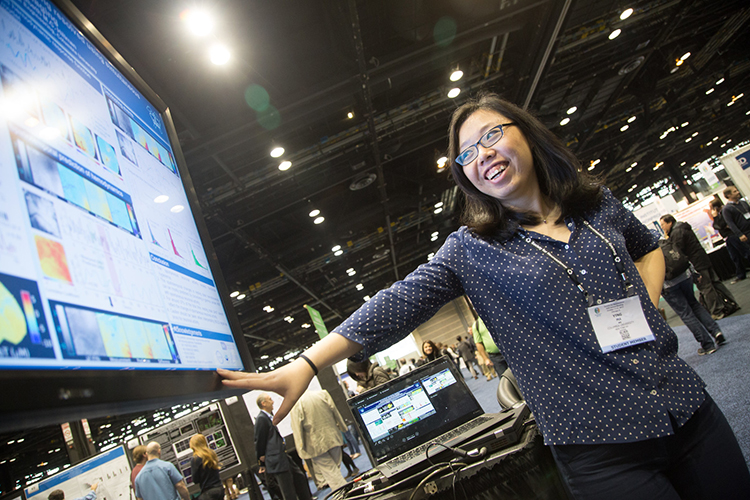 Register for Neuroscience 2016 today to join more than 30,000 researchers, clinicians, and science advocates from nearly 80 countries as they come together to share exciting developments in neuroscience. SfN's 46th annual meeting will take place November 12-16 in San Diego.
"Neuroscience 2016 is an incredible opportunity for neuroscientists from across the globe to collaborate and join forces to propel research forward," SfN President Hollis Cline said. "Each year SfN's annual meeting acts as the premier venue for showcasing innovation across the breadth of the neuroscience field."
Access the meeting's Preliminary Program now to review the assortment of sessions, lectures, workshops, and other events as well as registration and hotel information. Neuroscience 2016 has many elements that make it a dynamic meeting:
Dialogues Between Neuroscience and Society
"Global Mental Health and Neuroscience: Challenges and Opportunities" — Shekhar Saxena, director of the Department of Mental Health and Substance Abuse at the World Health Organization, will discuss the great potential for neuroscience advances to benefit global mental health. He will give a background of the current state of global mental health and then focus on how a closer collaboration between the mental health field and neuroscience could enhance knowledge and improve population health.
Featured Lectures
Albert and Ellen Grass Lecture: "Natural Products as Probes of the Pain Pathway: From Physiology to Atomic Structure"

— David J. Julius of the University of California, San Francisco, will focus on the study of somatosensation, nociception, and pain as related to the revolution of the application of molecular genetic, biochemical, and biophysical methods.
David Kopf Lecture on Neuroethics: "Reforming Forensic Science: Some Insights From Research on Vision and Memory"

—

Thomas D. Albright of the Salk Institute for Biological Studies will discuss a number of significant weaknesses in forensic science that have contributed to wrongful convictions and threatened public confidence in the criminal justice system. He will then focus on how advances in understanding of brain systems for visual sensation, perception, and memory can help shape forensic reform.
Peter and Patricia Gruber Lecture: "Random Walk in Neurobiology"

—

Mu-ming Poo of the University of California-Berkeley and the Institute of Neuroscience at the Chinese Academy of Sciences will explore interesting problems in cellular neurobiology, including neuronal polarization, axon guidance, synaptogenesis, and synaptic plasticity.
Fred Kavli History of Neuroscience Lecture: "Sixty Years of Research on Neurotransmitter Release in the Light of Recent Results from the Calyx of Held Synapse"

— Erwin Neher of the Max Planck Institute for Biophysical Chemistry will discuss the foundation for our current understanding of neurotransmitter release and its short-term plasticity and how this is still a useful framework on which to build.
Curated Itineraries
SfN's curated itineraries, available for download on the Neuroscience Meeting Planner and the mobile app, identify topics of interest and pull together a list of relevant sessions and events. This year's tentative topics include:
Adolescence
Brain and spinal cord injury
Clocks and sleep
Connectomics
Decision-making
Molecular mechanisms of pain
Molecular neuropharmacology

Neurodegeneration
Neurodevelopment and disease
Neuroimmunology
Neuroscience of drug addiction
Optical methods
Stress and cognition
Synapses
Adolescence

Brain and spinal cord injury

Clocks and sleep

Connectomics

Decision-making

Molecular mechanisms of pain

Molecular neuropharmacology

Neurodegeneration

Neurodevelopment and disease

Neuroimmunology

Neuroscience of drug addiction

Optical methods

Stress and cognition

Synapses
Check out our previous Neuroscience Quarterly article on Neuroscience 2016's Presidential Special Lectures and new sessions for clinician-scientists, and visit the annual meeting page to stay up to date on the latest developments and to sign up for Neuroscience 2016 e-Alerts. See you in San Diego!