Take Action to Inform Lawmakers About Research Funding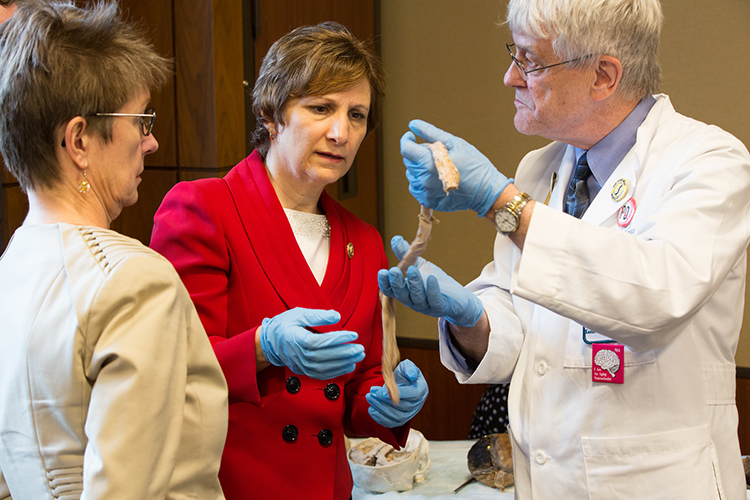 U.S. Rep. Suzanne Bonamici (D-OR) examines part of a spinal cord while participating in a Capitol Hill event on research funding.
With all eyes on the U.S. presidential election this summer, it's easy to forget that the business of running the government continues. As in every year, the U.S. Congress must pass the 12 appropriations bills necessary to keep the government functioning as well as respond to the crises of the moment, such as this year's emergency funding bill focused on the Zika virus.
The Society for Neuroscience and its coalition partners seek to build support for research funding by educating lawmakers on the importance of basic biomedical research. SfN and its members participate in a variety of Capitol Hill briefings and meetings that convey the necessity of basic research for finding treatments and cures for devastating brain diseases and disorders.
SfN partners such as the American Brain Coalition and the Coalition for the Life Sciences often hold briefings on hot topics that are either making news or relate to bills moving in Congress. This spring, SfN members Huda Akil of the University of Michigan, Edward Bilsky of the University of Maine, Helen Mayberg of Emory University, and others spoke at briefings put on by the Congressional Neuroscience Caucus, American Association for the Advancement of Science, and the American College of Neuropsychopharmacology on a variety of topics including mental health, the Zika virus, and the opioid abuse epidemic. Lawmakers considered emergency funding bills for Zika and the House passed two billed aimed at reducing abuse of opioids.
Although Congress is unlikely to pass a standalone NIH funding bill before the end of the fiscal year, SfN continues to strongly advocate for robust NIH funding. The Senate Appropriations Committee passed a funding bill with $34 billion dollars for NIH, a $2 billion increase over FY2016 levels and a big boost for the BRAIN Initiative. In announcing the bill, Senate Appropriations Chair Barbara Mikulski (D-MD) said, "Every day, the NIH is meeting compelling human need developing new treatments and cures. It truly is the National Institutes of Hope." SfN and its partners are currently pushing for the full Senate to take up and vote on the bill.
Get Involved
You too can take action year-round to ensure elected officials are informed about issues important to the field and your work.
Make your voice heard by:
Join SfN's advocacy network to learn about opportunities to educate elected officials, new and returning members of Congress, and the next president.
International Collaboration
In July, the Federation of European Neuroscience Societies (FENS) held its biennial Forum in Copenhagen, Denmark, where participants from all over the world, including SfN, came together to talk about pressing issues in neuroscience, including advocacy. At the Forum, leadership from FENS, the International Brain Research Organization (IBRO), and SfN discussed how to maintain the necessary connections to ensure worldwide, coordinated advocacy on topics of importance to neuroscience and neuroscientists.
Also on the international stage, IBRO leads a Global Advocacy Initiative, a collaborative effort by several large neuroscience organizations, including SfN and FENS, in support of advocacy programs across all the world's regions. A Global Advocacy Committee aims to build support among key policymakers and other opinion leaders worldwide for increased resources for research and public education concerning the brain and the nervous system.
As part of this initiative, SfN contributed financial support for IBRO's first Global Advocacy Seed Grants. Awarded to local societies and organizations worldwide, the grants support events and activities that address neuroscience advocacy in culturally and politically specific ways. Examples of supported events include public lectures, brain awareness fairs, conferences, educational symposia for policymakers, educators and the public, and videos or multimedia products to increase awareness of neuroscience. Applications for the second round of Global Advocacy Seed Grants are under consideration, and IBRO expects to announce the grant recipients later this fall.
The Society for Neuroscience will continue to collaborate on the international stage to build on the momentum created through the Global Advocacy Initiative and related programs.