Advancing Scientific Exchange
The Society for Neuroscience is recognized as a respected organization through which neuroscientists can share their research with the field. Through SfN's annual meeting and scientific journals, JNeurosci and eNeuro, the Society provides high-quality, global venues that promote great science and allow neuroscientists to come together to advance the field. This section of the annual report first highlights the successes of Neuroscience 2016 and later describes how SfN's journals are shaping the field.
Neuroscience 2016: A Venue for International Collaboration
Despite the scientific, funding, and political challenges facing neuroscientists and the science community as a whole, Neuroscience 2016 reaffirmed SfN's commitment to the free exchange of ideas and global collaboration in science.
SfN's annual meeting continues to support these core ideals, as evidenced by the 30,303 attendees at Neuroscience 2016, more than 9,500 of whom came from outside the U.S., representing 76 countries. Recognizing the immense value of face-to-face time with their colleagues from around the world, these neuroscientists traveled to San Diego to exchange knowledge on the most recent discoveries in the field.
In convening this global neuroscience community, SfN's annual meeting exemplifies the benefits of international collaboration, connecting both individual scientists and scientific communities in order to inspire and create opportunities for future research.
The increasingly interdisciplinary and global nature of neuroscience is reflected in the research, the programs, and the attendees at SfN's meeting each year. Scientists from across the neuroscience field can be found walking the poster floor, browsing the Exhibit Hall, and chatting in the corridors of the convention center. As the meeting continues to grow, it evolves to meet the needs of SfN's members and the field.
REORGANIZED MEETING THEMES AND TOPICS
A significant reorganization of the annual meeting themes and topics took effect for Neuroscience 2016, with a goal of more equally distributing abstracts across the themes to reflect the scientific breadth of the field. SfN's Program Committee recognized that in recent years' meetings, more presentations gravitated toward disease-related themes, and committee members set out to address this imbalance.
With this reorganization, the Program Committee also strove to provide opportunities on the poster floor and in session rooms to encourage collaboration among scientists working in related areas. For example, scientists who study basic developmental neurobiology and neurodevelopmental disorders now have their abstracts under the same theme, "Development," while a new theme, "Motivation and Emotion," integrates research on mechanisms of motivational behavior with work on mechanisms of drug addiction. Overall, this reorganization of themes and topics is intended to achieve greater balance and better integration between basic science and disease-related sessions.
"I love going to SfN's annual meeting because it gives you a bird's eye view of the field… so that when you fly home to your nest you're inspired to work on the most exciting research." — Elise Piazza, Postdoctoral Fellow at the Princeton Neuroscience Institute
NEW CLINICALLY ORIENTED OFFERINGS
In order to enhance the value of the meeting for clinician-scientists at all levels, SfN debuted new sessions at Neuroscience 2016 geared toward students in MD/PhD and PhD programs who are involved in diseaseoriented research: Basic-Translational-Clinical Roundtables and a Meet-the-Clinician-Expert session. The roundtables aimed to integrate basic, translational, and clinical aspects of a disease or disorder, with particular emphasis on new developments, controversies, or updates. In addition, continuing medical education (CME) credits were available for these well-attended sessions.
The Meet-the-Clinician-Expert session, designed to be an informal exchange between a clinician-researcher and trainees, focused more on professional development, with the expert describing his or her research techniques and accomplishments. This informal, personal setting gave attendees a behind-the-scenes look at the expert's work and a real-world glimpse of the career trajectory of a prominent, clinically oriented neuroscientist, with plenty of opportunity for dialogue and exchange with attendees.
"I really enjoyed not only meeting new neuroscientists and talking about science in general but also knowing that when I leave this conference, I'll have a really good opportunity to continue to have these interactions and to be a part of something bigger." — Lorraine Horwitz, Graduate Student at the University of Michigan
TECHNOLOGY ENHANCING THE MEETING EXPERIENCE
For attendees at the world's largest meeting about brain science and health, prioritizing events and organizing schedules can be an overwhelming experience, especially for those attending for the first time. SfN launched a new-and-improved Neuroscience Meeting Planner, or NMP, to help attendees leverage the wealth of events at their fingertips.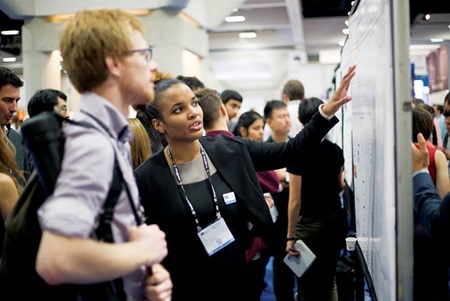 The new platform includes an updated interface and improved search functionality, with a "recommendations" feature that suggests related sessions for users based on what they have added to their itineraries. In addition, the NMP divides professional development workshops into different tracks for attendees to easily identify sessions of interest. Last year's tracks were career paths on and off the bench, career skills, funding, and teaching neuroscience. The NMP syncs with the annual meeting mobile app, helping attendees to create and manage their schedules on the go.
Curated itineraries, a part of the NMP, proved to be a popular feature among attendees again in 2016. Designed to help attendees focus on specific areas of research (selected by the Program Committee) and navigate sessions related to these topics, the itineraries include relevant posters, symposia, lectures, and social networking events.
A SOURCE FOR NEUROSCIENCE NEWS
In addition to connecting scientists with the latest neuroscience discoveries, the annual meeting serves as a major source of neuroscience news for the media. Attracting 234 journalists and public information officers, Neuroscience 2016 generated more than 350 original stories, including coverage in NPR, The New York Times, The Huffington Post, and The Guardian as well as in respected scientific publications including Nature, Scientific American, and Science magazine. SfN's nine press conferences and Hot Topics book helped to generate this global media interest in the exciting discoveries from the field.
SfN Journals: Facilitating and Accelerating Discovery
In alignment with its mission to advance the understanding of the brain and nervous system, SfN provides scientists with two highly respected, peer-reviewed journals in which they can report their work to the field.
JNeurosci and eNeuro support this mission with their own unique strengths and approaches, which are continually evolving to meet the publishing needs of today's neuroscientists while also striving to improve authors' experience from submission to publication. Both journals have devised and implemented new policies and initiatives to accomplish these goals.
JNEUROSCI CONTINUES TO BUILD ON A STRONG FOUNDATION
SfN's flagship scientific publication, JNeurosci, maintained one of the highest impact factors among core neuroscience journals, according to a recent study analyzing trends in the literature from 2006 to 2015. Editor-in-Chief Marina Picciotto and the JNeurosci Editorial Board are dedicated to evaluating and employing new opportunities in order for the journal to maintain its reputation as a home for high-quality science.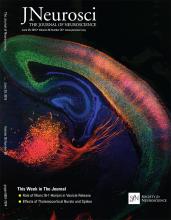 "I believe that we all want JNeurosci to continue as a leader in neuroscience publishing and remain a place we want to send our strongest work," Picciotto wrote in her first editorial. She acknowledged that this would require "new approaches, some of which might fail, and [finding] new ways to represent data, facilitate peer review, and evaluate the strongest science."
To that end, JNeurosci has recently implemented numerous new features and policies. In October 2016, the journal upgraded its web platform, combining an improved reading experience with the capability for rapid publication and hosting extended datasets. Papers are now published online ahead of print about two weeks after acceptance.
JNeurosci holds the research it publishes to the highest standards of scientific rigor and requires full reporting and review of statistical analysis used in experiments. To further demonstrate the journal's commitment to reproducibility in science, JNeurosci updated its statistical reporting guidelines in March 2017 to ensure consistency in this reporting. The journal now requires a description of "Experimental Design and Statistical Analysis" at the end of the Materials and Methods section in every paper.
JNeurosci also introduced two new types of feature articles designed to facilitate discussion around controversial findings in neuroscience and explore how initial findings have been advanced since publication. In "Progressions" articles, authors reflect on their seminal research published in JNeurosci, including the identification of the fusiform face area in 1997. With "Dual Perspectives," the journal provides a forum for authors to share their scientific interpretation — sometimes opposing, sometimes complementary — of a particular issue in neuroscience, such as whether sleep is more about remembering or forgetting.
Finally, the submission fee is now waived for manuscripts whose first and last authors are members of SfN, in recognition of the tremendous support they provide to the Society.
eNEURO ESTABLISHES ITSELF AS A LEADING OPEN-ACCESS NEUROSCIENCE JOURNAL
eNeuro, the Society's online-only open-access journal covering all areas of neuroscience, has experienced tremendous growth in just over two and a half years. Submissions to the journal more than doubled from 2015 to 2016, as has traffic to its website. The wider public is also taking note of research from eNeuro; a paper published in January reporting evidence of brain plasticity in adolescent roundworms that might parallel indecisiveness in human teenagers was the subject of an interview on Public Radio International's Science Friday.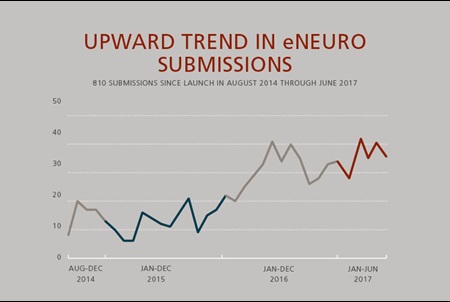 eNeuro is committed to the rapid dissemination of strong science and has already published more than 400 papers. The journal is able to quickly publish a large volume of high-quality research thanks, in part, to its constructive approach to peer review. Rather than rejecting outright papers that do not meet its high standards, eNeuro provides authors with a detailed explanation of what their paper needs to become suitable for publication. "For the first time, I felt like the editor was actually my advocate and was trying to help us get it published," said author William Stacey, an associate professor of neurology and biomedical engineering at the University of Michigan. "It was a shockingly pleasant experience."
eNeuro also strives to be an educational resource for the scientific community. Editor-in-Chief Christophe Bernard believes many of the problems with the peer-review process stem from the fact that most scientists are not explicitly taught how to review a manuscript. eNeuro addresses the lack of peer-review training by organizing webinars that teach this important skill. The first two webinars in the "Tricks of the Trade" series provided an overview of how to peer review a manuscript and how to review a modeling paper.
Bernard says that evaluating the work of others is a skill and time commitment that should be recognized, noting in an editorial, "Yes, I am a scientist, but I am a reviewer too, and proud of it." eNeuro enables researchers to take credit for the papers they have reviewed by documenting them in their ORCID profile (this also applies to JNeurosci).
eNeuro is advancing neuroscience by providing authors with an innovative venue for reporting their findings — whether they are new, confirmatory, or negative — to the field and to the public. Check out a new video on eNeuro.org to learn more about what authors and reviewing editors love about eNeuro.
To keep up with the latest neuroscience research and updates from SfN Journals, follow @SfNJournals on Twitter, like SfN on Facebook, and sign up for JNeurosci and eNeuro alerts.