Resolve to Continue Advocacy Successes in 2016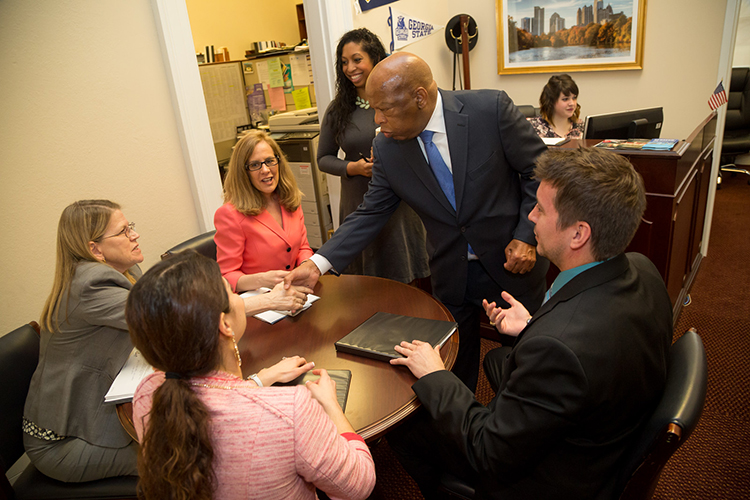 SfN Early Career Policy Ambassadors meet with Congressman John Lewis at Hill Day.
Advocating for public support of neuroscience research is a key pillar of SfN's mission. In late 2015, NIH received the largest increase in its funding in more than a decade, and much of that success is attributable to the thousands of SfN members and other partners in the scientific community who made their voices heard. SfN encourages members around the globe to get involved in advocating to their governments for neuroscience research, and provides tools and resources to get started.
SfN's activities last year have set the bar for 2016, and we ask that you take advantage of opportunities to make your voice heard:
Federal Budget in the United States
The research community benefited from the addition of $2 billion to the NIH budget for the current fiscal year, including increased funding for the BRAIN Initiative. SfN members, participating in long-term advocacy efforts, sent thousands of messages supporting these increases, promoting the importance of funding biomedical research, and flooding the inboxes of Congressional leaders. Thank you!
While we celebrate this success, we cannot relax our efforts as we approach the FY 2016 budget cycle beginning in February. The call to support biomedical research will continue, and SfN members' voices will need to be heard reminding our elected leaders that increases in 2015 are the foundation for the cures of tomorrow. Look for a springtime action alert on how to contact your elected officials.
SfN on Capitol Hill
Last March, SfN members conducted 81 meetings with members of Congress on Hill Day to communicate the importance of basic research. SfN Past President Steven Hyman also testified before Congress that day highlighting the need for robust funding of neuroscience research.
This year, consider joining SfN in Washington, DC, for Hill Day on March 17 or advocating from home to continue the call for funding. A strong presence will be important to show lawmakers the face of biomedical research. Participant information is on the advocacy page at SfN.org.
21st Century Cures Legislation
In July, the House passed the 21st Century Cures legislation, which could add billions of dollars to the annual NIH budget if signed into law. SfN members sent thousands messages to Capitol Hill urging support.
In 2016, the Senate will consider 21st Century Cures and formulate a bill that could provide much needed research resources, including for younger investigators and high-risk, high-reward science. Look for a future action alert will that tell you how you can contact your senators to ask them to support science and research.
Advocating on Your Behalf
Throughout 2016, SfN will keep legislators aware of advances in neuroscience by regularly highlighting the importance of basic research. For example, this spring SfN President Hollis Cline will submit testimony to House and Senate committees highlighting the work of all SfN members and telling Congress why its support is needed. Your voice, added to the chorus of members echoing her messages, will allow Cline's testimony to be heard more clearly in Congress.
As a member, your experiences form the bedrock of SfN's advocacy activities. Only you can fully tell the story of discovery and progress that moves policy forward. With consistent action and activity, SfN and its members can work together and build on this success into 2016. Click here to learn more about the programs SfN offers and here for a list of SfN's current action alerts. If you live outside the United States, see our global advocacy page for information about SfN partner organizations around the world that promote science funding in culturally relevant ways to local policymakers.