New Schedule to Maximize Virtual, In-Person Engagement at Neuroscience 2021
Alternating block scheduling respects digital environment, worldwide audience
The world's largest neuroscience meeting is back. Neuroscience 2021 features a new hybrid format with both virtual and in-person experiences. The virtual experience will include live virtual symposia panel discussions, and virtual poster session discussion groups, all designed to maximize the accessibility of the meeting's expansive program. Poster and symposia presentation videos can be viewed on demand beginning November 3, 2021, with the live, scheduled virtual program held November 8–11. The meeting shifts to an in-person experience November 13–16. Abstracts for Neuroscience 2021 can be submitted July 6–15.
Meeting attendees can expect to see the diversity and depth of neuroscience enjoyed at past SfN annual meetings. Neuroscience 2021 will host over 80 unique sessions featuring 300+ speakers, complemented with up to 1,000 live poster session discussion groups. The scheduled virtual program will offer eight hours of programming a day for four days. All Neuroscience 2021 content will be available until November 30.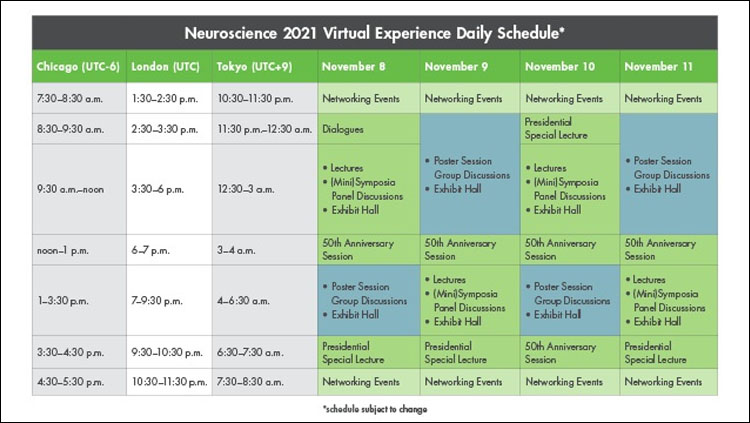 The daily meeting schedule has been restructured to account for the digital-learning environment and worldwide audience of Neuroscience 2021. This restructured schedule applies to the virtual program November 8–11. A schedule for the in-person program November 13–16 will be released in July.
One feature of the new virtual meeting schedule is that overlap between poster presentations and talks (e.g., symposia, lectures) has been minimized. There will be a dedicated block of time each scheduled day for viewing posters, participating in poster session discussion groups, and visiting the Exhibit Hall. Main stage talks will occupy the rest of the day. This structure enables attendees to dive into the wealth of content available in the abstracts while minimizing mental task switching.
The schedule then alternates when posters and talks are available. For example, days one and three feature talks at the start of the day and posters toward the end, while days two and four offer posters at the start of the day and talks toward the end. Alternating the programming works to accommodate a worldwide audience in different time zones that may find it easier to attend sessions toward the beginning or end of the day.
Each day begins and ends with virtual networking events, with the middle of each day featuring special sessions reflecting on SfN's 50th annual meeting. Breaks are scheduled between talks to allow attendees to respond to other priorities before diving back in.
After experiencing the virtual program, those able to travel to Chicago will get to experience the same program with the added benefit of being able to interact with speakers, poster presenters, and fellow attendees in person. SfN will follow all local and federal health guidelines to ensure a safe meeting experience.
There are many new aspects of Neuroscience 2021. Learn more about other meeting features, including: