Neuroscience 2021 Adopts Hybrid Format
Complete scientific programming available virtually and in person
In a first for an SfN annual meeting, Neuroscience 2021 will be fully accessible to virtual and in-person attendees. The annual meeting's abstracts and symposia will open for registered attendees on November 3, 2021, with virtual engagement with lecturers, panelists, and poster presenters November 8–11. In-person engagement will take place November 13–16 in Chicago, Illinois at the McCormick Place Convention Center. Abstract submission for Neuroscience 2021 is open July 6–15.
The hybrid format of Neuroscience 2021 will make it easier than ever to participate in the world's premier neuroscience meeting. Virtual attendees will have complete access to the annual meeting's scientific programming from their current location. Meanwhile, attendees able to travel to Chicago will enjoy the added benefit of gathering with peers, as well as experience those unplanned moments of inspiration that the SfN annual meetings frequently produce.
Beginning the Neuroscience 2021 experience, "Preview Days" take place November 3–7 with the release of all poster, symposia, and minisymposia presentations. With five days to virtually explore the annual meeting's scientific content, attendees can explore sessions at their own pace. Also, participants can leave questions for speakers and poster presenters to answer asynchronously or save their questions to ask in real time.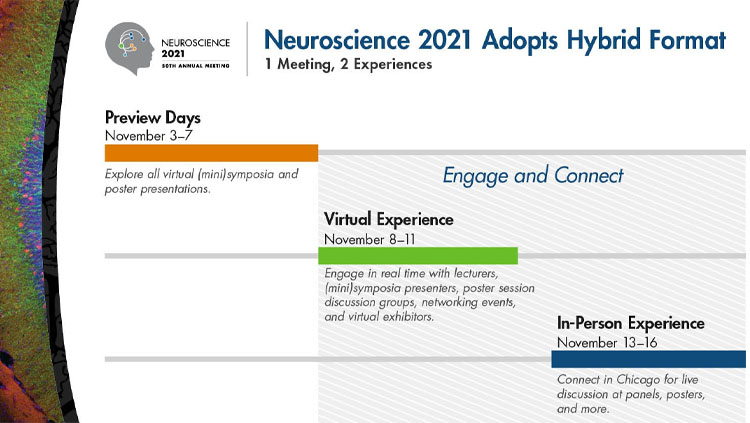 Second, the "Virtual Experience" runs November 8–11 and offers attendees the chance to engage live with the meeting's scientific presenters and exhibitors. For example, Presidential Special Lecturers and special panel presenters will answer questions submitted by the audience using a Q&A chat box during their prerecorded talks. Poster presenters will participate in a one-hour group discussion with 7–10 other poster presenters in their session. Meeting attendees will have the ability to join the group discussions to ask questions of specific presenters, while the presenters themselves can enjoy a networking opportunity with others in their field. No more waiting alone with your virtual poster!
November 13–16 will feature the "In-Person Experience" portion of the annual meeting at the McCormick Place Convention Center in Chicago, Illinois. Similar to past SfN annual meetings, registrants able to travel to Chicago will experience the stimulating poster floor, Exhibit Hall, and live talks of presenters also able to attend in person. SfN will follow all local and federal health guidelines to enable a safe environment for in-person participants.
Abstract submitters and meeting registrants will have the option of either participating as virtual only, or virtual and in person. Regardless of the choice made, registrants will pay a single registration fee.
Want to learn more about what to expect from Neuroscience 2021? Get details on what to expect when you submit an abstract. Also discover the annual meeting's new virtual experience daily schedule, aimed at maximizing the meeting experience for all participants.