Your Community Awaits at Neuroscience 2023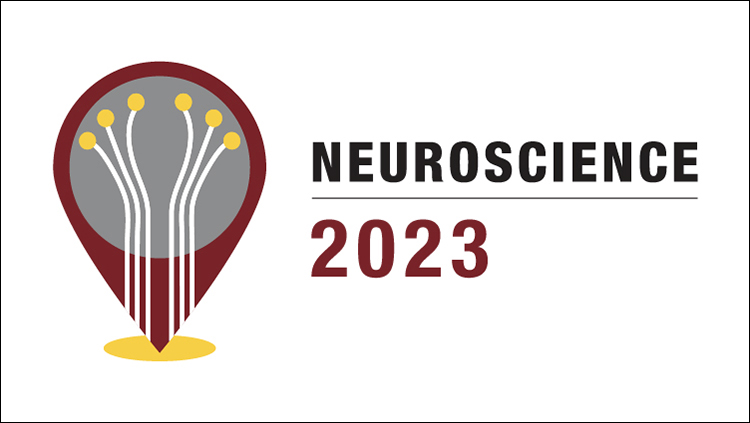 Join your neuroscience community in person in Washington, D.C., or virtually from your home or office for Neuroscience 2023, November 11–15. Everything you love about an SfN annual meeting — the massive poster floor, rockstar lecturers, socials, professional development opportunities, the product-rich Exhibit Hall — is back, along with some recent additions back by popular demand.
The SfNova lecture returns after a successful debut during Neuroscience 2022. This lecture offers the big stage of an SfN annual meeting to two rising stars in neuroscience. Accompanying all lectures will be a Q&A session where audience members, watching in person or virtually, can submit questions via the Neuroscience 2023 Mobile App. Neuroscience Meet-Ups, offering self-identified communities a chance to connect outside of formal SfN program hours, will once again complement the traditional SfN-Sponsored Socials and satellite events. And the Pronoun Sticker Bar will be back to help attendees share their preferred pronouns with colorful stickers applied to their meeting badge.
For those unable to travel to Washington, D.C., select Neuroscience 2023 in-person programming will be available virtually. Like last year, the Neuroscience 2023 Virtual Component will include virtual posters, livestreaming of select sessions, and Q&A opportunities. This year, twice as many symposia, minisymposia, and featured panel sessions will be part of the livestreamed content. Virtual posters will require a PDF upload with the option to submit a video, unlike last year which required a video upload. Posters uploaded to the virtual platform will be available for viewing up to one week in advance of the in-person meeting, helping attendees plan their onsite poster floor experience. Virtual content will be available to all attendees for one month after the meeting concludes. Registration for the virtual component will be half the price of Neuroscience 2023 in-person registration in all member and non-member categories.
Learn who's giving some of the big headline lectures at Neuroscience 2023 below.
Presidential Special Lectures
New Genetic Therapies for Huntington's Disease and Other Neurodegenerative Diseases
Sarah J. Tabrizi
University College London Queen Square Institute of Neurology/UK Dementia Research Institute at UCL
Saturday, November 11, 5:15–6:30 p.m. EST
This lecture will offer an overview of new genetic therapies in development for Huntington's disease and similar neurodegenerative diseases. It will cover the preclinical to clinical translation pathway, the challenges and opportunities, critical learnings from success and failures, and the new phase of development of these genetic therapies.
Cell Biology at the Synapse: Local Protein Synthesis and Degradation
Erin M. Schuman
Max Planck Institute for Brain Research
Sunday, November 12, 5:15–6:30 p.m. EST
Neurons are morphologically complex cells which house thousands of synapses, but contain just a single nucleus (as a source for mRNA) in the cell body. The proteins present at synapses are the drivers of synaptic transmission and plasticity. Much of the local sourcing and remodeling of synaptic proteomes arises from the localized translation of mRNAs by ribosomes and protein degradation by proteasomes. This lecture will discuss previous and current studies aimed at understanding the diversity of synapse types and functional states by local cell biological mechanisms.
Regenerating Axons and Re-Establishing Connections for Neural Repair
Zhigang He
Boston Children's Hospital
Monday, November 13, 5:15–6:30 p.m. EST
Spinal cord injury and other central nervous system (CNS) traumas damage passing axons and disrupt neuronal connections, leading to unrecoverable functional deficits. This lecture will discuss the reasons underlying the failure of axon regeneration in adult CNS and progress in developing pro-regenerative strategies in experimental injury models. Further discussion will highlight the challenges and promises of advancing these findings towards effective neural repair treatments.
Receptors, Synapses, and Memories
Richard L. Huganir
The Johns Hopkins School of Medicine
Tuesday, November 14, 5:15–6:30 p.m. EST
Neurotransmitter receptors mediate signal transduction at synapses in the brain. The Huganir Laboratory has elucidated mechanisms regulating AMPA and NMDA receptors, major excitatory neurotransmitter receptors in the central nervous system. They have focused on the role of post-translational modification and receptor-interacting proteins in synaptic plasticity and learning and memory. These studies show that receptor regulation is a major determinant of animal behavior in health and disease.
Featured Lectures
Albert and Ellen Grass Lecture
Inner Workings of Channelrhodopsins and Nervous Systems
Karl Deisseroth
Stanford University
Monday, November 13, 3–4:30 p.m. EST
This lecture will explore: 1) The initial high-resolution structures of each of the three major classes of a remarkable family of light-activated membrane proteins (the cation-conducting, anion-conducting, and pump-like channelrhodopsins); 2) The principles underlying their key properties (including kinetics, spectrum, and ion selectivity) – leading to creation of new tools for neuroscience. Outcomes of this work include a deeper understanding of the fundamental survival drives of animals – such as thirst and hunger – at single-cell resolution, as well as the highest integrative functions of the brain.
David Kopf Neuroethics Lecture
Leveraging Cross-Cultural Perspectives for Environmental Neuroethics and Global Neuroscience
Judy Illes
University of British Columbia
Tuesday, November 14, 10:30–11:30 a.m. EST
The world today is challenged by environmental change that is applying unprecedented pressure on individual and collective well-being. Eco-anxiety is pervasive. What are the responsibilities of neuroscientists to respond? How can research span geographic and cultural boundaries? This lecture will explore ways that biomedical explanations and traditional beliefs about brain and mental health can co-exist to bring answers to these questions at the intersection of environment, ethics, and global neuroscience.
History of Neuroscience Lecture
Making Herstory: One Black Woman's Unconventional Journey From Bench Scientist to College
President Joanne E. Berger-Sweeney
Trinity College
Monday, November 11, 9–10 a.m. EST
Dr. Berger-Sweeney's choice of a neuroscience career at undergraduate liberal arts colleges is unconventional. This lecture will describe: 1) The unique liberal arts college environment that shaped how research was conducted on mouse models of disease and how students were empowered through education and mentoring; 2) A desire for a broader impact that led to stepping away from the bench and toward administration; 3) How the influence of the first female and person of color to lead Trinity College, a 200-year-old liberal arts institution, extends into educational, housing, and health policy.
Peter and Patricia Gruber Lecture
The Emotional Brain: Embracing the Complexity
Huda Akil
Michigan Neuroscience Institute, University of Michigan
Sunday, November 12, 3–4:30 p.m. EST
This lecture will describe a quest to understand the brain biology of emotions and uncover the role of distinct temperaments in shaping vulnerability to mood and addictive disorders. Genetic, molecular, circuit, and behavioral studies in animals and humans reveal profound individual differences in the encoding of emotionality. They also point to counter-regulatory mechanisms that enhance stress coping and impart resilience to negative emotions. Translational implications will be discussed.