Q&A: NEI Director Michael Chiang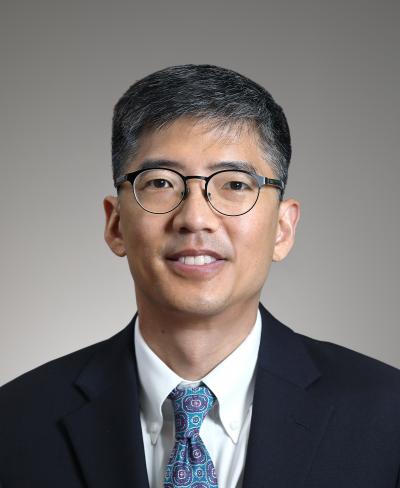 Michael Chiang
Michael F. Chiang is director of the National Eye Institute (NEI) at NIH. His background is shaped by the intersection of patient care and information technology. His clinical practice focuses on pediatric ophthalmology and strabismus, and he is board-certified in clinical informatics. His research involves retinopathy of prematurity (ROP), telehealth, artificial intelligence, electronic health records, and data science. Before moving to NIH in November 2020, he was on the faculty at Oregon Health & Science University (2010–2020) and Columbia University (2001–2010). He received a BS in Electrical Engineering and Biology from Stanford University, an MD from Harvard Medical School and the Harvard-MIT Division of Health Sciences and Technology, and an MA in Biomedical Informatics from Columbia University. He completed residency and pediatric ophthalmology fellowship training at the Johns Hopkins Wilmer Eye Institute.
Neuroscience Quarterly (NQ): You took the helm of NEI in November 2020. What were some of your early priorities for the institute?
Michael Chiang (MC): One of my first priorities was to publish a new strategic plan for the institute, which we released in November 2021. This NEI 2021–2025 strategic plan is organized around seven cross-cutting areas of emphasis that touch upon each of NEI's classic anatomy-based program areas. Our intention is that these areas of emphasis, which include topics such as data science, neuroscience, regenerative medicine, and public health and disparities, will encourage collaborative and cross-disciplinary work in vision research.
At that time, we took the opportunity to revisit NEI's mission statement, which had not been updated since the institute's founding in 1968. By listening to NEI staff, grantees, and external stakeholders, we were able to rebalance NEI's priorities around this new mission statement ("To eliminate vision loss and improve quality of life through vision research") in a way that I feel will serve the broader vision research and health care community going forward.
NQ: With the demands of the pandemic receding, how do you envision NEI evolving to meet the needs of its many stakeholders?
MC: One of the things that came out of our strategic planning process — which included extensive input from a wide spectrum of stakeholders — was that there were several areas of vision research and vision health care that needed additional attention from NEI.
On one end of the spectrum, NEI has been a leader in using data, image analysis, and machine learning for disease detection, diagnosis, and more. But there are enormous gaps in how we manage, store, and share complex data, and those are problems that I think NEI can start to help solve. For example, we've started doing this through collaborative initiatives in standards, interoperability, and incentivizing data sharing.
On the other end of the spectrum, our strategic planning process revealed real interest from the community in bringing quality of life measures into NEI clinical research and health education. Traditional image-based clinical research ocular outcome measures are important, but how well one can get through daily activities and participate in life is critically important to the people participating in our clinical studies. And this is something we're very interested in.
NEI stakeholders also expressed an interest in expanding research into a variety of areas — corneal biology, microbiome, cerebral visual impairment, and more. Although NEI research primarily remains investigator-driven, we are developing more workshops exploring these areas of interest, and we're open to new special consortia and other initiatives going forward.
NQ: Recent years have seen patients maintain their vision longer thanks to new therapies for glaucoma, age-related macular degeneration (AMD), and other conditions. Where do you see unmet needs remaining, and how is NEI supporting efforts in those areas?

MC: First of all, as life expectancy increases because of advances in science and medicine, the incidence and prevalence of chronic vision diseases, including glaucoma and AMD, are increasing significantly. This is an enormous clinical and public health problem. Furthermore, as people are living longer, improving quality of life becomes more important, and good vision is a major component of quality of life.
While current treatments for these common conditions do allow people to maintain vision longer, we obviously need to continue improving these treatments. Furthermore, we still have no effective treatments for people whose vision has already been lost from diseases like glaucoma and AMD, so continuing to explore regenerative medicine remains a priority. Gene- and cell-based therapies for genetic conditions like retinitis pigmentosa are a very exciting frontier. While there is one Food and Drug Administration (FDA) approved gene therapy for a single type of Leber Congenital Amaurosis, many other similar conditions have no available treatments, and we're supporting research into an array of strategies that we hope will help people born with these conditions retain or even regain their sight.
We're also developing new long-range goals to understand conditions that affect the anterior segment, especially with respect to the microbiome of the eye, and regeneration of the cornea. Dry eye disease and other corneal conditions are exceedingly common and have a significant influence on people's quality of life.
So again, quality of life is something that NEI is considering in a new way, whether it's with the latest regenerative medicine, symptom care, or vision rehabilitation. Being able to measure and improve quality of life is something we're examining at NEI.
NQ: Access to data is an increasingly important issue in biomedical research, and for NIH. What is NEI's approach to data sharing and access?

MC: As I mentioned, at NEI, our mission is to eliminate vision loss and improve quality of life. The broad scope of our mission encompasses a range of research topics and encourages collaboration between scientists and clinicians trained in a variety of fields: molecular biology, neuroscience, data science, and so on. But a common scenario is that investigators around the world are addressing similar questions in parallel, often with small studies that are individually under-powered to truly answer those questions. Improving data sharing and access will help address this situation and help advance our NEI mission.
Along those lines, one hallmark of modern biomedical research and clinical practice is that they produce a vast amount of data. To ensure that data is reliable and useful to researchers, NEI is committed to the FAIR principles (Findable, Accessible, Interoperable, and Reusable). Applying these principles across the entire data spectrum from molecules to tissues to patients to populations is an extremely complex undertaking. So it will be important to do this "right."
One enormous challenge is data harmonization: if different investigators represent their data differently, then data sharing becomes impractical or impossible. As a specific example, electronic health records and ocular imaging devices can present a gold mine of health data, yet many of these systems are proprietary and/or do not structure data in an interoperable way. At NEI, we have been addressing these challenges by collaborating with the FDA and ONC (Office of the National Coordinator for Health Information Technology) to promote adoption of ocular imaging standards, by collaborating with several groups to develop a common data model for eye care, and by maintaining and encouraging use of vision-research related Common Data Elements (CDEs).
Getting back to data sharing and access, we of course encourage all researchers to make their data as widely available as possible: 21st-century research will be based more on collaboration and data sharing than ever before. At NEI, we have assembled a number of research consortia (such as the Audacious Goals Initiative and the Anterior Segment Initiative), where investigators work closely together toward common goals and are required to make their data available to the external research community at the conclusion of the projects. NEI staff maintain the NEI Data Commons, a repository of data from a variety of vision research disciplines; NEI also maintains the eyeGENE® repository, and contributes to the AMD Integrative Biology Initiative. These repositories represent just a few of the existing data hubs that hold vision research data funded by NEI.
NQ: You have spoken of the importance of aligning incentives to encourage more and better data sharing. Can you elaborate on how you think incentives might be structured? What input might NIH need from scientists in the field?

MC: That's a great question: Almost everybody agrees that data sharing and collaboration will benefit the broader good by allowing us to solve difficult problems more quickly (such as developing vaccines during the pandemic). Yet our current academic system rewards individual accomplishments over team science — and this disincentivizes data sharing because researchers continue to be concerned about authorship, being placed at a competitive disadvantage by sharing their data (which requires additional time and cost), lead investigator status, etc. I am not aware of any institution that has completely solved this problem, and think we first need to acknowledge this dissonance.
At NIH, we have a new data management and sharing policy, which is a major step. This is essentially a "stick" to promote sharing of scientific data. To be successful in 21st-century science, I think we will need more work to align incentives through additional "carrots." We will need metrics to measure the amount and impact of data collection and data sharing, and new approaches to reward those actions. There are also technical and logistical challenges to hosting and sharing different data types: we'll need to understand what types of data people are collecting, how and for how long those data are used, and what other technical, logistic, and social barriers exist that stop people from sharing their data. At NEI, we have begun to work on many of these issues, but we can't solve these problems alone – it will require close collaboration with professional societies, institutions, researchers, and others. It would be fantastic to work closely with organizations such as SfN to develop solutions such as what "carrots" are most meaningful to researchers.