Neuronline Spotlight: Focus on Scientific Research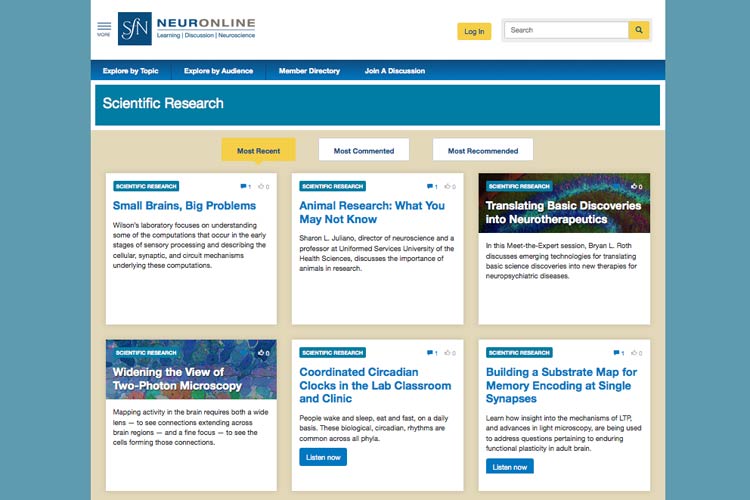 Neuronline features hundreds of members-only resources and tools to advance your career, learn about science, and discuss the latest field news. Videos, webinars, articles, and discussion threads keep members up-to-date and provide opportunities to interact online with colleagues from around the world.
Explore the following scientific resources featured on Neuronline. You are also invited to suggest additional articles by clicking the 'Have Any Content to Suggest?' button at the bottom of the page.
Audio: Building a Substrate Map for Memory Encoding at Single Synapses
Christine M. Gall, professor in the departments of anatomy and neurobiology and neurobiology and behavior at the University of California, Irvine, focuses on the mechanisms of functional plasticity in the adult central nervous system and, specifically, the roles of endogenous neurotrophic factors and integrin adhesion proteins in synaptic plasticity. In this 'Meet-the-Experts' podcast, she discusses how insight into the mechanisms of long-term potentiation (LTP) and advances in light microscopy are being used to address questions about memory encoding in the adult brain.
How are neuromodulatory substances (e.g., BDNF, estrogen) involved?
Where are the links broken in learning disorders?
Can the analysis of synaptic signaling be used to map the loci of memory encoding (engrams)?
Article: Genetically Encoded Calcium Indicators (GECIs) Monitor Cell Communication
Learn about this new method for monitoring neuronal activity that involves measuring intracellular calcium. This article is adapted from the SfN short course Advances in Multi-Neuronal Monitoring of Brain Activity by Douglas S. Kim, Vivek Jayaraman, Loren L. Looger, and Karel Svoboda.
What are GECIs?
Do different types of GECIs vary in function?
How are they delivered and how do they work?
Video: Neural Synchrony in Schizophrenia
Peter Uhlhaas of the University of Glasgow spoke at the FENS-SfN Summer School on Neurodevelopmental Psychiatric Disorders, which took place June 22-28, 2014, in Bertinoro, Italy. In this video from FENS, an SfN content partner, Uhlhaas addresses the following issues:
Neural Synchrony and Cognition in Large-Scale Networks
Neural Oscillations in Schizophrenia: Insights from EEG/MEG Studies
Adolescent Brain Maturation, Neural Oscillations, and Schizophrenia: Implications for Development Theories and Early Intervention