Neuroscience Offers Diverse Array of Career Paths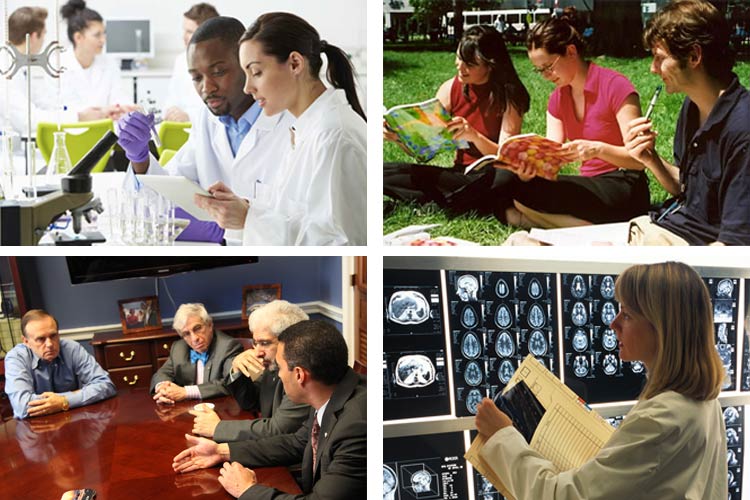 Career opportunities for neuroscience trainees are growing to include many options outside of the traditional academic research arena.
Editor's Note: This article is the first in a series highlighting the diverse range of career paths for neuroscientists and how the field is addressing the evolving career and training landscape.
Neuroscience has grown enormously as a discipline in recent years and, as a result, has received increased attention from the public and from a new generation of scientists interested in learning more about the wonders and mysteries of the brain and nervous system. With the new technological advances and scientific discoveries being made, neuroscience continues to offer opportunities to advance science at the bench, in addition to touching an array of other professions as disparate as law, business, publishing, communications, and technology.
"In addition to the more traditional careers at the lab bench, neuroscientists are discovering other exciting and rewarding career paths that leverage their knowledge and training," said Hermes Yeh, chair of the SfN Committee on Neuroscience Departments and Programs. "Young and early-stage scientists — and even those midway through their careers — are able to find fulfilling work because they have been well-trained and well-prepared to take on the challenges of a diverse job market."
In this era of the BRAIN Initiative, European Brain Project, and similar government-supported ventures around the world — as well as increased private-sector interest in neuroscience — opportunities for neuroscience trainees are growing, according to Jim Olds, assistant director for NSF's biological sciences directorate. In addition to careers at the bench, many opportunities exist outside of the traditional academic arena.
Because of this shift, Olds stressed that "educating young neuroscientists into the full waterfront of career options is really important."
Tom Carew, dean of New York University's Faculty of Arts and Science and a past SfN president, said embracing the importance and value of careers across the board will require new thinking in the field. "We have to avoid the notion of 'alternative careers.' Period," Carew said. "It has a nuanced but nontrivial implication of a 'Plan B.' … It's much better to talk about the variety of career paths that training in neuroscience can provide and to emphasize that any of those paths are of equal value."
The Value of the PhD
Kathie Olsen, founder of ScienceWorks, former NSF deputy director, and former chief scientist at NASA, strongly recommends that no matter which career path a student elects to pursue while they are in their PhD program, there is great value in obtaining the degree.
"The more education that you have equates to more research and education experiences, which will translate into more success in your long-term career," she said.
A PhD in neuroscience provides a specific set of skills that are valuable in a host of career paths. Neuroscience training teaches students how to solve problems, understand and analyze scientific data, collaborate with others, manage projects, and more.
"Training in neuroscience actually makes you armed and dangerous," Carew said. "It makes you very well suited to deliver an incredibly important good to society — and that's knowledge."
Emilie Marcus, CEO of Cell Press and editor of Cell, said learning how to conduct research requires neuroscience students to venture into areas previously unexplored, forging a new path and finding new knowledge.
"In most jobs, whether in academia or publishing or business, that's a very valuable skill to have — to be able to go forward somewhere where no one else has gone before and figure it out," Marcus said. "That's a huge asset."
The Role of Neuroscience Programs
One of the ways in which the field is addressing these expanded career options is through the NIH's Broadening Experience in Scientific Training (BEST) awards, which provide funding for institutions "to enhance training opportunities for graduate students and postdoctoral scholars to prepare them for careers in the biomedical research workforce that could take them outside of conventional academic research." So far, 17 institutions have received BEST awards, including NYU and Virginia Tech.
Michael Friedlander, founding executive director of the Virginia Tech Carilion Research Institute, said the BEST grant "recognizes an otherwise unmet and untapped need" and provides "a wonderful opportunity to bring some structure and funding support" to the cultural shift in career training that is already underway.
He said the BEST program is "tapping into a lot of excitement, frankly, that young people have coming in for training. They are excited about doing other things in the world with their careers."
Virginia Tech's Mentorship and Development Program for Biomedical Trainees exposes students to the variety of career options and people who work within those areas, with a goal of preparing students to make informed decisions when structuring their own curricula and careers.
"Instead of scrambling at the end in the last year, they will have been thinking about that early on so they're not just blindsided by it," Friedlander said. "And they will be sufficiently educated about those opportunities."
Kenneth Maynard, a global program leader at Takeda Pharmaceuticals, serves on the External Scientific Panel that discusses with NIH staff the direction and overall progress of the BEST program and the performance of the participating individual principal investigators and institutions. Maynard advised other neuroscience departments and programs to reach out to the 17 institutions that received the BEST awards to see what they are doing and to start a dialogue on how best to adopt or adapt some of these programs' ideas.
"For NIH to put forward millions of dollars to address this across the biomedical space, it tells you how important it's going to be essentially for the country," he said. "This is where we need to go."
"One of the things that I've watched and learned over last two decades or so is that young scientists, young people of today, they are creating their own careers," Maynard said. "There's a lot we can learn from that, and it should inspire us in neuroscience."
The Importance of Faculty Support
Friedlander and Carew both emphasized the importance of securing faculty buy-in not only in support of their institutions' BEST training programs but of this broadening of neuroscience careers.
"If the PI doesn't see it as value added for the future of their students to be prepared for a variety of career paths, then we have a huge roadblock right away," Carew said.
Both administrators acknowledged the pressure that PIs face in producing results in their labs in order to remain funded during challenging economic times. Taking students out of the lab to participate in other career-focused activities can put a strain on the mission of the lab to produce scientific data, Carew said. This can create tension between the trainee and the PI.
"If we are going to train our young men and women for other careers paths that will be giving back to society in different ways, we have to know that's not without a strain on the current customs of our field," he added.
Friedlander said he engaged in extensive discussions with faculty to address their concerns, noting that most faculty members recognize the need for this sort of training program.
"We came up with a compromise to create opportunities and experiences for students that would have minimal impact on their primary research training mission but be substantive enough that they really get to interact with individuals from business, from industry, from government, from publishing, so they can develop their own network of contacts," he said.
Most importantly, Carew said, faculty should be reinforcing the understanding that students who go into careers outside the academic arena are still delivering a great service and value to both the field and society. Carew has former students in a variety of career paths — professor, journal editor, lawyer, venture capitalist. "I consider all these students phenomenally successful," he said. "They've found a way to take the training that we provided them and then go be citizens of the world and make a difference."
Choosing a Career Path
Some students enter a neuroscience training program and later realize that the traditional academic research path is not for them. Fortunately, a neuroscience degree can open doors to careers in pharmaceuticals, business, law, publishing, technology, and more.
Students need supportive faculty mentors to help them understand what's right for them, Marcus said, noting that her adviser guided her by observing what tasks she seemed to enjoy and which she procrastinated on. "If you start to pay attention to those kinds of things, you get insights into what is natural for you," she said.
For example, Marcus always attended seminars as a postdoc, even if it had nothing to do with the science that she was working on. "I realized that something that I personally really like is the breadth of science," she said. "That's one of the things that led me to think about a career in publishing, where I would have an opportunity to think about lots of different types of science."
Marcus advised students to think about their own skills and experiences in order to determine which career option might be best for them.
"Success in a career, for me, is very much about a fit," she said. "It's getting the right fit between the right job and right person. For that you need a lot of choices and options because we're not all the same and we won't fit into the same job."
Maynard recommended students discuss their strengths and weaknesses with family members, friends, and mentors. "Sometimes, they have a better understanding of your strengths and where you can make a difference than yourself. … Don't believe you are the only authority on you."
Scientists interviewed for this article agreed on one piece of advice: Do something you're passionate about.
"You should understand what it is that makes you want to get out of bed in the morning," Marcus said. "If you can figure that out, then everything else comes so much more easily."
Olsen agreed, adding that, "Life is too short, and you want to make the most of it. You want to be in a career that makes you feel fulfilled, gives you rewards, and you are happy and excited to go to work each day." And if you're not feeling fulfilled, seriously look at making a change, she said.
"A lot of people, they have this idea that they want to try something new, but they are scared," Olsen said. "They are comfortable in their position and already successful in what they've already been doing, and it's frightening to do something new."
But as someone who has changed jobs several times over the course of her career, Olsen said each new position opened more doors for her and taught her new skills.
Olds emphasized that neuroscientists should avoid closing the door on any particular career path. When he interviewed for a job outside academia, he was told he would never be able to go back into bench science after leaving. "I never bought into that, and I hope other young people never allow themselves to be categorized. There are always opportunities to reinvent yourself and do new things," he said.