Advocacy Goes Virtual for SfN Hill Days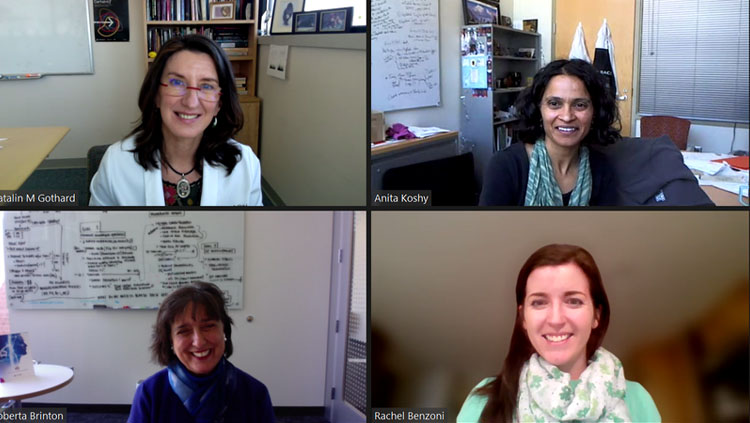 SfN's 15th annual Hill Day transformed this year into a multiday, virtual event this year. Taking advantage of the social distancing requirements imposed by the pandemic, SfN expanded the normal one-day event into a three-day marathon, March 16–18, of advocating for neuroscience. Supporting the three-day schedule were three times the number of NeuroAdvocates that usually participate in previous in-person Hill Days. In total, 80 SfN and partner participants held 115 meetings with representatives from 31 states.
"Lawmakers need accurate information to set their priorities. We can help them see the past and future returns on their investment," said Hill Day participant Katalin Gothard, professor of Physiology, Neurology, and Neuroscience at the University of Arizona College of Medicine.
Using Zoom, NeuroAdvocates were grouped by state to communicate "asks" to their members of Congress. These asks included:
Increased budgets, or appropriations, for NIH (including the BRAIN Initiative), NSF, and the Veterans Affairs Medical and Prosthetic Research Program
Support for the RISE Act, which authorizes additional funding for NIH and NSF to help researchers and institutions recover from the impacts of COVID-19
Support for the continued, well-regulated, ethical use of animals in research
Join a neuroscience-related caucus, an organization that provides briefings and information to its congressional Members
Attend a lab tour when it is safe to do so
Hill Day participants represented several groups. This year's Early Career Policy Ambassadors (ECPAs) enjoyed the opportunity to begin building a relationship with their representatives and senators. In addition, the two previous ECPA classes were invited to continue the relationships they had established during their previous in-person Hill Days.
"Being able to share my research story and also my personal experience of research shutdowns during the COVID-19 pandemic allowed my congressional representatives to understand the importance of funding research through the NIH, NSF, and legislation like the RISE Act," said 2021 ECPA Mary Beth Hall, graduate student at the University of Delaware.
Also returning to Hill Day were SfN's Key Contacts, engaged NeuroAdvocates who are represented by members of Congress who hold leadership roles in the policymaking process. Members of SfN's Government and Public Affairs Committee (GPA), Committee on Animals in Research (CAR), and SfN Council also shared their deep knowledge of the policy issues facing neuroscience with their senators and representatives.