Start Planning Now for Neuroscience 2015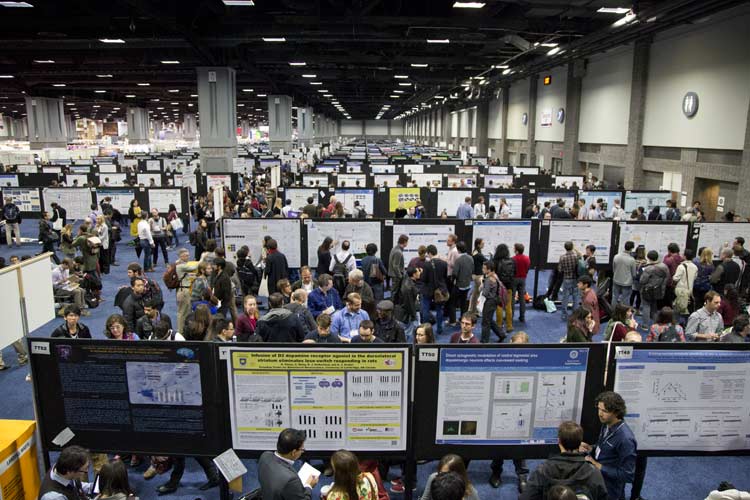 Thousands of people browse the poster floor at Neuroscience 2014 to learn about new research and discuss science with their peers.
SfN is gearing up for Neuroscience 2015 in Chicago October 17-21. Join the more than 30,000 neuroscience researchers, clinicians, and advocates expected to attend the 45th annual meeting to share emerging science, learn from experts, forge collaborations, and advance your career.
Presidential Special Lectures
Each year, the SfN president develops the Presidential Special Lecture series by choosing speakers to present on a selected topic of interest. The following speakers will give presentations related to this year's theme of circuits:
Cornelia I. Bargmann is the Torsten N. Wiesel professor and co-director of the Shelby White and Leon Levy Center for Mind, Brain, and Behavior at the Rockefeller University in New York. She is also an investigator at the Howard Hughes Medical Institute and served as a co-chair on the BRAIN Initiative working group. Bargmann's research examines the relationships between genes, circuits, and behaviors. She will present "Themes and Variations in Circuits and Behavior."
Submit Your Science
Abstract submissions close at 5 p.m. ET on May 7. View the submission guidelines and submit your science today!
Follow Us
May-Britt Moser is co-director of the Kavli Institute for Systems Neuroscience and the Centre for the Biology of Memory at the Norwegian University of Science and Technology. Her research — for which she shares the 2014 Nobel Prize in Physiology or Medicine with her husband, Edvard Moser, and John O'Keefe — focuses on how spatial location and spatial memory are computed in the brain. She will present "Grid Cells and Cortical Maps for Space."
Beth A. Stevens is assistant professor of neurology at Children's Hospital Boston and Harvard Medical School. Through her research, Stevens seeks to understand how neuron-glia communication facilitates the formation, elimination, and plasticity of synapses during both healthy development and disease. She will present "Immune Mechanisms of Synapse Loss in Health and Disease."
Thomas Christian Südhof is the Avram Goldstein professor of molecular and cellular physiology at the Stanford University School of Medicine. He was a joint recipient of the 2013 Nobel Prize in Physiology or Medicine for his research on the machinery that regulates vesicle traffic within cells. Specifically, Südhof was honored for revealing how signals instruct vesicles to release their cargo with precision. He will present "The Molecular Logic of Neural Circuits: Implications for Autism and Schizophrenia."
Featured Lectures
The David Kopf Lecture on Neuroethics: "Giving Voice to Consciousness: Neuroethics, Human Rights and the Indispensability of Neuroscience," presented by Joseph J. Fins, will focus on how continued efforts to restore functional communication in patients with disorders of consciousness are a moral imperative.
The Albert and Ellen Grass Lecture: "Receptors, Neurons, and Circuits: The Biology of Mammalian Taste," presented by Charles Zuker, will explore the logic of taste coding as a platform to understand how our brain creates an internal representation of the outside world and transforms sensory signals at the periphery into percepts, actions, and behaviors.
The Fred Kavli History of Neuroscience Lecture: "The Mammillary Bodies From Vicq D'azyr to the Present," presented by R.W. Guillery, will relate early proposals surrounding the role of mammillary bodies to recent evidence concerning mammillary functions and how they can best be revealed.
Social Issues Roundtable
"The Income Achievement Gap: Insights From Cognitive Neuroscience" will focus on the timely issue of disparities in educational achievement associated with household income. Co-chaired by John Gabrieli of the Massachusetts Institute of Technology and Silvia Bunge of the University of California, Berkeley, this roundtable session will address how contemporary methods in cognitive neuroscience have shed light on the role socioeconomic factors may play in neurocognitive development as well as the ethical consequences associated with publicizing these findings.
Professional Development Opportunities
Because of the popularity of the professional development opportunities at the meeting, SfN will offer three short courses this year, including one on responsible conduct of research (RCR), viewed through the lens of scientific rigor.
"Optimizing Experimental Design for High-Quality Science" will feature lectures on the importance of experimental design, practical approaches to the problem of reproducibility, and the appropriate interpretation of data. The goal is to provide a short, stand-alone program in which trainees can learn about these issues through a neuroscience-specific lens, a different approach than what is available in many general responsible conduct courses at universities.
The other short courses are "Using iPS Cells and Reprogramming to Model Neural Development and Disease" and "The Impact of Human Genetics and Genomics in Neurobiology: From Disease Discovery to Fundamental Mechanisms (and Back)." All short courses will be open for all meeting attendees to preregister.
Professional development workshops also play a vital role in providing opportunities to gain important skills and knowledge necessary for advancement in the field. Priority areas for these meeting workshops include: career skills and training, diversity, ethics and responsible conduct of research, and community building and networking.
Visit the annual meeting page to stay up to date on the latest developments and to sign up for Neuroscience 2015 e-Alerts.