Neuronline Spotlight: Resources to Build Your Career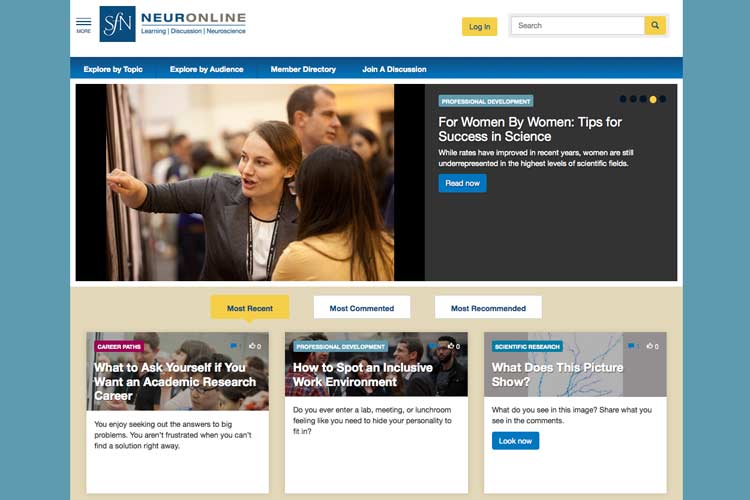 Whether you're a student, postdoc, or seasoned neuroscientist, you can explore your career options and find answers to your career- and field-related questions on the new Neuronline, SfN's members-only hub for professional learning and discussion.
You can access hundreds of resources — including videos, webinars, articles, and discussion threads — to help you advance your career, learn about science, and discuss the latest field news. Neuronline features open forums and live discussions with leading scientists, where you can engage your colleagues in conversation using your name or a pseudonym.
Beginning with this issue, Neuroscience Quarterly will highlight new and notable resources on Neuronline. With graduation season upon us and summer right around the corner, now is an opportune time to think about your career goals and plan a path forward. The three resources below are designed to help you pursue the career that's right for you. Visit Neuronline and join the conversation!
Webinar: How to Get That Job: Insider Tips on CVs and Resumes
Learn from experts the best ways to tell your professional story:
Bill Martin, executive director of Theravance Inc., explains the differences between CVs and resumes and discusses what the pharmaceutical industry looks for in recent graduates.
Francine Mahak, a career counselor for graduate students in science and engineering at the University of Utah, details how to format your resume and frame your skills and accomplishments in ways that can help you stand out from other candidates.
Gary Dunbar, the John G. Kulhavi professor of neuroscience and director of the neuroscience program at Central Michigan University, walks you through tailoring your CV for academia and nonprofits.
The presenters also answer a mix of questions, including when to include your grade point average and publications on professional materials. If you don't have time to watch the full webinar, watch different sections as time allows — they are split into short video clips and grouped together on one playlist.
Article: Science Writing: A Career That Can Fit Any Lifestyle
Review this comprehensive guide of what to expect and how to prepare for a career as a science writer:
Work environment and lifestyle: Consider governmental or nonprofit organizations if you want structure, magazines or newspapers for a combination of flexibility and focus, or freelance gigs if you desire greater autonomy in pitching stories.
Skillset: Hone the ability to effectively write, interview, and edit. Master switching focus from one topic to the next quickly.
What you can do now: Research science writing programs and fellowships. Join student publications or work in your university's public information office. Find an internship.
Video: Getting Published: From Start to Finish
Get tips on writing compelling manuscripts from Verity Brown, editor-in-chief of Neuroscience & Behavioral Reviews
How to write a strong manuscript: If you have something to say — and it's worth reading — write a clear and exciting message and present it in a logical way.
Choose the correct journal: Make a list of candidates based on which journals you read and whether your data is within the journals' aims and scopes. Save time by first checking journals' "Guide for Authors" pages.
Stylize your manuscript: Use readable and appropriate language. Don't use passive voice, adverbs, or contractions. Keep the title short. Write an abstract that reflects the paper. Create an accurate reference list.
Consider key final steps before publishing: Proofread the manuscript thoroughly. Ask colleagues to make comments. Check that the co-authors are happy with the manuscript. Specify the nature and approval of an ethical review process if you conduct experiments on humans or animals.