Advocates Increase Engagement With Policymakers and the Public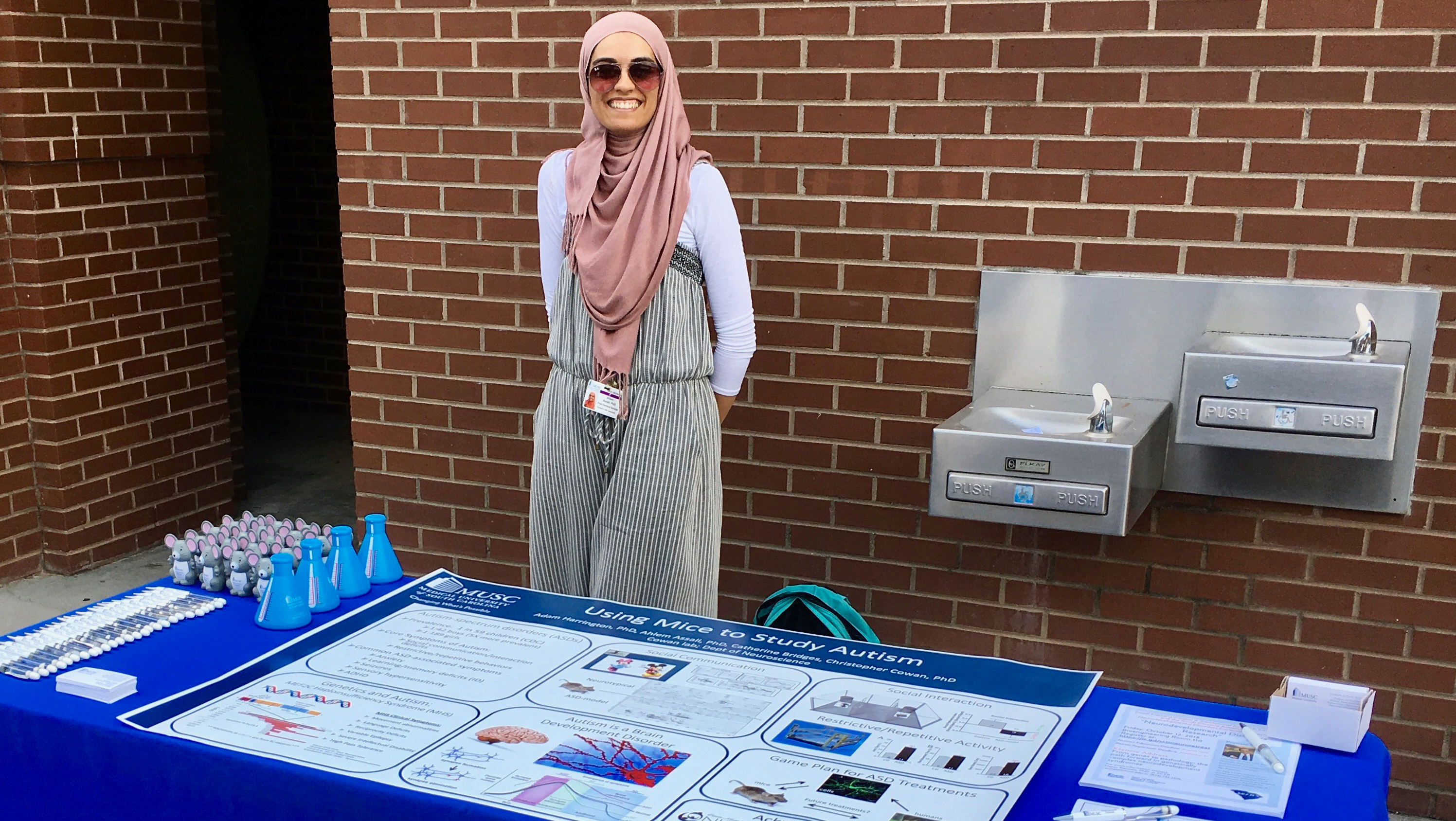 Neuroscience advocates hosted an "autism awareness" event at a Charleston Riverdogs minor league baseball game. This is one example of ways advocates can increase awareness of brain research in their local community.
Grassroots leaders across the U.S. are finding creative ways to advance the field, supported by investment in SfN's comprehensive advocacy strategy.
During the August congressional recess in the U.S., SfN members served as subject-matter experts for local NPR-broadcasted news, hosted tables at minor league baseball games, held lab tours, spoke at town hall meetings, and more. Advocates know that speaking directly with the public and policymakers about the scientific process and how federal policies affect the discovery process generates support for biomedical research, including funding for NIH and NSF and awareness of the benefits of responsibly using animals in research.
Creating open dialogue with the public and policymakers regarding the impact federal policies have on the discovery process helps science advocates to increase support for biomedical research. Christopher Cowan, a local advocacy leader and the William E. Murray Endowed Chair in Neuroscience at the Medical University of South Carolina (MUSC), encourages advocates to find opportunities in their community, which will help to garner attention from local media and policymakers.
"By promoting and supporting the dialogue between local scientists and policymakers, SfN has helped to establish positive relationships that are likely to make a difference into the future," Cowan said.
"I got started in science advocacy by speaking to my friends and family about policy issues," said Kristin Anderson, a local advocacy leader and PhD candidate at Lehigh University, in Pennsylvania. "I knew how to talk about my research, but it was in technical terms. SfN gives you the tools to think about your research from an outside perspective and the key takeaway points policymakers need to hear," she said.
Enhanced Advocacy Tools
To encourage scientists across the country to get involved in science advocacy, SfN recently launched an advocacy app, which offers easy access to policymakers' contact and voting information, key message points for meetings with lawmakers, and a space to share your advocacy experience to synergize efforts across the neuroscience community. You'll also receive up-to-the-minute notices on when and how to participate in action alerts that share the perspectives of neuroscientists on legislation under consideration.
The app also provides access to SfN's recently released set of advocacy best practices. The toolkit is the go-to guide for advocates at every level, from how to share your story to how to conduct a successful lab tour.
SfN is also continuing to partner with local advocacy leaders and adding contacts in the state of Missouri; Miami, Florida; Birmingham and Montgomery, Alabama; and Charleston, South Carolina to continue working directly with advocates in grassroots areas.
Early Career Policy Ambassadors
Further positioning neuroscience advocates across the U.S., the 2018 class of Early Career Policy Ambassadors led conversations with policymakers and brought neuroscientists together to join in the public conversation about the value of investment in biomedical research, including on social media.
For example, leveraging his policymaker interactions at Hill Day 2018, Oluwarotimi "Timi" Folorunso recently hosted Rep. Randy Weber (R-TX-14) for a laboratory tour.
"The ECPA Program has been a great experience for me. As a student, it improves my communication skills and helps me to think about my science in broader terms so that I can connect with policymakers, including on how research improves the economy," Folorunso said.
SfN is currently accepting applications for the 2019 ECPA class. Go to SfN.org/ECPA for more information.
Develop Your Advocacy Skills at Neuroscience 2018
Join the advocacy conversation at Neuroscience 2018 and learn how you can drive support for neuroscience research. You will have the opportunity to speak with leading neuroscience advocates about how they got started in science advocacy and learn how to improve your science communication skills.
Animals in Research Panel
Monday, November 5, noon–2 p.m., San Diego Convention Center, Room 11
Join us for our panel "Gaining Public Support for Animal Research: A Proposal for Openness". Supported by the National Primate Research Centers, the panel discuss the wave of open communication to improve public trust and perception of animal research. The panel will teach effective ways for researchers to communicate with the public and generate a conversation around the strategies they can employ to foster public support in their local communities.
Public Advocacy Forum
Tuesday, November 6, 2–3:30 p.m., San Diego Convention Center, Room 10
This year, the forum Advocacy in Four Dimensions seeks to mobilize the next generation of scientists and provide them with a broad perspective of advocacy outlets. The panel will provide diverse advocacy perspectives, both inside and outside of the scientific community, to help attendees to gain a greater understanding of how to advocate across career stages, and will provide the tools necessary to become active, sustained advocates.
Advocacy Reception
Tuesday, November 6, 3:30–5 p.m., San Diego Convention Center, Room 16
Immediately following the Public Advocacy Forum, join us for the Advocacy Reception to network with your colleagues from around the world who advocate on behalf of neuroscience. The event will include a special advocacy poster session and networking event featuring SfN leadership, global advocacy partners, and other science advocates.
Advocacy Booth
Throughout Neuroscience 2018, stop by the SfN Booth to learn more about advocacy events, discuss how to refine your science communication skills, and speak directly with SfN staff who are advocating on behalf of the field. The booth will also provide you with on-the-spot advocacy activities to engage the public and Congress. Let us know your thoughts on advocacy by taking this short poll before Neuroscience 2018. The results will be shown in a special advocacy display throughout the meeting.
Join the Effort to Advocate for Brain Research
As SfN expands its advocacy efforts, advocacy leaders will continue to mobilize local SfN members to promote neuroscience research and connect with lawmakers in their community. To learn more about how you can get involved, go to SfN.org/advocacy or email advocacy@sfn.org.