New Science and Networking Drive Neuroscience 2018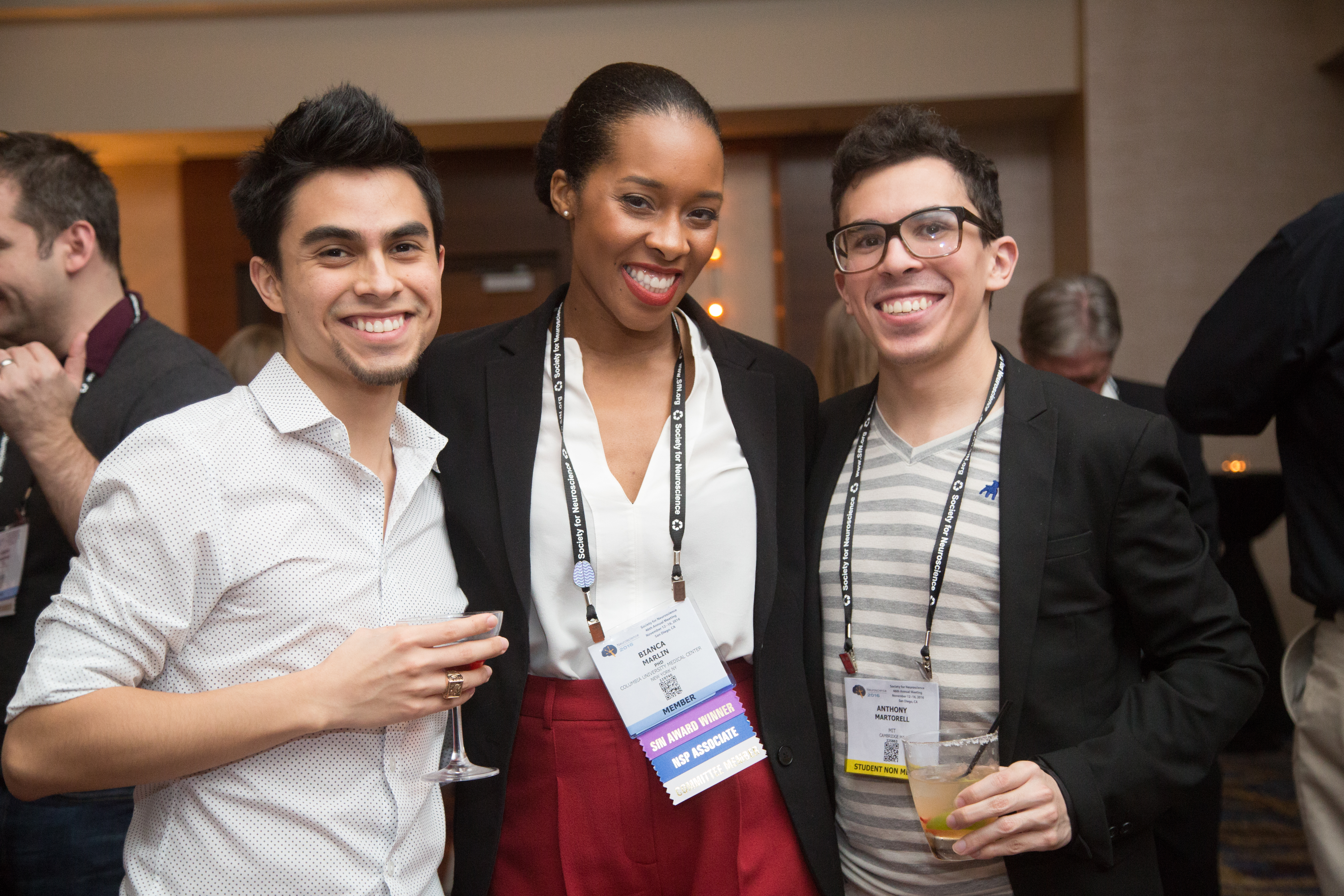 Attendees at SfN's annual meeting can make connections anywhere — in lecture halls, on the poster floor, and at special networking events.
More than 30,000 neuroscientists and clinician-scientists from across the globe are expected to gather in California for this year's annual meeting, November 3–7 at the San Diego Convention Center. Attendees will be able to take advantage of unparalleled learning and networking opportunities, featuring speakers from top global institutions and presentations on today's most investigated topics and innovative approaches to questions in neuroscience.
"Science is a global endeavor, and we are honored to have the privilege of bringing so many respected scientists from around the world to this year's meeting," said SfN Program Committee Chair Kang Shen, a professor at Stanford University. "By facilitating the interaction of researchers who bring original ideas influenced by their individual backgrounds and training, we set the foundation for progress."
The opportunity to connect with so many luminaries and potential collaborators can boost any neuroscientist's career, no matter his or her career stage. Whether or not you have attended past annual meetings, however, it can be difficult to know how to start making those connections.
To help attendees to make the most of their annual meeting experience, SfN has planned a host of networking events and socials, as well as created tools to help attendees to develop their meeting itinerary. With these resources, anyone can make at least one connection at Neuroscience 2018.
Advance Your Career at Networking and Training Events
SfN-Sponsored Socials bring together scientists whose research focuses on a common area, from neural oscillations to computational neuroscience, as well as those interested in a common aspect of neuroscience, such as art and neuroscience or global neuroscience. Some feature speakers, while others are purely social.
Professional Development Workshops offer practical advice, such as for networking at the annual meeting and building a global network. They also provide a venue for discussion of topics critical to the health of any neuroscience environment, such as how women can overcome obstacles in the field. Analyzing the National Academies report The Next Generation of Biomedical and Behavioral Sciences Researchers: Breaking Through, the Neuroscience Departments and Programs Workshop will focus on strategies for supporting independent careers in the biomedical sciences at the institutional level.
SfN Preconference Sessions provide valuable opportunities to discuss emergent scientific concepts and to connect with respected scientists on research that pushes boundaries. This year's Neurobiology of Disease Workshop will address how neuroinflammation contributes to the pathophysiology of nervous system disorders. Short Courses will cover balancing sex in preclinical research; combining and implementing functional, structural, and molecular imaging as well as big data analysis; and recognizing and addressing power dynamics in academia. Meet-the-Experts Sessions have also been expanded this year from nine to 14 sessions, including two Meet-the-Clinician-Experts. Seats are limited — take advantage of this additional scientific programming by adding one or more preconference sessions to your meeting registration in the Registration Resource Center.
Diversity, International Fellows, and Trainee Professional Development Awards poster sessions will be held jointly to not only provide opportunities for attendees to network with like-minded scientists but also to encourage interaction with those from backgrounds and countries different to their own.
Participants of SfN's Neuroscience Scholars Program, the NIH Blueprint initiative Enhancing Neuroscience Diversity through Undergraduate Research Education Experiences (ENDURE), and other diversity programs are invited to present in the Diversity Poster Session; the International Fellows Poster Session will feature posters from the next generation of leading young investigators from SfN's Latin American Training Program (LATP) as well as award winners selected by the International Brain Research Organization (IBRO) and the Japan Neuroscience Society (JNS). Undergraduate and graduate students and postdoctoral fellows demonstrating scientific merit will have the opportunity to present an abstract and learn from peers in the Trainee Professional Development Awards Poster Session, which is open to all attendees.
More than 70 national and international institutions will be represented November 3–6 at SfN's Graduate School Fair, an opportune place for prospective students and graduate school representatives to form connections that will shape the future of the field. Throughout the meeting, the on-site NeuroJobs Career Center will offer a venue for job seekers at all career stages to meet and interview with employers in academia, government, industry, and more. Meanwhile, at Career Development Topics: A Networking Event, neuroscientists will offer advice for attendees from diverse backgrounds, areas of research, and work environments on work-life balance, grants, career transitions, careers away from the bench, and other topics. Read about these events and more on SfN.org.
Plan Your Meeting Experience
SfN's Neuroscience Meeting Planner (NMP) makes it easy for attendees to browse the scientific sessions as well as networking and career development events of interest, helping them to maximize opportunities to form the global connections that can define their meeting experience. Use the search tools, filters, and topic-based curated itineraries to create your custom itinerary. Based on presentations added to an attendee's itinerary, the recommendations feature within the NMP will recommend related presentations to help attendees to discover new science and networking opportunities.
Also available in the iTunes and Google Play stores is the Neuroscience 2018 mobile app. The app can be used offline to search sessions, authors, exhibitors, shuttle bus schedules, and other annual meeting information. Log in to the app to sync it with your NMP itinerary and to access other features, such as a social media feed and the NeuroJobs Career Center. During the meeting, enhanced maps will be available in the app to help attendees to navigate the convention center and headquarter hotels.
Make Connections for the Future
Representing the most forward-thinking questions and technologies of our time, the science at the annual meeting is incomparable, as is the chance to make connections that have the potential to shape attendees' careers.
Melodi Bowman, a graduate student at the University of Texas Health Science Center at San Antonio, has experienced first-hand the value of networking at SfN's annual meeting, where she met her mentor. "When applying to PhD programs, I did a lot of networking," she said. "The mentor that I have now I met the year before I applied, and that's how I got to know her. Without SfN I never would have had that connection and been in the graduate program that I'm in now with the mentor that I have."
Register for Neuroscience 2018 and download the final Program to browse all sessions and events