Supporting the Neuroscience Community
Serving more than 37,000 neuroscientists around the globe, SfN offers programs to strengthen the neuroscience community all year. Alongside SfN-created programming, the Society partners with a variety of organizations to extend the size and scope of training and professional development opportunities available to its global membership.
"The optogenetic virtual conference was very good because I could gather everyone in our lab to watch the presentation."

Alexandre Magno
postdoctoral fellow, Federal University of Minas Gerais, Brazil
Digital Learning and Discussion
Complementing the once-a-year, in-person convening that is the SfN annual meeting, Neuronline is SfN's year-round home for digital learning and discussion. Since launching in 2015, the website has generated over 1,000 pieces of content on topics ranging from career advice to scientific research to select sessions from annual meetings, in formats as wide-ranging as written articles and webinars. All of these resources are available to offer SfN's global membership access to valuable programming at their convenience. An example of content unique to Neuronline, and created in celebration of SfN's 50th anniversary, is a series of video interviews with SfN past presidents; these prominent neuroscientists explore how the field of neuroscience, and its culture, has changed over the length of their careers. Alongside SfN produced content are resources from Neuronline content partners, including workshops organized by the Federation of European Neuroscience Societies (FENS), articles from the Neuroethics Blog, and videos by the International Neuroinformatics Coordinating Facility. In addition, the Neuronline community forums offer a platform for members to communicate directly with each other on any topic, with popular posts around finding roommates for the annual meeting and blog-style posts written by those who attended Neuroscience 2018.
"Any sort of instruction on implicit bias in our work is important for making sure that neuroscience is a community that is open and agreeable to everyone."

Hannah Baumgartner
graduate student, University of Michigan
With Council investment, SfN achieved its goal of hosting one virtual conference per quarter in FY 2019 on both scientific training and professional development topics important to the field. September 2018 featured "Next Generation Optogenetics — Tools and Applications," which served as a component of SfN's inaugural training series on optogenetics.
In January 2019, the professional development virtual conference on "Mitigating Implicit Bias — Tools for the Neuroscientist" focused on recognizing and overcoming behavioral biases in members' labs, institutions, and wider communities. The April 2019 virtual conference, "From Behavior to Brain — The Neuroethological Way to Neuroscience" dove into novel techniques and model organisms to study how nervous systems generate natural behaviors. "Machine Learning in Neuroscience — Fundamentals and Possibilities" in June 2019 revealed the many ways machine learning and neuroscience intersect in the context of data analysis and modeling brain function. These virtual conferences allowed members and nonmembers to benefit from rich content and gain access to leading scientific experts.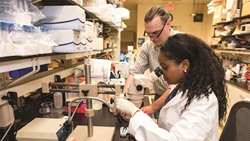 NINDS is funding a new SfN training program to enhance scientific rigor in neuroscience. Copyright Society for Neuroscience. All rights reserved.
Individual and Institutional Training Resources
As the content on Neuronline continues to grow, so has the need for new, efficient methods for members to find content they are interested in. For that reason, Council made a strategic opportunity investment to modernize the website. Neuronline relaunched in fall 2019 with an improved look and feel, enhanced navigation, and improved search functionality.
A new grant awarded by the National Institute of Neurological Disorders and Stroke (NINDS) was initiated in 2019 to carry on an important training program on scientific rigor. The grant-funded program, Foundations of Rigorous Neuroscience Research, is focused on the sociology of science and the cultural factors that underlie the rigor of neuroscience research. The new funding enables SfN to develop and deliver in-person workshops, a virtual conference, digital toolkits, and online programming to the world-wide neuroscience community over the next three years. Topics will include biases that can influence experimentation and interpretation; practices related to data collection, management, and sharing; and incentives that underlie career advancement and the stability of scientists' research programs. This type of training strategy that encompasses numerous opportunities for year-round learning and exchange in various formats aligns with the vision the Neuroscience Training Committee (NTC) holds for future training strategies organized by SfN.
The support from NINDS builds on a previous three-year grant-funded program titled Training Modules to Enhance Data Reproducibility. Supported by the National Institute on Drug Abuse (NIDA), the program produced a collection of training resources, including training modules and a virtual conference, for the global neuroscience community.
A key international partnership continued in 2019 with FENS organizing a European-based training webinar on networking. The event featured European scientists and examples of networks throughout Europe. Additional FENS digital content and events are scheduled for FY 2020. FENS members enjoy select access to Neuronline content, including FENS-organized webinars, articles, and videos.
For SfN's Institutional Program members, the NTC developed a set of Core Competencies in Neuroscience Training, specific skills undergraduate, graduate, and postdoctoral neuroscience programs should consider when developing curricula and learning outcomes. The postdoctoral fellow-focused resource built on previous work by the National Postdoctoral Association, while the Core Competency for undergraduates received input from the Faculty for Undergraduate Neuroscience. Core competencies appropriate for European training programs were also developed in cooperation with the FENS Committee on Higher Education and Training, reflecting yet another facet of SfN's strong relationship with the organization.
A Foundation for Future Leaders
SfN widened its already broad offerings in professional development programming by launching a Leadership Development Program (LDP) in 2019. The idea for the new program, a two-year pilot, emerged from volunteer-leader recognition of the need for a year-long professional development experience for motivated trainees. Combining an investment from Council with significant core support from the Dana Foundation, the first class of 15 LDP members were selected from high-performing graduate student and postdoctoral fellow Trainee Professional Development Award (TPDA) recipients.
The LDP class can look forward to in-person meetings at Neuroscience 2019 and in Washington, D.C. in February 2020, as well as year-round online programming focused on topics such as adaptive leadership, strategic thinking, effective teamwork, and cultural competencies and inclusion.
Another area of expansion was in support of women in neuroscience. Stemming from a conversation between SfN President Diane Lipscombe and FENS President Carmen Sandi at Neuroscience 2018, SfN agreed to support the activities of a new organization called the ALBA Network. Meaning "sunrise" in several languages, this network of European neuroscientists will focus on addressing gender disparity issues. Much like SfN's Increasing Women in Neuroscience initiative, the ALBA Network looks to develop resources for individuals and neuroscience departments across Europe. As part of the celebrations surrounding SfN's 50th anniversary, the Celebrating Women in Neuroscience (CWiN) luncheon at Neuroscience 2019 will feature three of SfN's female past presidents. Together, they will share their personal stories on how the practice and culture of neuroscience has changed over their distinguished careers.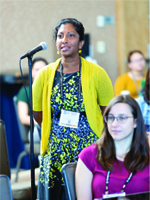 The new Leadership Development Program will offer a year-long experience to exceptional trainees. Copyright Society for Neuroscience. All rights reserved.
The longstanding Neuroscience Scholars Program (NSP), a two-year training program supporting underrepresented neuroscience trainees, earned special recognition in 2018 when it received a Presidential Award for Excellence in Science, Mathematics, and Engineering Mentoring. The award recognizes outstanding efforts of mentors in encouraging the next generation of innovators and developing a science and engineering workforce that reflects the diverse talent of America. NSP has been funded by NIH for almost 40 years.
Representing SfN's growing ability to support international neuroscience communities, two new chapters were approved in 2018 — LX-Portugal and Macau. Enabling the new chapters' creation was the Chapters Workshop at Neuroscience 2018, which featured, in part, an interactive roundtable discussion on how to start a chapter. The new workshop format, which helped to double the attendance of past years' workshops, will be repeated at Neuroscience 2019, where participants will have small group discussions around hosting a successful Brain Bee. This workshop will serve as the capstone of the SfN 50th Anniversary Chapter Video Challenge, where chapters competed to make the best video to answer the question, "why is brain science so important?" Videos were judged by recent Brain Bee participants, who are part of the student-run International Youth Neuroscience Association.