Advocating for the Field
Now in its third year of strategic opportunity investment, SfN's commitment to expanded advocacy continued to see increased return via new legislative accomplishments, a growing cadre of passionate advocates, and stronger relationships with policymakers.
An Expanding Legislative Footprint
"Since my time [as an ECPA], I've met several times with my senators, congressmen, and even locally with the governor."

Rachel Hendrix
postdoctoral fellow, Washington University School of Medicine
Funding levels increased by $2 billion for NIH in FY 2019. The FY 2019 increase not only represented the fourth year in a row of funding increases for the agency, but the first time in 22 years that NIH funding was secured prior to the start of the new fiscal year. The consistent increases to the NIH budget speaks to the bipartisan nature of scientific research.
The FY 2019 increase included $429 million for the BRAIN Initiative to continue its sixth year of providing neuroscientists the tools and technologies necessary to explore the inner workings of the brain. SfN celebrated the fifth anniversary of the BRAIN Initiative by co-hosting a Congressional BRAIN Investigators Reception on Capitol Hill, along with the Simons Foundation, Allen Brain Institute, American Brain Coalition, and Kavli Foundation. The reception gathered over 30 BRAIN Initiative-funded investigators, the Congressional Neuroscience Caucus, and representatives from NIH and NSF to share stories about their work to untangle the complexities of our body's most complex organ.
The NSF received a four percent increase to its budget, but only after a 35-day government shutdown shuttered the agency. NeuroAdvocates responded to the shutdown via an action alert urging their representatives to fulfill their public service responsibilities and provide funding for NSF. At the organizational level, SfN partnered with a large community of science advocacy groups, including Research!America, the American Academy for the Advancement of Science (AAAS), and the Coalition for the National Science Foundation to emphasize the costs of the unnecessary shutdown on scientists across the country.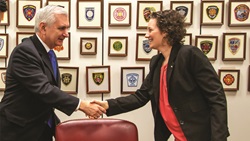 A simple handshake between a policymaker and NeuroAdvocate can be the beginning of a strong relationship in support of neuroscience. Copyright Society for Neuroscience. All rights reserved.
The Government and Public Affairs Committee approved SfN's expansion of its advocacy efforts to include the Congressionally Directed Medical Research Programs (CDMRP) under the Department of Defense, as well as neuroscience research supported by the Department of Veterans Affairs (VA). The CDMRP provides research funding with the goal of improving health care for members of the military and the American public. VA research focuses on issues impacting military veterans, such as prosthetics and posttraumatic stress disorder.
"If we really, really want the public to engage with us and be willing to fund research, then we need to tell them what it is that we're doing."

Sarah Hutter
graduate student, Princeton University
Nurturing Advocates Around the Globe
Effective advocacy is best achieved when there are strong relationships with policymakers and numerous voices all calling for the same action. Through a multi-year strategic opportunity investment, SfN has built a vocal, well-positioned, and powerful cohort of NeuroAdvocates.
At the core of this cohort are the Early Career Policy Ambassadors (ECPAs) and Key Contacts. ECPAs are a select group of trainee and early career neuroscientists committed to advocating on behalf of the field at their home institution, in their state, and on Capitol Hill. SfN's Key Contacts program consists of SfN members at all career stages who are represented by lawmakers identified as being particularly important to funding scientific research agencies.
Together, their collective action via direct communication to their members of Congress, inviting policymakers to lab tours, conducting poster floor tours at the annual meeting, or writing op-ed pieces in local publications, sustain the steady drumbeat of support for neuroscience funding.
Two additional efforts are also building the number of advocates calling for action. A strategic opportunity investment by SfN Council offers neuroscientists the opportunity to invite SfN staff to their chapter or institution to host seminars on how to affect change through advocacy. Through the Advocacy Training Program, SfN members in New York City; Baltimore, Maryland; Birmingham, Alabama; Toronto, Canada; and Washington, D.C. explored the inner workings of the policymaking process and identified key methods and moments for shifting policymaker opinion on issues critical to research. The strategic opportunity investment also looks to scale up the availability of these seminars by training SfN members on how to conduct them, enabling members to educate their departments on the practice of effective advocacy.
Two prominent North American advocacy partners, the SfN Mexico City Chapter and the Canadian Association for Neuroscience (CAN), renewed their memorandum of understanding with SfN to further develop their own culturally appropriate advocacy programs. For CAN, these efforts focus on increasing the number of neuroscientists communicating with members of the Canadian Parliament, while the SfN Mexico City Chapter is developing additional outreach resources to share the power and wonder of neuroscience research with the public.
Beyond North America, SfN continued to support global engagement seed grants offered by the International Brain Research Organization (IBRO) through IBRO's Global Advocacy Committee. These grants funded 11 projects to advance advocacy in four geographic areas: Africa, Latin America, Pan-Europe, and the Asia/Pacific region. The projects support lectures, symposia, and other educational content for global NeuroAdvocates looking to engage in local advocacy initiatives. SfN continues to develop resources in collaboration with the Federation of European Neuroscience Societies (FENS) continuing of the strong, longstanding partnership between the two organizations. Areas of focus include the support of transparency in the use of animals for biomedical research, advocacy, and a range of training resources developed in partnership between the SfN and FENS scientific training committees.
Capitol Hill Advocacy Yields Results
SfN's annual Capitol Hill Day is one of the most effective events on the neuroscience advocacy calendar, as it offers members the unique opportunity to discuss neuroscience research face-to-face with members of Congress and their staff. The 13th annual Hill Day held in March 2019 hosted 48 neuroscientists, including representatives from SfN's Council, Government and Public Affairs Committee, Global Membership Committee, Key Contacts, and the new class of ECPAs, as well as members from Canada, Mexico, the United Kingdom, Egypt, and India. Rep. Jerry McNerney (D-CA) opened the day with a speech on the floor of the U.S. House of Representatives welcoming SfN members to Capitol Hill and encouraging all House members to support robust funding for NIH and the BRAIN Initiative. Representatives Earl Blumenauer (D-OR) and Cathy McMorris Rogers (R-WA), co-chairs of the Congressional Neuroscience Caucus, introduced a resolution declaring support for Brain Awareness Week and neuroscience research. Such public statements by elected officials are further evidence of SfN's multi-year effort to build strong, trusted relationships with members of Congress.
On behalf of the SfN membership, SfN President Diane Lipscombe submitted congressional testimony urging increases to the NIH and NSF budget for FY 2020. Lipscombe's experience with being funded by both agencies meant her testimony shared how her research and career have been impacted by each agency's funding and how those experiences reflect similar stories from tens of thousands of neuroscientists across the country.
Proactive Communication of Animal Research
SfN members rely on well-regulated animal experiments to reveal how the human brain and nervous system function; SfN works to ensure the continued responsible and ethical use of animals in research. A key aspect of that work is to build public support and understanding of animals in scientific discovery through open communication. The Neuroscience 2018 Animals in Research (AiR) panel featured speakers from three organizations that proactively undertake public communication efforts to clarify when, how, and why they use animals in research. These examples of frequent and accessible communication to the public have been shown to be effective in counteracting the misleading messaging surrounding animal research.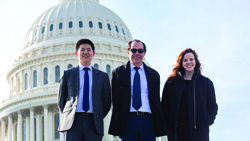 NeuroAdvocates spoke to their representatives about the needs of the neuroscience community during SfN's annual Capitol Hill Day. Copyright Society for Neuroscience. All rights reserved.
Outside of the annual meeting, the European Animal Research Association, with support from FENS and SfN, hosted a series of in-person workshops for European scientists on proactively and positively sharing research conducted with animals. Through these efforts and others, SfN and its members continue to identify opportunities to describe why animals are vital in research, how they are responsibly treated, and the life-saving benefits that result from their inclusion in the process of scientific discovery.