Advancing Scientific Exchange
Neuroscience 2018 Shares Diverse Perspectives, Provides for Dynamic Needs
Neuroscience 2018 brought together 28,691 attendees from 73 countries in San Diego, to once again create the largest gathering of neuroscientists in the world. Like the densely clustered neurons of the human brain, attendees reached out to form connections with those around them, strengthening their individual careers through contact with world-renowned researchers, new scientific knowledge, and the inspiration waiting to be found in and around the convention center.
"This is where I find ideas, where I start conversations, where I see which direction my science is going."

Sergio I. Valdes-Ferrer
assistant professor, Instituto Nacional de Ciencias Médicas y Nutrición, Mexico
As the methods of neuroscience continue to evolve in the 21st century, so has the Society's annual meeting. Neuroscience 2018 featured new formats and the reimagining of familiar sessions. In addition to programming, the annual meeting continues to find ways to open its doors to increasingly diverse attendees with different needs.
New Sessions Draw Crowds
A new perspectives-sharing session made its debut to a standing-room only crowd at Neuroscience 2018 — Dual Perspectives. The Program Committee's Innovative Learning Working Group modeled the Dual Perspectives session after the feature in JNeurosci. The format featured two researchers representing different views for a respectful one-hour discussion. The overwhelmingly positive response to Dual Perspectives ensured that the session will return to Neuroscience 2019.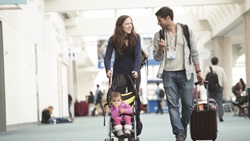 To support attendees with young children, Neuroscience 2018 offered enhanced infant care resources. Copyright Society for Neuroscience. All rights reserved.
Bringing new energy to a longstanding tradition, SfN-Sponsored Socials shifted to a submission-based system similar to the selection of symposia and minisymposia. Giving members the ability to propose social ideas resulted in popular new gatherings such as "Breaking Barriers for Young Women in Science," which created a space for up-and-coming female scientists to interact with mentors in a relaxed environment. The Storytelling Session, which debuted at Neuroscience 2017 and enjoyed large crowds for its second year, also shifted to accepting member proposals for the 2019 annual meeting to provide members a greater ability to suggest the programming they wish to experience.
With the annual meeting continuing to evolve, SfN's 50th anniversary offers an opportunity for members to reflect on the changing nature of neuroscience. Several sessions at Neuroscience 2019 will be structured to look at the past, present, and future of specific areas of interest in the field.
Driving Accessibility for Dynamic Member Needs
"What draws me to the SfN meeting is the fact that I am able to learn so much from people around here."

Mustafa Mithaiwala
doctoral candidate, University of Texas Health San Antonio
As the largest gathering of neuroscientists in the world, SfN takes seriously its responsibility to ensure that the annual meeting is accessible to all neuroscientists. In response to more restrictive travel visa policies in the U.S. and elsewhere, some SfN members were unable to attend Neuroscience 2018 to share their science with peers. In order to better serve members, in 2019 SfN's Program Committee launched the Science Knows No Borders program with the support of SfN Council. The initiative will enable Neuroscience 2019 presenters facing visa or travel restrictions to share their science. Program participants provide their poster or pre-recorded nanosymposium, symposium, or minisymposium presentations to SfN prior to the annual meeting and assistance will be provided on-site by attendee volunteers. Poster presenters are encouraged to host online chats during their presentation and symposia time. While the Science Knows No Borders program cannot replace the experience of attending the annual meeting in person, it reflects the neuroscience community's commitment to supporting the needs of colleagues worldwide.
New action by Council in 2018 through the Trainee Professional Development Award (TPDA) offered an expanded avenue of support for trainees interested in attending the annual meeting. Council matched $30,170 in individual donations given to the Friends of SfN Fund in support of the TPDA program, along with an additional $55,000 that matched gifts of $25,000 or more from private foundations and corporate contributors. Council also provided $100,000 in direct support. Because of the generosity of the neuroscience community, 261 trainees from 22 countries received awards and benefited from funds that helped them travel to Neuroscience 2018. Building on this momentum, FY 2019 includes the creation of a year-round Leadership Development Program, co-funded by the Dana Foundation, where 15 high-performing TPDA recipients will receive additional training in leadership, strategic thinking, and more to help position them for success. The inaugural class will meet for the first time at Neuroscience 2019.
Neuroscience 2018 included other expanded accessibility efforts. In response to the needs of neuroscientists with young families, SfN communicated with the convention centers in San Diego, Chicago, and Washington, D.C., to encourage their facilities to either create or expand spaces for infant care. SfN enhanced its own Neuroscience 2018 infant care space to offer both new and improved resources. These offerings complement the childcare program that has been offered for many years with the goal of making the annual meeting experience more supportive for attendees with young children.
On-site scooter rentals, providing immediate mobility enhancement for members in need, were again offered after an enthusiastic reception in 2017.
The mobile app also provided increased accessibility options via two new features guided by SfN's Neuroscience Meeting Software Test Group. First, a recommendations tool presented session suggestions to those who created an itinerary and performed searches in the app. Second, the "contact" feature allowed attendees to create a personal profile. Attendees could then connect and swap profile information with others, much like a digital business card. These new app-based resources aid attendees in deriving more value from their time at the annual meeting.
Adapting to the evolving use of technology, Council has adopted a new policy, recommended by the Program Committee, regarding the use of photography and recording devices during SfN meetings. Developed in FY 2019 to be implemented at Neuroscience 2019, presenters and exhibitors can indicate whether they agree to their materials being photographed or recorded under a Creative Commons license by displaying graphics with a red (no recording) or green (recording allowed) camera icon.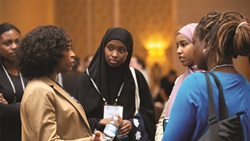 New SfN-Sponsored Socials created opportunities for trainees to meet and learn from established neuroscientists. Copyright Society for Neuroscience. All rights reserved.
Major Press Cover Neuroscience 2018
Every year, the SfN annual meeting offers the first glimpse of cutting-edge science to the world, guaranteeing coverage by the media. The press program, directed by the Public Education and Communication Committee and aimed at generating news coverage of abstracts submitted to the annual meeting, created 11 press conferences and a Hot Topics book consisting of roughly 100 newsworthy abstracts. Through these efforts, Neuroscience 2018 attracted 207 registered journalists from 13 countries, produced more than 150 original English-language stories, and earned 1,229 news hits and mentions from across the globe. Articles appeared in high-profile media outlets including NPR, MSN, The Washington Post, Forbes, Daily Mail, and The San Diego Union-Tribune. Respected scientific publications such as Nature, Scientific American, Popular Science, and Science also published articles with science presented at the meeting.

Copyright Society for Neuroscience. All rights reserved.
SfN Journals: Shaping the Field
The cover of
JNeurosci
provides a canvas to display the beauty of cutting-edge neuroscience. Hanson et al., 2019, JNeuosci, 39 (19) 3611-3626.
While neuroscientists network and share the latest science in-person at the annual meeting, they exchange knowledge about the brain and nervous system every day through SfN's scientific journals. Published since 1981, JNeurosci is home to some of the most highly cited research in neuroscience. eNeuro, the leading open-access neuroscience journal, provides the community a needed venue to publish important scientific findings, such as negative results and replication studies, that might otherwise not be considered for review. Both journals publish research that readers can trust will remain reliable and relevant over time.
Supporting Strong Science
Scientific journals have historically been inclined toward novel, positive results, which has unintentionally contributed to a "reproducibility crisis" in science. One way to mitigate such publication bias is to have authors preregister their research question and methodology before conducting any experiments. eNeuro has joined a growing number of journals in offering Registered Reports. If the research proposal is accepted and the authors have adhered to the research plan, eNeuro agrees to publish their results regardless of the outcome.
In 2018, JNeurosci began a series of editorials addressing issues of experimental design unique to neuroscience. So far the editorial board has covered human neuroimaging, electrophysiology, and model organism behavior.
Promoting Diversity and Inclusions
As authors themselves, the editorial boards of both journals represent the geographic, ethnic, and gender diversity of the field. In 2018, JNeurosci welcomed four new Reviewing Editors: Jonas Obleser, Hans Op de Beeck, Daniela Schiller, and Kevin Staley. Senior Editors Jeff Diamond and Jay Gottfried also joined the JNeurosci Editorial Board. eNeuro added Reviewing Editors Julie Bakker, Yavin Shaham, and Katalin Toth; Sabine Kastner was added to the eNeuro Advisory Board.
As part of its commitment to early-career researchers, SfN's Reviewer Mentor Program has paired more than 50 trainees with volunteers from both journals' editorial boards. Through these partnerships, trainees practice reviewing preprints on bioRxiv and learn from editors how to thoroughly and constructively evaluate a peer's manuscript. Following successful completion of the program, participants are included in a reviewer pool from which eNeuro editors are encouraged to draw.
"eNeuro is the first journal that I ever published in. They accepted my first project that I did as a graduate student. So, thank you eNeuro — you started my career."

Jaime Willet
graduate student, North Carolina State University
Accelerating Publication
Both JNeurosci and eNeuro publish new research as quickly as possible by making articles available prior to formatting and copyediting. Publishing these "early release" articles means new, citable findings are delivered quickly to the community. In 2018, the median time to first decision was 31 days for JNeurosci and 27 days for eNeuro.
eNeuro has published more than 1,000 papers in just five years. Submissions to eNeuro continue to rise each year, increasing by nine percent in 2018 to a total of 471 submissions. JNeurosci accepted 29 percent of research manuscript submissions in FY 2019. In response to the needs of authors, JNeurosci has taken decisive steps to simplify and streamline the submission process.
"Aside from the fact that a lot of really interesting work is published in JN, we all need to support a journal that is run by scientists, rather than by companies," said George Augustine of Nanyang Technological University.
Increasing Readership
SfN's journals are read by a global audience of neuroscientists from more than 200 countries and territories. eNeuro's readership has grown rapidly since launching in 2014, increasing by 50 percent in the last year. JNeurosci's established online readership also continues to grow, increasing by seven percent in 2018.
Twitter has become an important channel for the scientific community to discover research, and SfN helps to promote research through this venue by tweeting about every article published in both journals. The @SfNJournals Twitter account is followed by more than 6,000 scientists and members of the media and acquired nearly 1,800 new followers in FY 2019. SfN sent 1,300 tweets from this channel, which were retweeted close to 4,000 times and liked 6,600 times, increasing readership and the impact of the manuscripts — and authors — published in the journals.
eNeuro's custom electronic Table of Contents, which is emailed biweekly to both SfN members and authors, has effectively referred 12 percent of the traffic to eNeuro in 2018, an increase of seven percent from the previous year.
Disseminating Research to the Field and the Public
To promote important advances in neuroscience and ensure wider exposure of articles among the science-interested public, SfN alerts a growing list of science reporters and communications staff at authors' institutions of new research coming out in JNeurosci and eNeuro. In turn, the media and public information officers disseminate research to the public. SfN issued more than 100 research summaries to the media in FY 2019, while public information officers issued more than 60 additional press releases further promoting the work of their students and faculty.
In addition to press promotion, SfN uses its communications channels to share research with the scientific community. Neuronline, SfN's digital learning and discussion website, invites JNeurosci and eNeuro authors to write a broad summary of their recent article for SfN's membership. With its August 2018 relaunch, SfN.org spotlights recently published research in SfN's journals on the homepage, which is regularly updated each week. In October 2018, eNeuro launched a blog to highlight research, promote discussion about peer review and publishing practices, and facilitate an open dialogue between Editor-in-Chief Christophe Bernard and the author community. The eNeuro blog complements the journal by publishing a variety of content types, including Editor's Picks, Reader's Picks, Featured Findings, and Beyond the Paper.
Stemming from an SfN Council strategic opportunity investment, planning for a new SfN-produced podcast series began in FY 2019. The podcasts will feature discussions about research in both journals, highlighting content being published in both JNeurosci and eNeuro through in-depth interviews with authors, with the goal of expanding into the stories behind the research.
SfN helps readers navigate the evergrowing neuroscience literature by curating lists of recommended articles through new "featured research" pages, the scholarly recommendation engine TrendMD, the all-member digital publications Nexus and Neuroscience Quarterly, and e-Alerts. All of these efforts refer readers directly to journal articles. SfN will continue to leverage new ways to publish, read, and share research.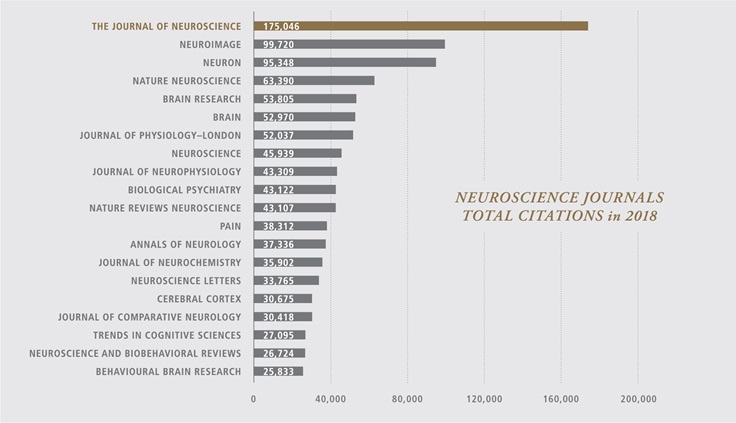 Copyright Society for Neuroscience. All rights reserved.
Looking Forward: the Next 50 Years
Neuroscience has come a long way since the Society was founded in 1969. Reflecting on this progress in the Neuroscience 2018 issue of JNeurosci, Douglas Fields writes: "The challenge of understanding the brain, mind, behavior, and dysfunction cannot be met without bringing to bear the full arsenal of scientific power and technology in an attempt to comprehend it, from mathematics to psychology." Like the SfN annual meeting, SfN's scientific journals bring together scientists of diverse backgrounds around a common scientific mission to continually advance our understanding of the brain and nervous system.