Financial and Organization Highlights
To advance breakthrough discoveries in neuroscience and promote innovative translation of scientific advances to improve the health of people everywhere: This vision of SfN is as meaningful and relevant today as it was when the Society was founded July 11, 1969. Throughout the past 50 years, SfN has remained committed to serving as a financial steward to support the pillars of the mission: providing exceptional programming, service, scientific training opportunities, professional development, and avenues and resources for public outreach to neuroscientists worldwide.
Fiscally Responsible Stewardship
Steady growth of SfN's annual meeting, the largest gathering of neuroscientists in the world, and SfN's two scientific journals, JNeurosci and eNeuro, helped to ensure financial support for a vast array of programming, reinforcing the value of SfN membership. Revenue also supported programming that fueled greater awareness of neuroscience: the Society engaged the public in the need for basic research funding that may lead to new breakthroughs for human health.
After years of strong performance within the organization's investment portfolio, the SfN Council established an annual draw of $2 million from reserves dedicated to the support of key programs and mission-driven activities including professional development, advocacy, and training programs important to membership and the field.
Pursuing Strategic Opportunities
Initiated in 2016 by Council, the Strategic Opportunities Fund and its approach to directed investment in the Society's mission have continued to fund priorities in FY 2019.
Accelerating Careers
Council continued its commitment to the Trainee Professional Development Award (TPDA) with base funding of $100,000 in addition to donations made by the Friends of SfN Fund. Fifteen high performing TPDA recipients this year will form the inaugural cohort of the Leadership Development Program, a year-round pilot initiative focused on building the skills, knowledge, and confidence of trainees so that they can effectively perform as leaders.
Scientific Training
FY 2019 also saw an increase in training programs, with a series of three scientific training-focused virtual conferences on the topics of optogenetics, neuroethology, and machine learning in neuroscience. In connection with optogenetics, SfN piloted a series of scientific training content on Neuronline. This model will be repeated in FY 2020.
Publishing
Further investment to evaluate and refine scientific journal publishing strategies emerged as a key priority in FY 2019 to ensure SfN's journals evolve to meet the growing needs of authors and the Society's membership. Efforts have been focused on improving accessibility and exposure of content, recognizing authors and reviewers for their contributions, and enhancing the overall experience for contributors to both JNeurosci and eNeuro.
Science Advocacy
Council also provided strategic investment into SfN's advocacy efforts with the broadening of member engagement activities and a scalable, modular advocacy training program that is available in seminar format for chapters, departments and programs, and other groups of SfN members interested in learning more about effective advocacy.
Digital Learning and Public Education
Ongoing investments in digital learning and strategy were another leading priority in FY 2019, including Neuronline, which underwent a modernization and improvement project during FY 2019 and FY 2020 to enhance the user experience and discoverability of content. The updated site relaunched in early October.
Additionally, SfN planned three podcast series: BrainFacts.org, SfN's public information initiative, will begin a podcast series bringing to life neuroscience topics of interest to the general public through storytelling. A podcast series tied to JNeurosci and eNeuro will focus on in-depth interviews from recent authors the stories behind the science. Additionally, a limited-run 50th anniversary podcast will release featuring eight episodes showcasing vignettes from notable SfN members.
Other digital investments include converting all historical abstracts back to 1971 into easily accessible digital files for preservation, also making them searchable on SfN.org.
As SfN looks ahead to FY 2020, which includes SfN's 50th annual meeting, it will continue to practice responsible investment strategies and carefully evaluate new opportunities to invest in mission and drive innovative programming for members of the global neuroscience community.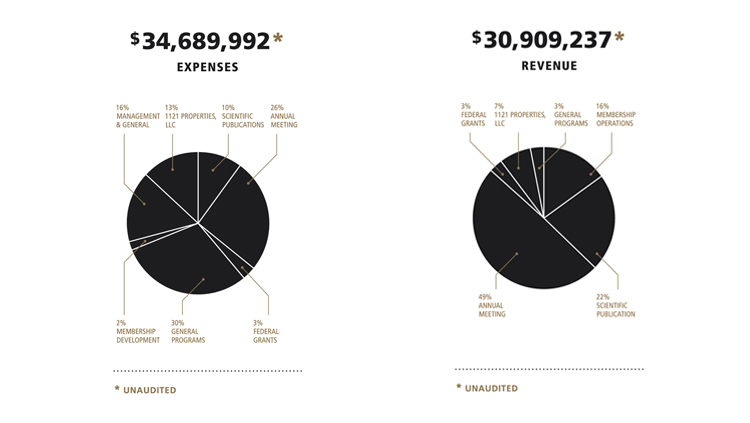 Copyright Society for Neuroscience. All rights reserved.