Educating and Engaging the Public
The roughly 86 billion neurons comprising the brain encased in our heads is complexity come to life. Intricate communications between neurons fuel all our thoughts, actions, memories, and emotions. For seven years, BrainFacts.org has been reliably telling the story of how our brains compel us to explore and understand our world, all the while gaining a public audience and private support.
"One of the most important lessons that I've learned from SfN is to tell stories when you communicate science to the public."

Benedict Wild
graduate student, German Primate Center, Germany
New Leadership, New Directions
In January 2018, Richard Wingate took the helm of BrainFacts.org from outgoing Editor-in-Chief John Morrison. Wingate, a reader (professor) in the MRC Centre for Neurodevelopmental Disorders at Kings College, London, is bringing his passion for communicating science to non-scientific audiences to help guide BrainFacts.org as it continues to deploy multimedia storytelling. Working with Wingate is new Associate Editor Charles Yokoyama, executive director of the Research Center for Neurointelligence at the University of Tokyo. Yokoyama's scientific interests have been studying connections between structures in the brain and Yokoyama's role with BrainFacts.org will enable him to connect a wider audience to brain science.
Wingate and Yokoyama defined three specific goals for BrainFacts.org. First, they will explore ways to increase the range of audiences who can access the resources available online. Wingate and Yokoyama are committed to expanding BrainFacts.org's readership outside the U.S. Over 55 percent of the site's readers already come from non-U.S. countries, with India having the second most users of the site (14 percent) after the U.S. The second goal is to further promote BrainFacts.org as a scientifically accurate resource for educators and the general public. The site regularly publishes "Classroom Resources" developed as activities for educators to engage their classes on brain science. A robust content plan for 2019 will create reasons for the public to return to the site almost every day. Third, BrainFacts.org looks to more consistently engage SfN members.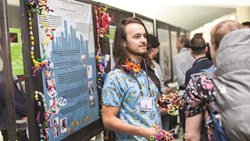 Colorful, interactive activities, like building neurons out of pipe cleaners, are an effective way to engage audiences with neuroscience. Copyright Society for Neuroscience. All rights reserved.
Whether agreeing to participate as a subject in a "Meet the Researcher" video, answer questions in the "Ask an Expert" series, or serve as a resource for local schools by joining the "Find a Neuroscientist" database, Wingate and his colleagues on the editorial board are seeking to have SfN members understand that BrainFacts.org can be an outlet to help neuroscientists reach and speak to a non-scientific audience. As a whole, these goals bring together the neuroscience community and the public in support of curiosity about the brain.
"It's important to share what we learn because our findings shape what we know about the brain — and therefore what we know about ourselves."

Timothy Shea
graduate student, University of California, Merced
Expanding Beyond Text
BrainFacts.org began in 2012 as a public information initiative of founding partners The Kavli Foundation, the Gatsby Charitable Foundation, and SfN. Each partner has renewed their support, recognizing the importance of providing people with easy and free access to scientifically accurate, engaging, and accessible information about the brain. In 2018, The Lundbeck Foundation awarded SfN a five-year grant worth $150,000 per year to provide core funding to BrainFacts.org, enhancing the Society's ability to employ innovative digital formats to develop engaging neuroscience narratives. The Stanley Center for Psychiatric Research also generously supports mental health content under a three-year grant.
The most popular content on BrainFacts.org continues to be the 3D Brain, which was funded with a 2016 grant from the Wellcome Trust. Since its launch in October 2017, the scientifically accurate and interactive model has offered users the opportunity to explore the human brain. This year, the accessibility of the model for visually impaired users was enhanced by adding audio labels of the written descriptions. Other top BrainFacts.org stories of 2018 examined how pregnancy, anxiety, and fasting affect the brain, highlighting how the site provides its audience with answers to everyday questions in everyday language.
Moving beyond text-driven articles, BrainFacts.org employs neuroscience storytelling in videos, infographics, quizzes, podcasts, and interactive games to engage the audience in new learning mediums. The Build-a-Neuron game provides users the opportunity to build individual neurons and then connect multiple neurons to form a circuit. In 2018, SfN published the 8th edition of the Brain Facts book. In 2019, the book was converted to digital and audio formats enabling more students, teachers, and the public access to this instructional tool.
Looking forward, BrainFacts.org is developing a podcast series made possible through SfN Council strategic opportunity funding. In the coming year, the editorial team is gearing up to celebrate SfN's 50th anniversary with a series of 50 Brain Facts designed to be visually engaging and easily sharable on social media, expanding the reach of BrainFacts.org.
Inspiring Generations
Complementing BrainFacts.org's online content are SfN's efforts to bring together neuroscientists and the nonscience public via in-person outreach. Using the Brain Facts book as a source of questions, Brain Bees provide a competitive opportunity for secondary school students around the world to prove their knowledge of neuroscience. Starting with local-level gatherings hosted by many SfN chapters, the competition culminates with national Brain Bee winners competing at the International Brain Bee (IBB), hosted during an international neuroscience conference. This year, the IBB took place at the International Brain Research Organization (IBRO) World Congress in Daegu, South Korea September 20 – 21, 2019. SfN has partnered with IBRO, the Federation of European Neuroscience Societies (FENS), the American Psychological Association, and the Dana Foundation to create a formal IBB organization to sustain the IBB in the future. SfN also hosts the Washington, D.C., Brain Bee each year and sent its winner to Hershey, PA for the U.S. National Brain Bee competition.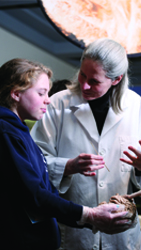 Brain Awareness Week connects current and future generations of neuroscientists around their shared curiosity of the brain. Copyright Society for Neuroscience. All rights reserved.
Brain Awareness Week (BAW) represents another international opportunity for members to share brain science with the public. Launched in 1995 by The Dana Foundation, BAW sees neuroscientists connect with students, teachers, and communities to celebrate the excitement and benefits of brain research. In addition to many in-person events scattered across the globe, SfN hosted a webinar on BrainFacts.org revealing the origins of insight that lead to an "aha!" moment. An educator-focused webinar in December 2018 discussed the impact of technology on attention in students. For those looking to make use of their creative insight, the annual Brain Awareness Video Contest again offered the opportunity to explain a favorite neuroscience topic. The winner earned a trip to the SfN annual meeting and videos judged to be both rigorously accurate and entertaining were shared with the world on BrainFacts.org.
In FY 2019, SfN returned to the National Association of Biology Teachers meeting to increase awareness of the Brain Facts book and resources on BrainFacts.org among this key group of educators. SfN maintained its longstanding presence at the National Science Teachers Association National Meeting to introduce the many ways science teachers can incorporate brain science into their lesson plans. In addition to public outreach events at Neuroscience 2018, SfN hosted a booth at the Family Science Days, held in conjunction with the annual meeting of the American Association for the Advancement of Science.