Global Brain Initiatives Are Transforming the Way Science Is Conducted and Shared
As researchers discover more about the brain, their findings uncover even more questions. Some researchers are striving to learn what prompts two neurons to form a synapse. Others are focused on how neural networks are built or what gives rise to consciousness, to personality, and to memories.
In the search for answers that define who we are, scientists are joining forces in large-scale collaborations that span scientific disciplines and, increasingly, international borders. This shift toward larger, open science is raising new questions about data accessibility and standardization and transforming how brain research is done.
Researchers in the Seung Lab, overseen by Sebastian Seung, of the Princeton Neuroscience Institute, are at the forefront of a new wave of collaborative projects aimed at deciphering the immense complexity of the brain, with its 150 trillion synapses connecting 86 billion neurons. One of the lab's projects, called Neo, crowdsources the arduous task of charting neural circuits to a vast community of online gamers, with the goal of reconstructing a cubic millimeter of mouse primary visual cortex — about 100,000 neurons and 1 billion synapses — to begin to reveal how those connections encode the beginnings of perception.
Neo improves on the artificial intelligence algorithms developed for a similar project called Eyewire, which enlists gamers in building an interactive 3D map of the neurons in a sliver of mouse retina. Both are part of the Machine Intelligence from Cortical Networks (MICrONS) program funded by the Intelligence Advanced Research Projects Activity (IARPA). To date, Eyewire's mapping efforts have revealed six previously undiscovered cell types in the retina.
"As we're beginning to identify and classify the different cell types and find all these anomalies, I think it's going to be a pivotal resource for sharing neuroscience with nonneuroscientists," said Amy Sterling, executive director of Eyewire. "The entire data set will be publicly available as well as the reconstructions and the code. We're anticipating that people will be making discoveries from it for quite some time after the MICrONS program finishes."
THE BRAIN INITIATIVE
Neo is one of more than 500 projects encompassed in the U.S. Brain Research through Advancing Innovative Neurotechnologies (BRAIN) Initiative, a multidisciplinary collaboration that this year celebrated its five-year anniversary. It received $550 million from NIH as of FY 2017 and an additional $400 million for FY 2018. It is also supported by NSF, the Defense Advanced Research Projects Agency (DARPA), IARPA, and other federal agencies as well as private foundations, institutions, and corporations, all of which are working together to deepen the understanding of the inner workings of the human mind and to improve treatment and prevention of disorders of the brain.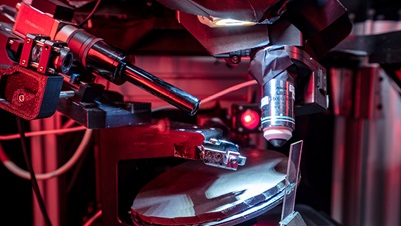 Courtesy of the Allen Institute for Brain Science.
The BRAIN Initiative shows how cross-disciplinary investment and partnerships can drive innovative, high-impact research. Achievements in its first five years include identification of new cell types and detailed characterization of gene expression patterns in the brain; engineering of fluorescent proteins and advanced microscopy methods that allow researchers to witness neural activity and the release of the neurotransmitters dopamine and serotonin in the brains of living animals; improvement of whole brain imaging and optical techniques such as three-photon microscopy that enable researchers to look deeper inside the brain; and technological advances to help people with depression, paralysis, and other neurological disorders.
According to Richard Huganir, SfN president and director of The Solomon H. Snyder Department of Neuroscience at Johns Hopkins University, the BRAIN Initiative's emphasis on multidisciplinary collaborations is boosting the impact of the NIH investment.
"It's providing the tools that will accelerate discovery," he said. "The success of the BRAIN Initiative has been an exemplar for the world. A lot of people are starting their own initiatives, and there are now people trying to coordinate the different initiatives across different nations."
GLOBAL BRAIN INITIATIVES
As the field faces increasingly complex questions and rising technological demands needed to investigate them, groups around the world are harnessing the power of collaborations with large, coordinated efforts that transcend borders, with the goal of inspiring creative approaches to research.
Image by Alex Norton for EyeWire.
One of the first international initiatives to emerge was the Human Brain Project (HBP), a 10-year commitment launched by the European Union in late 2013. Using advanced information and communication technologies, the HBP aims to establish a robust integrated research infrastructure to advance brain science, medicine, and computing. Its six research platforms drive neuroscience projects that include detailing the structure and organization of human and rodent brains and both theoretical and experimental studies of cognition and neural systems.
In 2014, the Japanese government established the Brain Mapping by Integrated Neurotechnologies for Disease Studies (Brain/MINDS) project. This initiative focuses on developing the marmoset as a new animal model for studying the neural networks controlling higher-order functions, which are often implicated in disorders of the human brain. The major goals are the completion of a genome-wide atlas of gene expression changes in the marmoset brain throughout neural development and the creation of an integrated data platform to facilitate data access and sharing. The project is also developing novel imaging tools to aid research into brain disorders.
Brain/MINDS plans to collaborate with other initiatives including the China Brain Project, named "Brain Science and Brain-Inspired Intelligence," which uses another nonhuman primate, the macaque monkey, to study mechanisms underlying cognition and neuropathology. Planned to run from 2016 through 2030, the project seeks to improve early diagnosis and develop new therapeutic approaches for the neuropsychiatric and neurodegenerative diseases that affect an estimated one-fifth of China's population.
"The idea is to standardize, standardize, standardize, to the extent possible. Across labs, publish all your data and your metadata and all the details, the exact protocols, because, really, the small details matter, it turns out. They really matter." — Christof Koch, Chief Bioscientist and President of the Allen Institute for Brain Science
Similar efforts announced in 2016 include the Korea Brain Initiative, a 10-year plan to map the brain and strengthen partnerships with industry, and the Australian Brain Initiative, which will build on the country's expertise in neuroprosthetics to make advances in understanding healthy brain function and create industries based in neurotechnology. Meanwhile, Brain Canada has for 20 years been supporting collaborative research predicated on a "One Brain, One Community" approach that views the brain as a single, interconnected system with commonalities across multiple diseases.
In recognition of the increasingly global nature of research, representatives from many of the world's largest brain projects established the International Brain Initiative late last year. Comprising Europe, Japan, Korea, Australia, and the United States, the coalition in December 2017 issued a Declaration of Intent committing the global brain initiatives to align efforts with one another and with government, academic, industry, and public stakeholders; to devote resources to data sharing and standardization; and to recognize ethical considerations that may arise from advances in neuroscience, neurotechnology, and artificial intelligence.
OPEN SCIENCE
The trend toward collaborative science is producing unprecedented amounts of data, necessitating additional collaborations to build tools for analyzing and sharing data accurately and reproducibly. With petabytes — millions of bytes — of information being collected and stored in data repositories and in the cloud, computational neuroscience on the exascale — capable of making a billion billion calculations per second — will play an increasingly important role in analyzing this data.
At the same time, the international community will need to coordinate to standardize data so scientists around the world can contribute and expand on findings. According to Christof Koch, chief bioscientist and president of the Allen Institute for Brain Science, making data and metadata openly available can result in more statistically valid results and mitigate the reproducibility crisis. Increased standardization of data collection and reporting can also help scientists to control as many aspects of the experimental process as possible.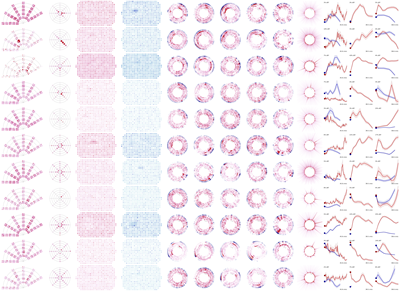 Courtesy of the Allen Institute for Brain Science.
"Even a single cell has thousands or tens of thousands of degrees of freedom: all the different proteins, all the different concentrations, what it was exposed to, etc.," Koch said. "The idea is to standardize, standardize, standardize, to the extent possible. Across labs, publish all your data and your metadata and all the details, the exact protocols, because, really, the small details matter, it turns out. They really matter."
Known for its publicly available data resources such as atlases of gene expression in adult and developing human and mouse brains, the Allen Institute for Brain Science is making strides to standardize neuroscience data on an international scale. For example, the Allen Cell Types Database features neurophysiology data in a format designed by the Neurodata Without Borders: Neurophysiology (NWB:N) project to reduce barriers to access. According to Koch, the Institute recently received funding from NIH to develop a way for scientists to translate data from other formats into NWB:N.
In addition, the Institute is leading three collaborative consortia established by grants from the BRAIN Initiative Cell Census Network (BICCN), which aims to create a comprehensive reference of cell types in the brain. "We're investing enormous amounts of resources into that, both for the mouse as well as for the human brain," Koch said. Two of the consortia will create whole-brain atlases of cell types in mouse and human brains. The third will develop a BRAIN Cell Data Center (BCDC) as a portal for compiling and sharing the data, tools, and knowledge generated by the BICCN.
With the continued involvement of the scientific community in defining research questions, coordinating large-scale projects, and sharing data, collaborations have the potential to accelerate scientific progress far beyond what any one lab or institution could accomplish. As the BRAIN Initiative Working Group 2.0 considers directions for the next phase of the BRAIN Initiative, greater emphasis will be placed on translating basic science into clinical applications with a direct effect on human health and well-being.
"The long-term impact is that we're getting tools to be able to understand brain circuits and functions, what is controlling motivational states, emotion, fear. If we understand the circuits and the pathways and cell types involved, we can apply that to helping people with depression and other neurological and psychiatric diseases," Huganir said. "The longterm benefit is going to be huge."