Advocating for the Field: Empowered Advocates Advance Neuroscience Funding
SfN members across the globe are taking a more active role than ever in advocating for science, yielding significant achievements for the field.
Acknowledging SfN members' expressed desire for more opportunities to advocate for neuroscience research, in FY 2018 the Society expanded its commitment to advocacy, with a focus on member engagement, cultivation of congressional champions, and increased advocacy-related communications via traditional and social media platforms. By engaging scientists as the best messengers for promoting investment in biomedical research and the responsible use of animals in the research process, SfN amplified its voice for neuroscience within the U.S. Congress and continues to advance neuroscience priorities across the globe.
"Communicating your science is just as important as doing the science. It's up to me and to you, the scientists, to convey that to the public and to our members of Congress." — Naomi Charalambakis; Director, Science Policy and Outreach Group, University of Louisville School of Medicine, Kentucky
The intersection of these efforts, combined with collaboration among SfN's science advocacy partners, contributed to key legislative accomplishments in FY 2018, including an additional $3 billion in funding for NIH; a $295 million increase for NSF; and the preservation of the tax-exempt status of graduate tuition waivers. These accomplishments contribute to the Society's goal of promoting robust and predictable investment in basic and translational neuroscience research.
SfN continues to work with international organizations to advance neuroscience priorities in a locally and culturally relevant manner, including through continued partnerships with the International Brain Research Organization (IBRO), the Federation of European Neuroscience Societies (FENS), the Canadian Association for Neuroscience (CAN), and SfN's Mexico City Chapter.
INCREASING FEDERAL INVESTMENT THROUGH MEMBER ADVOCACY
Working directly with advocacy leaders across the U.S., SfN entered the second phase of a long-term plan to provide opportunities for SfN members to establish relationships with their representatives and advocate the importance of funding for their research.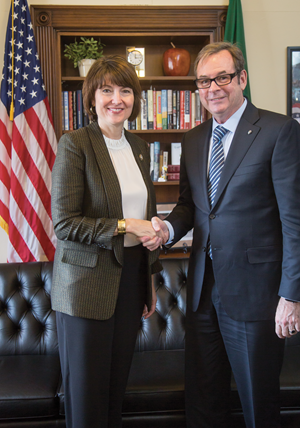 Expanding on the first phase of the plan, which mobilized member advocates in six key geographic areas, SfN identified an additional five priority areas for year-round focus, extending its advocacy presence into Miami, Florida; Montgomery and Birmingham, Alabama; Charleston, South Carolina; and the state of Missouri. Continued development of member advocates in these and other areas, combined with the continuation of the successful Early Career Policy Ambassadors Program, will contribute to the continued growth of a nationwide network of coordinated neuroscience advocates.
This grassroots strategy provides local advocacy leaders with the tools and skills necessary to form local cohorts of dedicated advocates who host lab tours, schedule in-district meetings, and organize local events to build relationships with members of Congress and demonstrate the need for neuroscience funding. To further amplify this message, SfN also worked with members to write and publish opeds in newspapers across the country to reach both policymakers and the public.
Further growing the network of neuroscience advocates, the Early Career Policy Ambassadors (ECPA) Program entered its fifth year in FY 2018, representing 12 institutions across 11 states. Throughout the year, ECPAs planned and carried out a substantive list of advocacy activities, from producing a policy themed newsletter to coordinating regional Hill Days to crafting policy focused seminars for colleagues in their local areas. In an era in which diverse issues compete for limited federal funds, the advocacy efforts of ECPAs and members across the U.S. boost recognition of the impact of neuroscience research and ensure that neuroscience priorities are recognized in Congress.
FOSTERING ADVOCACY COMMUNICATION SKILLS
Understanding that the crux of effective advocacy is tailored communication with policymakers, SfN held a Public Advocacy Forum at Neuroscience 2017, "Advocating for Basic Science in a Disease-Focused World," to endow scientists with skills for communicating the value of basic neuroscience research for developing treatments for a wide range of diseases and disorders. In collaboration with Research!America, SfN also deployed a four-part webinar training series titled "Taking Your Advocacy to the Next Level." Available on demand, the series offers members key takeaways to apply to their advocacy activities, from inspiring others to become advocates to measuring advocacy outcomes.
The Society also developed an advocacy training program that will pilot in late 2018. This interactive training will educate neuroscientists at any stage of their career about the importance of building relationships with policymakers.
ADVOCATING ON CAPITOL HILL
Capitol Hill Day in March 2018 was another major highlight for advocacy this fiscal year. More than 50 SfN members, including the newly selected class of ECPAs, met with 93 congressional offices, garnering hundreds of social media posts including messages from Sens. Roy Blunt (R-MO) and Jack Reed (D-RI). At the start of the event, SfN honored Sen. Roy Blunt (R-MO) and Rep. Tom Cole (R-OK) with its 2017 Public Advocacy Award, recognizing their strong leadership of the successful congressional effort to increase federal funding for biomedical research.
"[Biomedical research] is a point that has actually, in a divided and polarized time, brought Republicans and Democrats, conservatives and liberals, together. … It's a very compelling case to be made as to why these investments will pay off for the American people." — Tom Cole, U.S. House Representative (R-OK)
SfN's annual meeting in Washington, D.C., provided a unique opportunity to showcase neuroscience to congressional offices. Nine congressional offices met with constituents at Neuroscience 2017 to take in the breadth of research presented on the poster floor. These interactions between scientists and lawmakers help policymakers to understand how the decisions they make about federal investment in biomedical research translate into scientific progress and economic growth.
Earlier this year, SfN President Richard Huganir submitted congressional testimony on behalf of NIH and NSF, underscoring the value of strong investment in basic scientific research. Moving forward, members can expect SfN to build on these successes to increase its advocacy efforts, build more relationships with policymakers, encourage further engagement with neuroscience advocates, and broaden its efforts to support basic and neuroscience research across an increasing span of topics and disciplines.
SUPPORTING RESPONSIBLE USE OF ANIMALS IN RESEARCH
SfN remains committed to making the case for the necessity of animal models for making discoveries that increase our understanding of the brain and the nervous system. The Neuroscience 2017 Animals in Research Panel brought a diverse group of scientists together to review and practice communication techniques and the importance of highlighting the discoveries made possible through animal research.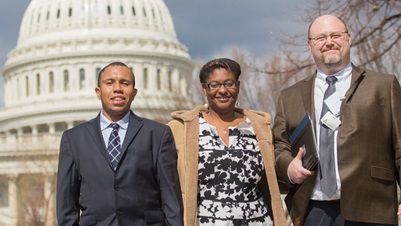 SfN collaborated with a wide range of partners to issue recommendations to reduce the administrative burden related to animal research. This issue was raised directly with NIH in an effort to alleviate the pressures felt uniquely by research facilities. Further, Mar Sanchez, chair of SfN's Committee on Animals in Research, penned an essay published in Inside Higher Ed, which reaches 1.5 million faculty and administrators in academia each month, regarding the need for institutions to proactively communicate the need for animal research and to protect researchers who conduct responsible animal research for scientific progress.
SfN also works with counterparts in Europe to support animal researchers and their institutions. By working with FENS and the European Animal Research Association (EARA), SfN provides neuroscientists with support and resources to help to convey the importance of their work with animal models to the public and policymakers across Europe. SfN maintains a formal relationship with FENS, which in turn supports the work conducted by EARA. By sharing information and resources, SfN, FENS, and EARA maintain critical lines of communication to address current issues related to animal research including opportunities to strengthen institutional support, provide engagement tactics, and maintain awareness related to efforts to discredit animal model-based research.