Educating and Engaging the Public
By telling the stories of neuroscience underlying human behavior, BrainFacts.org, together with a new Brain Facts book and in-person outreach, is increasing global understanding of the brain.
Since the debut last October of a reimagined BrainFacts.org, which highlights an expansion of multimedia and interactive elements, the site has been visited by more users each month, more than 50 percent of whom reside outside of the U.S. This growing international audience for BrainFacts.org speaks to the worldwide interest in the brain.
SHARING NEUROSCIENCE KNOWLEDGE
Founded in 2012 and relaunched after a complete redesign in 2017, BrainFacts.org, a public information initiative of The Kavli Foundation, the Gatsby Charitable Foundation, and SfN, is a trusted source of information about the brain and the nervous system, from functional neuroanatomy to diseases and disorders. A fundamental knowledge of how the brain works sets the foundation for knowing oneself and others, which can lead to increased self-awareness and understanding in both social and global interactions. BrainFacts.org explores the wonders of the brain, telling the stories of how the connections and processes in our brains make us who we are. Some of these stories show why animal models are necessary to the breakthroughs that lead to clinical advances. By building shared knowledge, it also increases support for neuroscience research, which allows us collectively to understand the brain more deeply and solve human problems.
"Any time you can have an interactive 3D atlas of a structure like the brain, which nobody really ever gets to interact with in real life in such a unique way, it is a great opportunity and a great tool." — Ramona von Leden, Postdoctoral Researcher Dell Medical School, University of Texas at Austin
Keeping the focus on user experience, BrainFacts.org strives to develop compelling narrative inclusive of all content forms: articles, images, videos, interactives, and more. By increasing user engagement with BrainFacts.org, SfN can further reach its public audience.
With nearly 230,000 page views from the time of the site's relaunch to the end of FY 2018, the most visited piece of content was a scientifically accurate, interactive 3D brain model, supported by funding from the Wellcome Trust. The model allows users to visualize and isolate parts of the brain and to read short descriptions of their functions. Its development was overseen by expert neuroanatomists and neuroscientists, and it was modeled on data sets from the Allen Human Brain Atlas, which integrates multimodal anatomic and genomic data to map gene expression across the brain.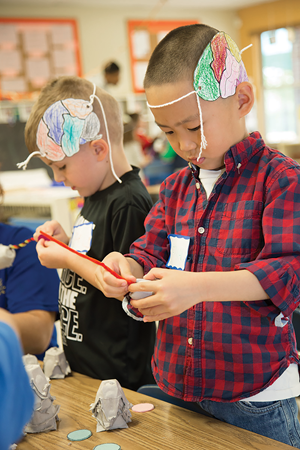 The BrainFacts.org site redesign brought to life the Neuroscience Core Concepts, eight key principles of neuroscience as determined by SfN's Public Education and Communication Committee. Each concept is now accompanied by animations and interactives, illustrating and reinforcing the concept and supporting all types of learning. SfN mapped the Neuroscience Core Concepts to the U.S. National Science Education Standards in 2009. Mirroring this effort, and supported by funding from the Wellcome Trust, SfN partnered with the British Neuroscience Association (BNA) this year to align the Neuroscience Core Concepts to the U.K. National Curriculum for biology at all levels. The resulting series of 21 curriculum maps were well received at the annual meeting of The Association for Science Education in January 2018 and are accessible on both BrainFacts.org and the BNA website.
BrainFacts.org is designed to support users' curiosity through tangential learning, resulting in more time spent on the site. Revised navigation more quickly connects site visitors with the information they are looking for while encouraging exploration. On the home page, icons indicate content type, and at the bottom of every piece of content, readers can find suggested related topics, articles within the same topic, and trending articles. Anatomical descriptions in the 3D brain model help users to recognize how structures work individually and together to guide thoughts, perceptions, memories, emotions, and actions.
With new core support from the Lundbeck Foundation as a five-year grant starting in FY 2019, SfN plans to increase the functionality of the 3D brain model and is considering ways to expand the multimedia content of BrainFacts.org. SfN continues to receive funding from the Stanley Center for Psychiatric Research at the Broad Institute for mental health-related content and also received support from the BRAIN Initiative Alliance and NIH for content on the discoveries funded by the BRAIN Initiative.
THE STORY OF BRAIN FACTS
In May, SfN published the eighth edition of Brain Facts, a book used by secondary school teachers to supplement science curricula and by the science-interested public to learn more about the brain. The first edition, published in 1990, was 32 pages; the eighth edition spans 140 pages and includes new chapters as well as an extensive glossary. Additionally, the Neuroscience Core Concepts are now designated as such throughout the book to more closely align withBrainFacts.org. Teachers may request one free copy of the book, and others can download it on BrainFacts.org.
"We always hope that teaching science and neuroscience to kids at schools will bring them to university to learn neuroscience, to study neuroscience as a student and as researchers, but it's also very important to me to reach the families, and to reach the general public." — Jacques Noël, Professor, Université Côte d'Azur and Researcher, Institute of Molecular and Cellular Pharmacology (CNRS), France
The Brain Facts book serves as a source of questions in the Brain Bee, a neuroscience competition for secondary school students that begins at the local level and culminates in an international competition, which this year took place July 5 in Berlin at the 11th Federation of European Neuroscience Societies (FENS) Forum of Neuroscience. SfN hosts the D.C. Chapter Brain Bee, one of approximately 175 local Brain Bee competitions that are held in more than 50 countries, engaging over 25,000 students across six continents every year.
SfN joined this year with the American Psychological Association (APA), the Dana Foundation, FENS, and the International Brain Research Organization (IBRO), in partnership with International Brain Bee (IBB) Founder Norbert Myslinski, from the University of Maryland, Baltimore, to provide funding to support the formal establishment of the IBB as a nonprofit educational organization. The primary goal of the IBB is to motivate students to learn about the brain and to inspire them to pursue careers in neuroscience so they may treat and find cures for brain disorders.
GLOBAL CONNECTIONS
SfN continually looks for ways to provide opportunities for members to engage nonscientists in their local communities with their science. This year, SfN focused on growing these outreach opportunities to reach key audiences in new ways, strengthening connections between scientists and nonscientists and expanding public understanding of the importance of neuroscience research.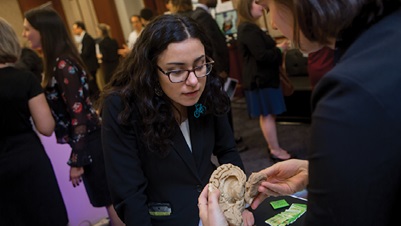 Brain Awareness Week (BAW), a global coming together for one week every March in celebration of the brain, was started by The Dana Foundation in 1995 to increase public awareness of the progress and benefits of brain research. On March 12, SfN hosted a webinar on BrainFacts.org on the topic of memory that provided an online, interactive experience for anyone who did not have a local event to attend and that was accessible anywhere in the world. SfN also hosts an annual Brain Awareness Video Contest, in which participants make a video that presents a neuroscience topic creatively. The 2018 contest received 26 submissions, and the first-place winner received a trip to the SfN annual meeting. All of the winning videos are posted on BrainFacts.org.
In addition, SfN members and staff traveled to conferences around the U.S., including American Association for the Advancement of Science (AAAS) Family Science Days, the D.C. STEM Festival, the USA Science and Engineering Festival, and Science Unrestricted. These in-person outreach events offered attendees the opportunity to participate in workshops and to ask questions of SfN member volunteers. SfN staff led hands-on activities and distributed educational resources on a breadth of neuroscience topics. At the National Science Teachers Association National Meeting, which was attended by more than 8,000 teachers, and conferences sponsored by The Association for Science Education in the United Kingdom, science teachers interacted with the 3D brain model and discovered ways to use it to inform their lessons.