Introduction
From the molecular biology of a single neuron to the breathtakingly complex circuitry of the entire human nervous system, our understanding of the brain and how it works has undergone radical changes over the past century. These advances have brought us tantalizingly closer to genuinely mechanistic and scientifically rigorous explanations of how the brain's roughly 100 billion neurons, interacting through trillions of synaptic connections, function both as single units and as larger ensembles. The professional field of neuroscience, in keeping pace with these important scientific developments, has dramatically reshaped the organization of biological sciences across the globe over the last 50 years. Much like physics during its dominant era in the 1950s and 1960s, neuroscience in the 2010s has become the leading scientific discipline with regard to funding, numbers of scientists, and numbers of trainees. Furthermore, neuroscience as fact, explanation, and myth has just as dramatically redrawn our cultural landscape and redefined how Western popular culture understands who we are as individuals. In the 1950s, especially in the United States, Freud and his successors stood at the center of all cultural explanations for psychological suffering. In the new millennium, we perceive such suffering as erupting no longer from a repressed unconscious but, instead, from a pathophysiology rooted in and caused by brain abnormalities and dysfunctions. Indeed, the normal as well as the pathological have become thoroughly neurobiological in the last several decades. In the process, entirely new vistas have opened up in fields ranging from neuroeconomics and neurophilosophy to consumer products, as exemplified by an entire line of soft drinks advertised as offering "neuro" benefits.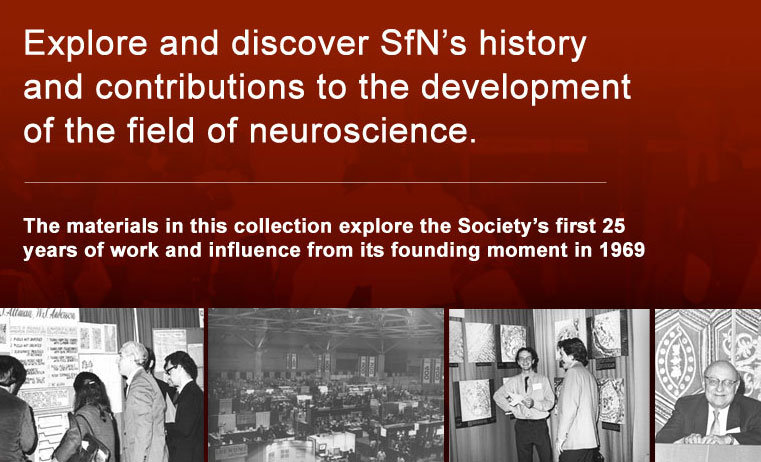 From its founding moment in 1969 to the present, the Society for Neuroscience (SfN) has played a critical role in creating this brave new neuroscientific world. In this essay, we will explore the Society's work and influence through its 50th anniversary in 2019. It is worth noting from the outset that SfN represents something unique as a scientific society, especially for the 20th century. In contrast to most modern professional societies, SfN played a major role not only in the actual creation of the discipline, but also in developing the science and scientific community represented by that discipline. It also is worth emphasizing what we mean by the creation of neuroscience as a discipline. Of course, scientists have observed, dissected, and performed innumerable experiments on various parts of the nervous system for centuries. However, the idea that the study of the nervous system constituted a separate discipline apart from traditional fields of study such as anatomy, pathology, and physiology, did not emerge until the 1960s and 1970s. The founding of SfN forged a new and distinct field by bringing together scientists trained in a variety of established disciplines under the common banner of neuroscience. SfN founders and early leaders consciously sought to make a new community of scientists that eschewed traditional parochialism and disciplinary isolation and, instead, embraced the idea of an intellectually and methodologically open field in which no one approach was privileged over the other. The founding ideals of SfN bear the stamp of the time and place of its birth, in so far as the founders believed that the scientific field it founded in its own image would flourish with egalitarian and democratic institutions.
First and foremost, this is a story of how SfN created unity out of an enormous diversity of approaches and disciplinary traditions and then expanded its organizational mission to provide a home community for scientists at every career stage, in every nation, and in multiple career paths. This story is a complicated narrative that involves numerous individuals, institutions, new technologies, new biological discoveries, and changing social, economic, and political contexts. While we do not try to tell the full history of SfN, we have tried to relate the stories and events of its first 50 years that we think have the most relevance for the present. Neuroscience in its short life has become one of the largest and most exciting fields within biomedicine. While this is an achievement worth celebrating, there are also major challenges that lay ahead. We hope this history can help provide some context and perhaps even some guidance for those challenges.