Chapter IX: The Annual Meeting, the "Hub," of SfN, Enters the Digital Age
Meeting attendance took off as the organization grew, increasing 51% in the ten years from 1995 to 2005, to an all-time high of 34,815, then levelling off to a fairly steady 28,000 to 30,000 over the following decade.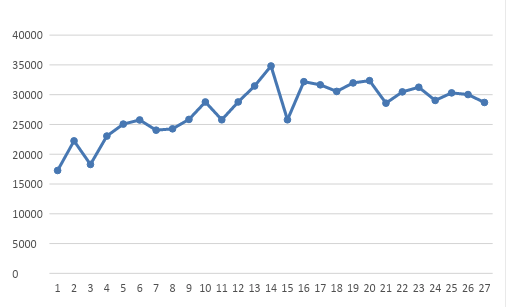 SfN leadership and staff worked hard to meet the challenges of retaining dynamism and relevance in such a large annual event, creating a new Division of Meeting Services, developing format and scheduling innovations, utilizing digital technology to make the program and meeting experience more manageable, promoting speaker diversity and offering assistance to members with special needs, such as parents and international attendees, adding new content for trainee members and for the general public and updating data and technology to ensure smooth operations. Ultimately, however, it is the members who keep the meeting fresh and exciting, particularly on the poster floor. As Gordon Shepherd comments, "[T]he posters are where you meet the people who are actually doing the work and where you reach across this divide between senior and junior and male and female and academic and commercial and U.S. versus other countries and to me that's just such an exciting and invigorating part of doing science on this personal basis, where you can really get a sense of actually creating something new from your personal interactions."1
The 2001 Annual Meeting in San Diego opened with record attendance in the wake of the September 11 attacks; as President Fred Gage noted, "For the neuroscience community, there has never been a more important time for us to work diligently and effectively and to take solace in the fact that, as scientists, we make a difference every day." At the same time, he acknowledged concerns that the Meeting was becoming "too large and unmanageable"; in response, the Program Committee had developed subcategories within its thematic organization and planned opportunities for "meetings within the meeting" to assist people to meet and interact with others in their areas of special interest.2 The "meetings within the meeting" debuted at the 2004 Meeting with 27 mini-symposia, covering all nine of the program themes.3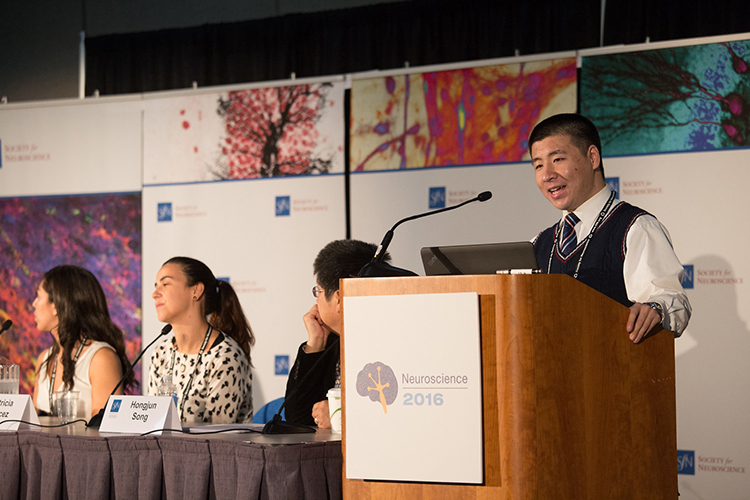 As Eve Marder (President 2007-2008) described the results of these innovations, "[I]t's almost like you have fifteen or twenty small meetings running in parallel. So people can bounce back and forth in between the small meetings at the poster sessions of the people in their peer group that they want to meet and find, and they do find each other….and then bounce to a big talk with three or four or five thousand people and get an overview of a whole field. I think SfN has done particularly well at creating the intimacy of a small meeting, housed in this enormous meeting."4
The summer of 2002 saw the creation of a new Meeting Planning Department as part of the Central Office reorganization, which evolved into the Division of Meeting Services,5 and the development of the Strategic Planning Initiative, which included an Annual Meeting Initiatives working group, chaired by Richard Huganir and specifically charged with finding ways to make the meeting more "user-friendly." Some of the suggested changes, already underway or soon to be adapted, were:
Increasing the number of cross-disciplinary lectures.
Increasing the amount and quality of Web-based information to help with meeting navigation and program review.
Providing orientation sessions for first-time attendees.
Enhancing shuttle bus service.
Improving signage, color-coding and other navigational aids.
Tasking the Program Committee with continuing to monitor and refine the sections, specializations and topics used to organize and session the meeting."6
The Program was already undergoing major transformation. In the early days, members had submitted all abstracts on paper, and creating coherent sessions out of fifteen thousand abstracts for panels, symposia, and posters had become extremely challenging by the early 1990s. As Carla Shatz (President 1994-95) described her experience on the Program Committee in the 1980s, "there was this crazy shoot-out where we would all come to the Program Committee meeting with our stacks all in little piles and then we would have to put Post-its up on a wall and try to put our Post-its up to arrange…the schedule for the day so that... something from each theme was represented... It was hilarious."7 The early small booklet of abstracts from the 1970s grew to two or more huge "telephone books" which members toted around at the Meeting in the 1990s.8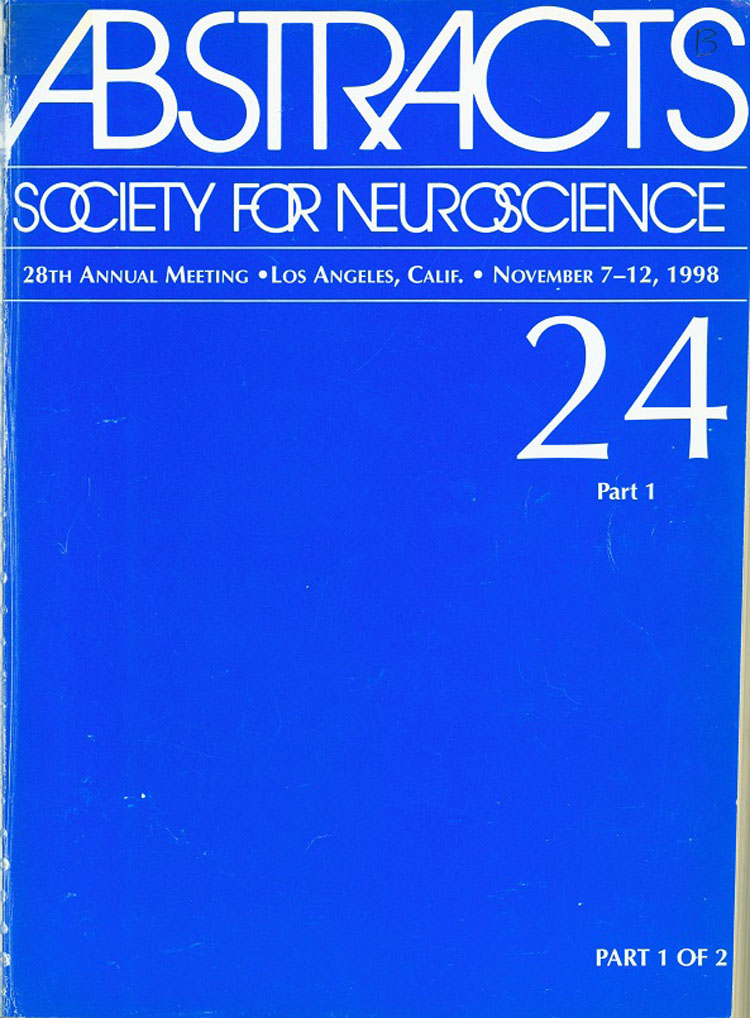 The Committee grouped posters in the same order by topic year after year, until Committee member Eric Nestler made a suggestion in 1998. He noticed that "all of the disease-oriented posters were put at the end of the poster session. And so one would have to walk the clear distance of the entire poster floor... I remember suggesting to my [fellow] committee members, 'It's really not fair that the neurobiology of disease sessions are always – year after year – placed last. Why don't we rotate placements, so that every year we can showcase, in different parts of the exhibition hall, a different body of research?"9 His suggestion was adapted for that year and subsequent Program Committees have given appropriate placement and recognition to disease-oriented research.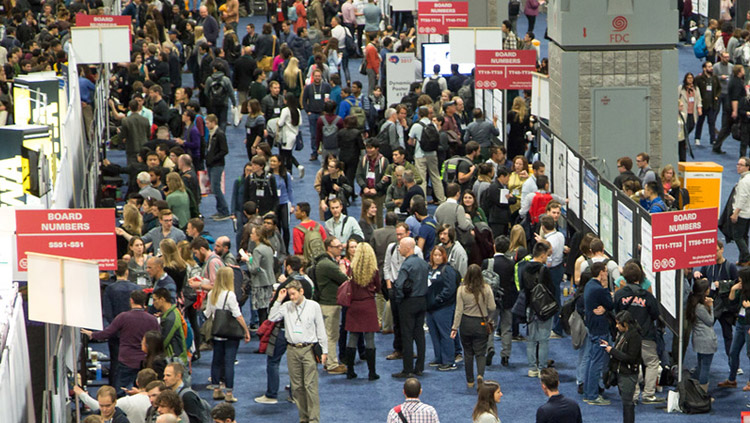 Soon after, Moses Chao and Robert Malenka (Program Committee chairs 2002-2003) took the first step in making the schedule more accessible when they and the Program Committee enthusiastically accepted a staff suggestion to develop daily schedule books including "a little, thin pamphlet that had all the talks and all the schedules" for the day.10 Meanwhile, Program Committee members Harvey Karten and Mickey Goldberg, who also chaired an Ad-Hoc Committee on Electronic Initiatives, had proposed that the Society begin accepting electronic abstracts and distributing them on CDs. Members had the option to submit a paper or electronic abstract for the first time in 1999. Approximately half chose electronic submission, and as Goldberg had feared, the system crashed when the majority of these arrived in the last half-hour of the final day. After two more years of dual submissions in 2000 and 2001, "electronic submission became the norm" in 2002,"11 and the CD of abstracts, with a built-in itinerary planner, replaced the "telephone books."12
SfN's Program Committees also introduced multiple new types of sessions and formats: for example, around 2000, the first "data blitz" talks, in which members were given one slide and one minute to explain their findings; and in 2009, the first nanosymposia, slide sessions based on "abstracts from multiple labs with a common topical interest", allowed members to organize their own presentations.13
In 2014-15, after many years of slotting abstracts into the same areas, the Program Committee re-evaluated the themes and topics and reorganized the way that presentations were organized. The Committee, under the Chairmanship of Liqun Luo, undertook this major change "to ensure that the breadth of the field is covered and that no one theme or topic area is over- or under-represented in the scientific program."14 The Committee sought to distribute abstracts among topic areas more evenly, including both basic and disease-related research, and to "foster interactions of scientists working on related areas…by placing their topics in the same themes."15 In the new structure, for example, "scientists who study basic developmental neurobiology and neurodevelopmental disorders will have their abstracts under the same theme, 'Development,' while a new theme, 'Motivation and Emotion,' will integrate research on mechanisms of motivational behavior with work on mechanisms of drug addiction."16 As Luo explained,

[N]euroscience is really a multi-dimensional structure, that you have different sub-disciplines that interact with each other in a very rich network, but themes and topics, you arrange them in a linear sequence. By increasing the proximity of certain disciplines, you also distance others, right? So you want to make the optimum way of using a linear sequence to organize a multi-dimensional, highly complicated network, and you gain some, you lose some…So it was actually a very challenging task.17

He was pleased when 80% of the Committee endorsed the final plan, and when members later commented to him, "Oh, for the first time I feel what I do actually fits the sequence!"18
Members responded positively to all the innovations, as shown by a survey in 2012, which reported that most attendees were "satisfied" or "extremely satisfied" with the Annual Meeting. Respondents also expressed interest in additional features, which were already in the works. Dynamic multimedia posters were introduced in 2012. More professional development and networking opportunities became available when the first Graduate School Fair was held that same year,19 followed in later years with offerings such as coaching on mentor-mentee interactions and panels on effective scientific communication. Meeting navigation tools took shape in a Webinar presenting tools "to make the most out of the Annual Meeting" in 2014.20 Perhaps most importantly, all schedules and other meeting information became available to members in a cell-phone-based app in 2013, completing the digital transformation. Christophe Bernard, who was serving on the Program Committee at the time, remembered that "I insisted a lot to have the app and some people were dubious about the utility of the app. Well, now you can't do anything without the app."21 In 2018, meeting attendees downloaded the app 26,000 times!22
As Nick Spitzer and Huda Akil commented, "one learns the tools of navigation for meetings of this size and the society has been very good" in providing digital aids; "everybody else is having a hard time navigating the immensity of it all, so you feel we're all in this together and I think that's actually extremely reassuring and exciting at the same time."23
Some major changes involved "difficult and thoughtful" discussions, as when Council decided in Fall 2012 to rotate future Meetings between three cities with adequate convention and hotel space – Chicago, San Diego and Washington – and to exclude New Orleans because of the "unacceptably high risk" of hurricanes in the autumn months. Members had coped with hurricanes in Miami and New Orleans in previous years – Marina Picciotto recalled having to "wade down the center of the street in my jeans in water that was definitely above my knees at some point"24 – but Council had to consider the risk of financial loss in the event of serious hotel or convention center damage, though the decision was not unanimous.25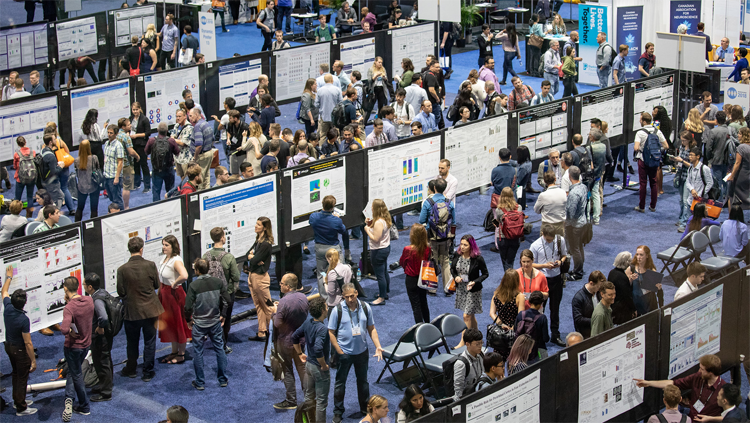 The Annual Meeting of the 2010s remained "an incredibly exciting venue", a place "to hear a world class scientist on something outside of your area", or to "get one good idea [that] can lead to a whole year's work of research or a whole new way of looking at things."26 Despite ongoing success, SfN leadership never stopped looking for ways to enhance and expand member experiences, to create "an annual meeting environment in which it is possible for everyone in the scientific community to thrive." In Spring 2018, for example, Council discussed the financial burdens faced by young attendees beyond just travel and housing, including for example the cost of drinks at important networking events, and agreed to spend $50,000 to make such refreshments affordable.27 In the fall, Council approved offering 150 poster presenters at the next meeting the opportunity to upload a video introduction to their work and agreed to continue the new Storytelling Session, in which members shared personal narratives about their scientific experiences; SfN also contacted the three convention centers to stress the need for appropriate facilities for scientists attending with infants.28

Participation at the meeting in San Diego that year showcased the fruits of SfN's efforts to keep the Annual Meeting fresh, dynamic and user-friendly.
Endnotes