Future of Neuroscience: Christopher Medina-Kirchner
"Future of Neuroscience" is a series of interviews with rising members of the field. A forward-looking complement to SfN's "History of Neuroscience" autobiographies of distinguished researchers, interviewees reflect on their emerging careers and share thoughts on where they believe neuroscience is headed.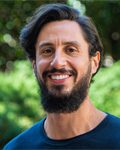 Christopher Medina-Kirchner
Christopher Medina-Kirchner is not your traditional Ivy League student. At 18 years old, he received a six-year prison sentence for selling 3,4-Methylenedioxymethamphetamine (MDMA). Upon release from prison, he enrolled at the University of Wisconsin-Milwaukee. There, he joined Krista Lisdahl's Brain Imaging and Neuropsychology Laboratory and began to study the behavioral and pharmacological effects of recreational drugs. After reading High Price by Carl L. Hart, Medina-Kirchner became interested in human drug administration studies and how they can be used as a tool to prevent the spread of drug-related misinformation. As a graduate student at Columbia, he works under Hart's mentorship in the Neuropsychopharmacology Laboratory researching the acute, repeated-dose, and residual effects of recreational drug combinations in humans. Medina-Kirchner hopes to use the information gained from his studies to ensure that our drug education, treatment, and policies are based on science and not misinformation.
Neuroscience Quarterly (NQ): Why did you choose to pursue a career in neuroscience?
Chris Medina-Kirchner (CMK): I went to prison for selling MDMA. After my sentence I decided I would redeem myself by studying the drug I sold. Not only this, but school became the only viable option for a decent life. My felony conviction prevented me from obtaining meaningful employment.
NQ: What was your transition from prison to academia like?
CMK: Honestly, rough. In the beginning, I attended classes with a chunky electronic monitor on my ankle. Imagine trying to make friends with that thing on. It was hard to not feel like a social pariah. However, I found community in SfN's Neuroscience Scholars Program, a two-year training program for underrepresented, non-traditional graduate students and postdocs. The newfound sense of community helped me thrive.
NQ: What are you researching in your PhD?
CMK: I've been working on a human MDMA administration study, meaning MDMA is given to participants under controlled lab settings. These studies are extremely important because they help us build an empirical database on the effects of drugs. There is a lot of misinformation with drugs and we are trying to improve this situation.
The vast majority of previous MDMA administration studies have focused on understanding the drug's effects following a single administration. We know that in the real-world people take multiple doses of the drug within a relatively short period. So, there seems to be a disconnect between what is happening in science and what is happening the natural ecology. Thus, we felt compelled to conduct an experiment that had more real-world relevance.
"There is a lot of misinformation with drugs and we are trying to improve this situation."
I'm particularly excited about this study because there have been concerns raised about the potential for cardiovascular toxicity related to multiple MDMA administrations and a depressed mood state in the days following use. Our study investigated these issues. We brought healthy volunteers in the lab and administered a maximum of three 100-mg doses at 12- and 24-hour inter-dose intervals. Of course, all participants reported a history of using the drug, passed rigorous medical examinations, and were carefully monitored throughout the study. We found that repeated administrations of MDMA did not increase cardiovascular activity to dangerous levels. Nor did this dosing regimen produce a depressed mood in the days following drug administration. This is good news because we were worried people were putting themselves in harm's way. However, caution should be exercised when interpreting our data because we studied a limited dose range and limited inter-dose intervals.
NQ: What do you hope to accomplish during your career?
CMK: I want to stay in academia and be a professor who teaches and conducts human recreational drug administration studies. However, there is uncertainty as to if my record will even allow me to do so. All I can do is keep going. Focus on the task at hand. In this case, finish up my PhD and find a postdoc.
NQ: What's something you're proud of from your career so far?
CMK: The Columbia University 2021 Presidential Award for Outstanding Teaching by a Graduate Student. The award forced me to reflect on how far I've come. I went from tutoring my friends in prison to winning teaching awards at an Ivy League university.
"I went from tutoring my friends in prison to winning teaching awards at an Ivy League university."
NQ: How do you hope the field of neuroscience will grow and change in the coming decades? What could make it better?
CMK: I hope more people read Hart's work. The paper "Is cognitive functioning impaired in methamphetamine users? A critical review (Hart et al., 2012)" is a game-changer. The researchers shined a light on statistical errors, biases, imprecise terminology, and methodological problems prevalent in methamphetamine research. Importantly, they showed how the misinterpretation of data can aid in implementing draconian drug policies.
I think that as scientists, we need to be more rigorous in how we talk about our data. Not every statistically significant difference is a clinical abnormality, deficit, or impairment. Often, scores fall within the normal range for that group (e.g., structures within the normal size range, measures of cognitive performance, or clinical depression within the normal/healthy score range). We need to be careful not to pathologize normal behavior.