Neuroscience 2017: Meet the Featured Lecturers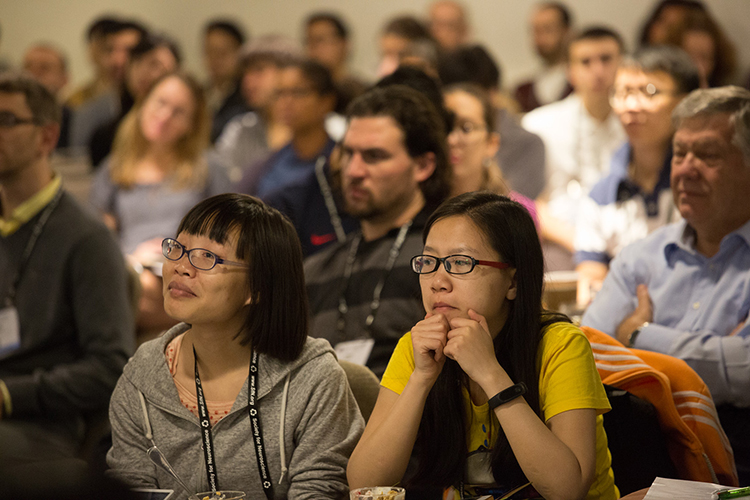 Each Neuroscience 2017 lecturer not only has a compelling research story to tell, but also a unique personal story that has contributed to the evolution of their career. Learn more below about the scientists giving this year's Featured Lectures at the annual meeting.
Albert and Ellen Grass Lecture: Huda Y. Zoghbi
Early in her medical career, Huda Y. Zoghbi began to develop a strong interest in neurological disorders, and specifically developmental disorders such as Rett syndrome. "Trained as a child neurologist, I could not bear the plight of children affected by devastating neurological diseases so I pursued research in hope of helping my patients," she explained.
Zoghbi, currently a professor at Baylor College of Medicine and a Howard Hughes Medical Institute researcher, set out to understand the root of Rett syndrome, a neurological disorder that presents with autistic-like symptoms, seizures, and behavioral symptoms. "Finding ways to treat the disorders I am passionate about is challenging," she said, but Zoghbi persevered, and in 1999, her research team discovered that a mutation in the MECP2 gene was the cause for Rett syndrome.
Her lab continues to study how loss and gain of MeCP2 impacts the brain. By modifying the course of the development of Rett syndrome through molecular approaches or modulating brain networks, her team hopes to alter the course of the disease. "The process of unearthing new information is a thrilling and rewarding experience," she said. "Moments of discoveries, no matter how small the discovery is, sustain me to keep on trying to find answers to the problems I am working on."
Zoghbi also studies the area of neurodegeneration, and she discovered, in conjunction with Harry Orr's team at the University of Minnesota, that toxic buildup of the protein product from theATXN1 gene caused the disease spinocerebellar ataxia type 1 (SCA1). Their work suggests that reducing levels of this toxic protein is a possible strategy for treating SCA1 and similar disorders.
As such, Zoghbi's Neuroscience 2017 lecture, "On Balance: Fine-Tuning Protein Levels for Neurological Health," will focus on the sensitivity of neurons to protein levels and how paths for regulating these proteins could provide potentially therapeutic strategies for neuropsychiatric disease.
History of Neuroscience Lecture: Pasko Rakic
During his neurosurgery residency, Pasko Rakic became interested in how functional cortical maps and synaptic circuits are formed. Thus, he decided to pursue a PhD degree to study the cellular, molecular and genetic mechanisms that orchestrate this immensely complex process during development and evolution.
At Yale University, where Rakic serves as the Duberg Professor of Neuroscience, the research in his lab focuses on the development of the cortex in humans and animal models, such as rodents and nonhuman primates using a variety of assays. He is fascinated that cortical neurons are not generated in the cortex itself and instead migrate long distances to their proper areal and laminar positions.
"Studies from many laboratories, including our own, have shown that a combination of specific genes, as well as DNA regulatory elements and signaling molecules, regulate various components of neural stem cell proliferation, neuronal migration and synaptogenesis during development and evolution" he said.
His team has demonstrated that even a slight alteration of neuronal migration and their settling pattern caused by genetics or environmental factors impacts the organization of synaptic circuits and eventually causes a spectrum of congenital neuropsychiatric diseases.
His Neuroscience 2017 lecture, "Neuronal Migration and Brain Map Formation During Evolution, Development, and Disease," will review the history of this subject in the context of the most recent data in this fast moving field.
Peter and Patricia Gruber Lecture: Joshua Sanes
Joshua Sanes knew early on in his life that he wanted to study mental illnesses. He was fascinated with how broken circuits in the brain could lead to the suffering endured by those with mental illness. This curiosity led Sanes to focus his research on circuits and how synapses form.
Sanes' interest in elucidating how presynaptic and postsynaptic connections are made grew as the years progressed. While he began his career studying the neuromuscular junction, a well-studied synapse, his lab made a switch to studying the retina about 17 years ago.
He described the retina as a good place to try to determine how connections are being made because it is one of the better understood areas of the brain and simpler to study compared to other areas. In his Neuroscience 2017 lecture, "Assembling Neural Circuits: Cells and Synapses," Sanes will focus on characterizing the different neurons in the retina and how cell types are characterized. He said the next big step in visual neuroscience is to discover how experience rearranges and modifies hardwiring in the brain and how this can lead to behavioral defects.
When asked about challenges in his career, Sanes said: "I am a pretty lucky fellow. The challenges I've faced are minor compared to others. If you step back and you look at the broad view, I'm a pretty lucky fellow."
David Kopf Lecture on Neuroethics: Jo Handelsman
Raised by two Freudian psychologists, Jo Handelsman regularly had conversations about the unconscious mind at the dinner table, starting at the mere age of 5 years old. After this early introduction to the topic, Handelsman, now director of the Wisconsin Institute for Discovery at the University of Wisconsin-Madison, went on to focus part of her career on studying unconscious biases in people.
Her research shows that though scientists believe they are objective, they too hold unconscious biases that impact their decision-making. In her Neuroscience 2017 lecture, "The Fallacy of Fairness: Diversity in Academic Science," Handelsman will focus on unconscious biases and practices that mitigate the impact of bias.
She said resources such as the National Science Foundation ADVANCE grants (of which she was a recipient) show that interventions emphasizing the importance of women in STEM fields have an impact on hiring, recruitment, and retention of women in academics. Established in 2001, these grants help fund programs and research that will "transform academic environments in ways that enhance the participation and advancement of women in science and engineering."
Handelsman also conducts research on the microbiome and the gut-brain axis, the relationship between the human gut and the human brain. She said she finds this topic fascinating since the composition of microbiomes has been shown to have a deep connection to mood. Eventually she'd like to study the microbiome and its connection to unconscious bias.
To learn more about Neuroscience 2017 and other lectures and programming, visit SfN.org and follow SfN on Twitter.