Q&A: NIA Director Emphasizes Critical Importance of Sustaining Momentum in Aging Research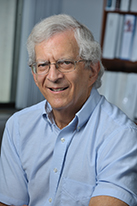 Richard Hodes has served as director of the NIH's National Institute on Aging since 1993. The NIA is the principal federal funding agency for studies of the basic, clinical, epidemiological, and social aspects of aging.
What are the NIA's current priorities and what programs or initiatives are underway to achieve them?
The NIA has four research divisions, the Division of Neuroscience, the Division of Behavioral and Social Research, the Division of Geriatrics and Clinical Gerontology, and the Division of Aging Biology. The institute is somewhat unique in that it does not focus on a specific group of diseases or conditions, as many institutes and centers at the National Institutes of Health do, but rather on the aging-related components of many of these conditions, as well as the underlying biology of aging, and the impact of aging at a population level. Some specific areas of interest within the field of neuroscience research include neurodegenerative diseases like Alzheimer's and the aging "angle" of more general areas of neuroscience interest like sleep, sensory and motor function, cognition, genetics, behavior, the brain connectome, neural stem cells, glial biology, neuroplasticity, metabolism, endocrine function, the immune system, and pain, among others. The institute's current priorities are outlined in the NIA's strategic directions document, Aging Well in the 21st Century, and more information on specific research plans can be reviewed on our recent NIA blog posts. We encourage SfN members to sign up for the blog, even if you don't think you have an interest in aging research — you might be surprised.
Check out the NIA's Active Funding Opportunity Announcements (FOAs) and view concept approvals cleared by the National Advisory Council on Aging before they are turned into FOAs.
Congress recently approved a $400 million increase in funding for Alzheimer's disease research in the FY2017 appropriations omnibus. Can you talk about what this infusion of funding will mean for the NIA and Alzheimer's research?
The $400 million in additional funding received in the FY2017 omnibus is tremendously important for sustaining momentum in Alzheimer's disease (AD) and related dementias (ADRD) research. Advances in fields like cell biology, genetics, and imaging have positioned us to make unprecedented advances in understanding the disease, developing and testing new drug targets, launching clinical trials to extend the reach of our interventions, and enhancing research on care and caregivers — which is critically important to families living with AD/ADRD today. To this end, the additional funds are being used to support both basic science research in neurobiology as well as translational and clinical science, toward the goal of preventing or treating AD/ADRD by 2025, as outlined in the National Plan to Address Alzheimer's Disease.
You'll note that I included "related dementias" in my response above. This is an incredibly important point for SfN members to understand. All of the additional funds that NIH has received over the past few years for Alzheimer's disease research also apply to three biologically related forms of dementia: frontotemporal dementia, Lewy body dementia, and vascular cognitive impairment/dementia. Down syndrome research is also of interest because individuals with this condition are at exceptionally high risk of developing early-onset Alzheimer's disease. Although many NIA and NIH initiatives are focused on AD, several are specific to the related dementias, and critically, the greatly enhanced pay line for this area of research that's been afforded as a result of the recent $400 million boost applies to research on Alzheimer's and these additional forms of dementia. The National Institute of Neurological Disorders and Stroke is a key collaborator within NIH in addressing these conditions.
While some SfN members are already conducting research that's relevant to AD and ADRD, many other members might not recognize that their research is or could be made relevant. For example, research on issues like sleep, auditory function, and delirium is potentially relevant. For those interested in comparing their research plans to NIA's priorities for AD and ADRD research, our Research Implementation Milestones, which run through FY2025 and guide the development of our FOAs, are publicly available. The NIA has released dozens of FOAs on AD/ADRD research in the past two years, and they're available to review on a special webpage.
What do you see as your institute's biggest opportunities and challenges and how are you addressing them?
One of the greatest challenges that NIA encounters overall is understanding the vast impact of the process of aging on systems and organs throughout the body. The nervous system is no different in this respect; aging impacts every sensory and motor system that we have, and aging is a substantial risk factor for multiple neurodegenerative diseases. With respect to functions like sleep and locomotion, we know they evolve throughout life, but how these changes occur and at what point they impact function and activities of daily living needs to be much more fully understood. And as noted above, perhaps the most substantial neuroscience-related challenge that the institute faces as a public health agency is understanding and treating AD/ADRD. NIA addresses these challenges both through specific FOAs, as noted above, and through investigator-initiated research — often from investigators that are applying what they know in various aspects of the nervous system to these same problems during aging.
How is NIA interfacing with other NIH institutes, federal agencies, and business partners to achieve the goals of the BRAIN Initiative?
The NIH's Brain Research through Advancing Innovative Neurotechnologies (BRAIN) Initiative is a multi-institute initiative aimed at revolutionizing our understanding of the human brain. By accelerating the development and application of innovative technologies, researchers will be able to produce a revolutionary new dynamic picture of the brain that, for the first time, shows how individual cells and complex neural circuits interact in both time and space. Long desired by researchers seeking new ways to treat, cure, and even prevent brain disorders, this picture will fill major gaps in our current knowledge and provide unprecedented opportunities for exploring exactly how the brain enables the human body to record, process, utilize, store, and retrieve vast quantities of information, all at the speed of thought. The BRAIN initiative involves 10 institutes and centers at NIH, and NIA's participation occurs via the BRAIN Initiative Coordinating Team and BRAIN Multi-Council Working Group and the funding of awards relevant to NIA's research priorities.
How does NIA collaborate with scientific organizations such as SfN around the world to advance brain health on a global scale?
The NIA is interested in fostering and participating in cross-global collaborations that support its research goals across its four divisions. To this end, stakeholder organizations can play a tremendously critical role in helping the research community understand the significance that aging plays in the systems, diseases, and conditions that they study. They can also share the importance of responding to our FOAs with their members; without the neuroscience community developing proposals that align with these calls for applications, the NIA won't be able to achieve its many goals, either now or in the future.
In addition, for researchers interested in learning more about our international efforts in AD/ADRD research, we would encourage a review of the International Alzheimer's Disease Research Portfolio (IADRP), a free, searchable database providing a global overview of Alzheimer's research and funding, and an invaluable tool for assessing and planning Alzheimer's research projects. Since NIH launched the database in 2012, in collaboration with the Alzheimer's Association, IADRP has amassed data on nearly 7,000 unique projects from 2008 through 2016, reflecting more than $5.7 billion in research funding worldwide. The number of contributors is growing, too. During the past five years, more than 35 funding organizations across 11 countries have joined the IADRP effort.