Surveying the Landscape of Neuroscience Higher Education
The field of neuroscience is evolving quickly, and as a result so are the needs of neuroscience students and trainees. Understanding the state of neuroscience higher education and training provides critical insights into the changing field, allowing the neuroscience community to mark its successes as well as address areas of concern.
To that end, the Society for Neuroscience recently completed its Survey of Neuroscience Departments and Programs (NDPs) and will release the full survey report to the field this spring. This report will allow NDPs to compare themselves to other programs; empower them to fully represent themselves to colleagues, deans, students, and federal funding agencies; and assist them in better understanding the development of the discipline.
SfN's 2016 NDP survey collected data for the 2016-17 academic year on undergraduate, graduate, and postdoctoral program details such as the structure and curriculum of neuroscience programs; characteristics and demographics of applicants, students, postdocs, and faculty; and students' careers after completing graduate programs. SfN received responses from 136 NDPs, including active and lapsed SfN Institutional Program (IP) members, as well as programs that had no prior SfN membership. Nineteen percent of respondents provided data for undergrad programs, while 81 percent represented graduate neuroscience programs. Seventeen of the responding NDPs are located outside of the United States.
Alan Sved, professor and chair of the Department of Neuroscience at the University of Pittsburgh, has been engaged with the NDP survey for decades. He served on the Neuroscience Training Committee working group that helped develop the 2016 survey and he was the author of the last NDP survey report in 2011. "I think the NDP survey is priceless," Sved said. "There really is no other data set out there like it for neuroscientists, and it's how we can view and track how it is we're doing in many areas."
Evolution of Neuroscience Training
The 2016 NDP survey revealed many emerging trends in neuroscience training, such as expanded options for neuroscience graduate training and the prevalence of coursework related to research conduct. For example, while the overwhelming majority of responding graduate programs (96%) offer a PhD in neuroscience or a related discipline and have done so for more than 10 years (83%), nearly a third of NDPs (29%) now offer a neuroscience master's (MS) degree, and 36 percent of those MS programs were started within the past 10 years. [Figure 1].
"Having this new degree -- a master's in neuroscience -- what does that mean?" said NTC Chair Elisabeth Van Bockstaele, professor and dean of the Graduate School of Biomedical Sciences and Professional Studies at Drexel University College of Medicine. "What are the learning objectives from a master's in neuroscience? Those are questions that we're going to want to ask."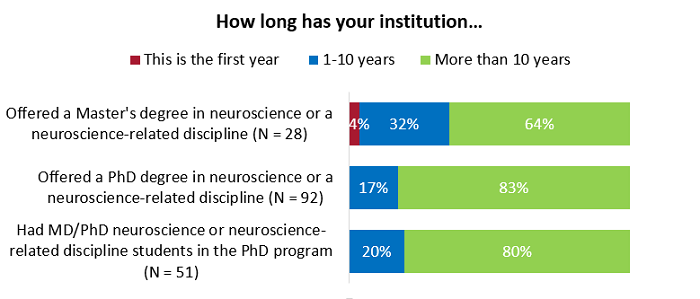 The 2016 survey also captured data about the topic areas and format of neuroscience courses for undergraduate and graduate neuroscience programs as well as factors that underlie curricular updates. Presented with a list of 13 courses or subject areas, NDPs indicated whether the course or subject area was required coursework, elective coursework, informal coursework, or not covered by their program.
The topic of experimental design was universally addressed through formal or informal coursework at the undergraduate level and almost completely covered by graduate programs (98%) [Figure 2], whereas responsible conduct of research was more likely to be a required course for graduate programs (86%) compared to undergraduate programs (50%).
As the neuroscience field rapidly embraces the era of "big data," it is likely that NDPs will increasingly provide instruction in big data approaches in the future. Notably, 23 percent of both undergraduate and graduate programs did not cover computer programming, while 32 percent of undergraduate neuroscience programs did not address data science or "big data" approaches.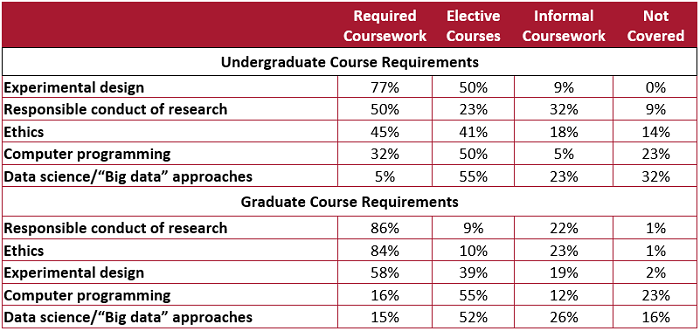 Training for Diverse Careers
In 2016, nearly all NDPs (96%) collected information on what positions their students took after completing graduate degrees. On average, 69 percent of PhD students moved immediately to a postdoc position. Eighty-six percent of programs reported that, within five years of receiving their graduate degree, at least one of their students was working in a biotech or pharmaceutical company, 77 percent of programs had a student(s) working in a scientific nonprofit institution or nongovernmental agency, and 66 percent had a student(s) working at an independent research institute.
Approximately a third (34%) of NDPs reported that they used information about students' careers after graduation to make changes to their curricula or program offerings to reflect the growing diversity in career trajectories of their graduates. These changes most often included presenting information about nonacademic research careers, such as health policy, medical writing, and research in biotech or pharma firms (30%) as well as increasing access to professional education and career development resources (24%).
"It's extremely important during the graduate training process to provide skills that are important for career awareness, career development, and professional development activities in order to support the individual's goals," Van Bockstaele said.
Persistent Challenges in Neuroscience Workforce Diversity
Despite these many new developments in neuroscience training programs and curricula, diversity of the neuroscience workforce, particularly at the postdoc and faculty ranks, remains challenging for the field.
"We're still not doing a better job of getting women to the senior faculty levels," Sved said. "We're training them. They're in graduate programs. They're postdocs. Then, the numbers start falling off when you start looking at faculty levels. They fall off more the more senior the faculty level."
Indeed, the NDP survey showed that for responding U.S. graduate programs, women made up 56 percent of program applicants, 58 percent of pre-doctoral students enrolled in programs, and 45 percent of postdoctoral trainees, but only 32 percent of neuroscience faculty for academic year 2016-2017.
These results are nearly identical for programs based outside of the U.S., as well as for findings from the 2011, 2009, and 2007 surveys. For example, during the 2010-2011 academic year, women represented 51 percent of program applicants and 56 percent of pre-doctoral students, but only 38 percent of postdocs and 29 percent of faculty.
The reported data for minorities (individuals not identifying as Caucasian or white) show a strikingly similar lack of growth, particularly in the postdoc and faculty groups. In the 2016 survey, U.S.-based graduate NDPs reported that minorities made up 16 percent of applicants and 21 percent of enrolled pre-doctoral students, but only 10 percent of postdocs and 10 percent of faculty. Compared to results from the 2011 survey, the 2016 survey revealed positive growth in minority representation in pre-doctoral applicants, up 4 percent, and enrollees, up 7 percent. However, minority representation has remained stagnant at the postdoc and faculty levels since 2011.
Sved noted that, for minorities, "the pipeline itself is fairly small of applicants to graduate programs. … They're matriculating into graduate programs at that 20 percent level … but that 20 percent number is just too low."
When discussing why NDPs struggle to retain women and minorities in postdoc and faculty positions, Van Bockstaele said the survey provides "an opportunity for figuring out why is that happening, what are some of the strategies we can use in order to try to ensure their success to arise through the academic ranks."
Next Steps: NDP Workshop at Neuroscience 2017
A Neuroscience 2017 workshop, moderated by Sved and Van Bockstaele, will serve as a venue for discussion of diversity and other issues identified by the 2016 NDP survey. "The Neuroscience Training Committee is committed to providing a forum whereby training program directors can get together to discuss the results and brainstorm how to improve graduate education in the neurosciences," Van Bockstaele said.
The 2017 Neuroscience Departments and Programs Workshop will include a presentation of key findings and conclusions from the 2016 survey, followed by a discussion between members of the NDP community about the challenges and opportunities related to neuroscience undergraduate, graduate, and postdoctoral training and faculty advancement.
Stay tuned for the full 2016 NDP survey report, which will be posted here this spring, and for information about the 2017 NDP Workshop in the Neuroscience 2017 Program.
---
*Editor's Note:

Several of the percentages in this article have been updated to reflect the final survey report, which adjusted some of the methodology used in analyzing the data to ensure consistency across the report.