Message From SfN President Eric Nestler: 'Affirmative Attention' to Increase Diversity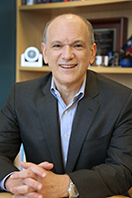 About 15 years ago, I was talking with two young female students in my lab who were excited that I had recruited to the department a female full professor. At the time, I didn't understand why they cared so much — this new professor was in a completely different area of work. They explained how important it was for them to see a successful senior woman as a new leader at the medical center. For me, this was a eureka moment.
Growing up as a Jewish white man in New York, there were many people like me in the higher levels of academic medicine. I had no trouble finding role models to whom I could relate. I realize clearly now, and I regret not recognizing this decades ago, that it is incredibly important for people to see success among those who are like them. Many others in my field did not have the same experiences that I did — experiences that I took for granted.
The success of our field — and of the entire scientific community — requires the inclusion of diverse voices and perspectives at all levels. We know that groups of people from different backgrounds do a better job of tackling complex issues with creative and innovative solutions than non-diverse groups. Diversity in science leads to excellence in research.
Despite continuing discussion of diversity over several decades, we haven't made nearly enough progress. STEM fields still struggle with the recruitment and retention of women, underrepresented minorities, and people of different cultural and economic backgrounds. This is a systemic issue in our community and requires what I call "affirmative attention" — constant effort to achieve equity with respect to gender, race, and culture.
Working to Retain and Advance Women in the Field
The gender gap in the sciences is less of a pipeline issue than a retention issue. According to SfN's soon-to-be-released Neuroscience Departments and Programs (NDP) survey, the number of female PhD applicants has increased since the 2010-2011 academic year, with women making up 56 percent of all applicants, 58 percent of those offered admission, and 60 percent of matriculated applicants in the 2016-17 academic year. Yet the proportion of female faculty members has remained the same at 32 percent1 , and is considerably lower at senior ranks. We must ask ourselves why female neuroscientists do not advance at the same rate as males to the higher levels of university faculty and administration.
Increasing Women in Neuroscience Toolkits
The three toolkits available focus on:
In a 2012 study, science faculty rated identical student application materials, but half of the scientists were given materials with a female name and the other half with a male name. Faculty rated the male applicant as significantly more competent and hirable than the identical female applicant. Both male and female scientists were guilty of this gender bias, and they did not use gender-based reasoning to justify their judgement. Studies such as this reveal a deep-rooted implicit bias disadvantaging women in our institutional culture.
To address this unconscious bias and other challenges facing women in the field, we need to be proactive, and SfN continues to take the lead in raising awareness through its series of Increasing Women in Neuroscience toolkits. Each toolkit contains a 30-minute presentation that discusses specific gender retention issues, such as recruitment, hiring, promotion, and evaluation, as well as highlights critical data, real-life success stories, practical strategies for breaking the cycle, and ready-to-use tools. The presentations are designed for members to easily download, adapt, and share with audiences at their institutions or local SfN chapters.
I encourage SfN members to use these resources and share them with their institutions. We must be vigilant in our efforts to combat gender bias in the field, from careful and thoughtful selection of committee or speaker rosters to creating support systems for the up and coming generation of female scientists such as the Professional Women's Nexus.
Engaging Early and Maintaining Support for Diverse Groups
When it comes to racial diversity the challenges are greater because we struggle with both attracting new scientists of diverse backgrounds as well as retaining them as their careers progress. While SfN's NDP survey shows an increase in the number of U.S. neuroscience PhD program graduates from underrepresented racial and ethnic groups, these individuals still made up just 15 percent of graduates in the 2015-16 academic year. The recent NDP survey reports that the faculty at U.S.-based institutions remains overwhelmingly white.
Again, we need affirmative attention and proactive efforts to address this limited pipeline as well as retention issues similar to those discussed above for women. SfN's Neuroscience Scholars Program (NSP), for instance, is designed to foster the careers of underrepresented and diverse graduate students and postdoctoral fellows in the field. The program, supported for decades with generous funding from NINDS, provides career development and professional networking opportunities, such as access to select events at SfN's annual meeting, educational resources and webinars, and an online community for monthly discussions on scientific and professional skills topics.
As part of SfN's ongoing commitment to promoting the essential contributions of scientists from diverse backgrounds, the Society will host the "Preparing the Next Generation of Neuroscience Leaders" conference, the first-ever NSP gathering outside of the SfN annual meeting. The event will begin July 17 with an opening plenary session available for virtual viewing by the broader scientific community. The session will feature Hannah Valantine, NIH's chief officer of scientific workforce diversity, and Thomas Carew, a former SfN president and current dean of the Faculty of Arts and Science at New York University.
Other groups that promote greater diversity within the science workforce include the National Research Mentoring Network (NRMN), a consortium of scientists, professionals, and institutions collaborating to provide students and researchers across all career stages with mentorship, networking, professional development, and research resources. By supporting the careers of our young scientists from underrepresented groups, we encourage them to stay in the field and share their great potential and skills for the advancement of science.
In terms of the pipeline challenge, we need to think more broadly. We need to target the earliest stages of education, starting in elementary schools, to foster interest in STEM. We need to connect early, maintain momentum through high school, recruit individuals who are underrepresented in STEM into colleges, and then continue to help them advance through graduate school, postdoctoral training, and ultimately into faculty ranks.
Through BrainFacts.org and other public outreach efforts, SfN seeks to interest students in the brain at an early age. The website contains hundreds of resources and lesson plans to help educators bring neuroscience into their classrooms and offers the Find a Neuroscientist (FAN) tool that can connect teachers with neuroscientists to speak to their classes. I encourage you to join FAN and to conduct outreach activities at your local primary and secondary schools during Brain Awareness Week and year-round to help us grow the pipeline of science-interested students from all backgrounds.
Championing Science Without Borders Through Global Collaboration
Scientific innovation has always been an international effort, and the U.S. scientific enterprise has been highly dependent on an international workforce. The NDP survey shows non-U.S. citizens comprising 34 percent of all PhD applicants to U.S. neuroscience programs, 17 percent of those offered admission, and 20 percent of enrolled applicants in the 2016-17 academic year. That 20 percent is a sizable increase from the 12 percent matriculation rate for the 2010-11 academic year. In addition, the survey reports that, on average, 37 percent2 of postdocs affiliated with neuroscience programs are non-U.S. citizens.
The U.S. remains the world's beacon for the scientific enterprise. We are fortunate that the best and brightest from around the world want to come to America for their training. The result is greater scientific discoveries, improved health and well-being, and a stronger economy in communities throughout the U.S.
As a field we must also foster neuroscience in areas of the world where fewer opportunities are available. For example, SfN's Latin American Training Program (LATP) offers a unique professional development and networking opportunity for young investigators from across Latin America and the Caribbean. LATP participants have access to training webinars and online discussions that incorporate cutting-edge science and professional development topics. Plus, 15 LATP fellows attend a three-week, in-person course with high-quality lectures and lab exercises.
SfN supports global scientific collaboration and science without borders. We need international partnerships in order to tackle brain diseases because the magnitude of these challenges (e.g., finding genes for psychiatric disorders or finding a treatment for Alzheimer's disease) requires a global effort. SfN's annual meeting draws thousands of researchers from more than 70 countries around the world, serving as a prime opportunity for international dialogue in the field.
Embracing Diversity for a Better Society
We need to embrace diversity not just because it makes us feel good but because it offers a tremendous boon to society if we succeed. Society is better off when we include the full range of our population when searching for solutions to the major challenges of our time — including brain disorders such as Alzheimer's disease, depression, and autism, to name a few.
In order for us to tackle these immense health issues that threaten to consume our society in the coming decades, both personally and financially, we need a diverse community of dedicated scientists and physicians that can formulate new ways of thinking and acting that have eluded us so far. We must embrace equal opportunity to help ensure that every individual maximizes his or her potential. The result will be a better and more productive society, supported by a more effective scientific enterprise.
---
*Editor's Notes:
1An earlier version of this piece stated a different percentage for the proportion of female faculty members in 2016-17.The updated number is 32 percent based on a change in the final report methodology for analyzing the data.
2An earlier version of this piece stated a different percentage for the number of postdocs affiliated with neuroscience programs who are non-U.S. citizens. The updated number is 37 percent based on a change in the final report methodology for analyzing the data.