Future of Neuroscience: Sanju Koirala
"Future of Neuroscience" is a series of interviews with rising members of the field. A forward-looking complement to SfN's "History of Neuroscience" autobiographies of distinguished researchers, interviewees reflect on their emerging careers and share thoughts on where they believe neuroscience is headed.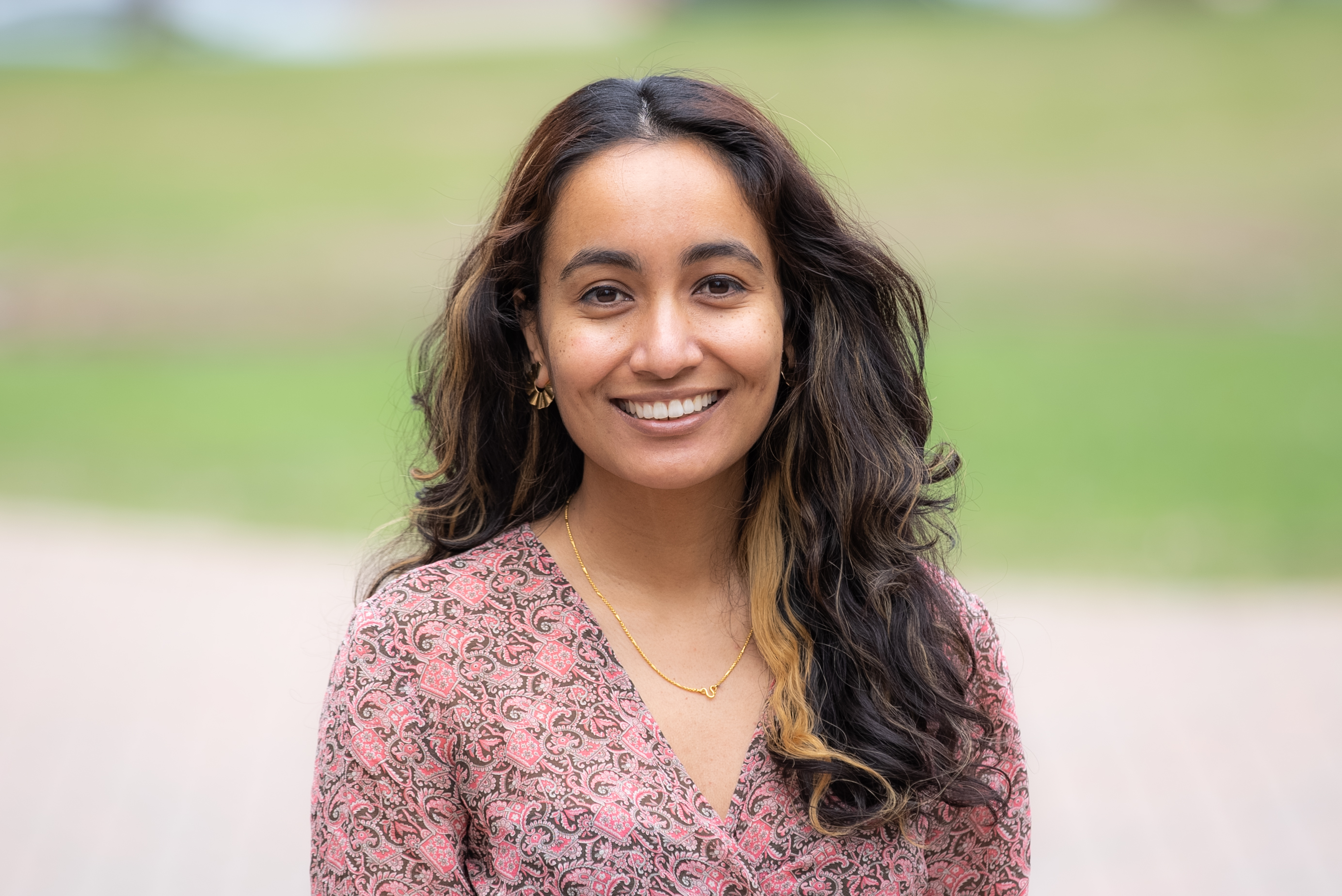 Sanju Koirala
Sanju Koirala is a graduate student at the Institute of Child Development, University of Minnesota-Twin Cities. She is interested in characterizing brain-behavior association over development and examining how that might differ in various neurodevelopmental and neurological disorders. She received her B.A. in Neuroscience from Hamilton College in 2019. She was awarded the Simons Fellowship in Computational Neuroscience at Emory University's Marcus Autism Center. During her two years fellowship period, she examined longitudinal trajectories of social visual attention in infants at low and high-risk for autism spectrum disorders. In 2022, Sanju was awarded a Trainee Professional Development Award (TPDA) by SfN, which recognizes the merits of young and promising neuroscientists. Along with research, she is passionate about creating seats at the table for other underrepresented scientists. She is a co-founder of an organization called Nepalese in Neuroscience, is lead mentor for Next-Generation Psychology Scholars Program (NPSP), and is actively involved in various other mentorship and outreach programs. Sanju is a curious and resilient scientist who hopes to make contributions to the field of neuroscience through her research, mentorship, and perspectives.
Neuroscience Quarterly (NQ): How did you first become interested in neuroscience and what made you want to make it into a career?
Sanju Koirala (SK): In Nepal, where I grew up, we go through high school and then have to choose a subject to study. I thought I wanted to be a doctor because at the time, I didn't even know becoming a scientist was a career option. I chose to study biology, but I also always loved writing poetry and reading fiction. I was curious about how people develop these creative ideas. I think those intersecting lines of thought made me interested in the brain.
During my sophomore year in college, I took my first neuroscience course, which linked biology to cognition and human minds and how we think differently. Even with poetry classes I took, I would sit there and think about how all my peers were interpreting the same poems differently and how they are thinking based on their prior beliefs or their experiences growing up. At that point, I was sure I wanted to pursue neuroscience as my major.
NQ: What is your research focus and what most excites you about it?
SK: I'm in the third year of my PhD, so I'm at a stage where I'm staying open-minded about my research, especially because neuroscience as a field is evolving to become more cross-disciplinary as opposed to having silos of thoughts. However, with that in mind, I am interested in understanding individual differences in brain function and structure, how that develops over time, and then linking that to individual differences in behavior.
We tend to categorize into binary groupings: autism and non-autism or ADHD and non-ADHD, or depression and non-depression.
I hope that such understanding of individual differences can be leveraged to better understand various neurodevelopmental disorders and delays or mental health disorders. We tend to categorize into binary groupings: autism and non-autism or ADHD and non-ADHD, or depression and non-depression. There's so much heterogeneity within that disorder, and there's so much heterogeneity even within the typical-developing population. My hope is to better characterize individual differences in brain network topology and topography and understand how it relates to differences in behavior.
NQ: What made you want to start Nepalese in Neuroscience (NIN)? How are groups like NIN and the South Asian Psychology and Neuroscience Association (SAPNA) supporting South Asian researchers?
SK: As a first-generation international student, I did not have a road map for how to even approach grad school. I started searching for answers, and at the same time, I became friends online with someone in a similar situation who eventually co-founded NIN with me. We decided to get together and search for more people in our situation. It started with a simple tweet: "Hey, are there other Nepali people in neuroscience?"
People started connecting from Australia, Japan, New Zealand, the U.S. — something like 30 or 35 people. We formed a Slack group, had virtual meetings, and started creating goals for our group. We had our first meetup at Neuroscience 2022 in San Diego, and I recently emailed the group to set up another meetup. We have also done a science exposure program in which four of us discussed our journey to neuroscience with Nepali undergraduate students and recent high school graduates. It provides them with the initial exposure to our career paths and answers to fundamental questions. You can be a scientist, you should ask these kinds of questions, this is what your life looks like, and so forth. We are hoping to eventually establish this program as a platform for networking and creating ways to strengthen the scientific resources in developing countries like Nepal.
Through SAPNA, people have been sharing postdoc opportunities and events, and everyone has the ability to network. South Asia as a whole has not been really represented in terms of research. For a young trainee like me, it's really nice to see these representations in the field to be like, "Oh, I can do it too."
NQ: In addition to your research and participation in these networks, you also write poetry. Can you talk about how neuroscience intersects with art? How does your work as a neuroscientist affect your poetry and vice versa?
Artists and scientists are very similar — we just use different tools to observe and find out answers.
SK: My creative writing classes have been instrumental in shaping my curiosity about the human brain. A lot of questions can be derived from art and the act of observing. Artists and scientists are very similar — we just use different tools to observe and find out answers. And there can be intersections too. For example, Sade Abiodun, who was featured in a previous "Future of Neuroscience" interview, uses cinematography to study the brain.
At the end of the day, art is another mechanism for how the brain works. I tend to think in metaphors, which helps me connect concepts in my research. Some people have very good visual memory, and that's how they work. Understanding how our brains are different could inform how we address heterogeneity in psychopathologies, but even if it doesn't reach that point, it's such a beautiful insight to have.
NQ: How do you see the field of neuroscience changing, and what are some changes you hope to see?
SK: I see it evolving to be more collaborative and interdisciplinary. That means asking questions across the various subdisciplines and levels — molecular, genetics, structural, functional, etc. — but also intersecting with entirely other fields. Knowledge and inspiration from the field of geography informs how we are mapping the brain's landscape. By incorporating art into their research, neuroscientists are studying how creative expression improves healthy brain function in people with depression. It requires interdisciplinary scientists who bring different perspectives, and that comes from diversifying science. And I don't just mean that in terms of race or color or nationality, but also people who haven't necessarily studied psychology or neuroscience for their entire careers. I hope to see the field moving away from ivory towers and creating more roles and opportunities to support and recruit people from all different backgrounds.