Online Tools Help You Connect With Global Peers at Neuroscience 2017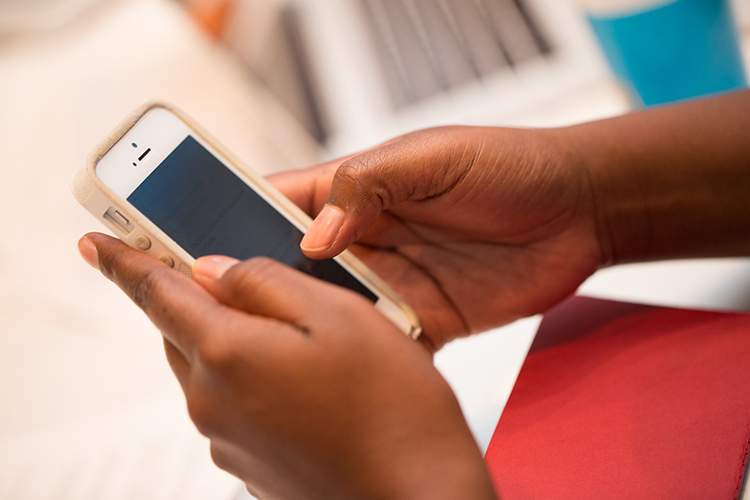 From receiving feedback on research to engaging in conversation with neuroscience luminaries, SfN's annual meeting continues to provide young scientists and veteran researchers alike with an unmatchable array of opportunities for advancing their understanding of the brain and nervous system.
Nearly 30,000 neuroscience researchers, clinicians, and advocates are expected to convene November 11–15 for Neuroscience 2017 at the Walter E. Washington Convention Center in Washington, DC. This year's programming will promote exchange of scientific knowledge for the advancement of basic, translational, and clinical research throughout neuroscience and around the world.
Plan Your Meeting Experience
Watch a short video showing how to use the NMP and another how-to video about the mobile app.
Attend the mobile app tutorial session on-site on Saturday, November 11, from 10 to 11 a.m. in Room 103A.
"Neuroscience 2017 will increase awareness of the groundbreaking discoveries taking place around the world, highlighting the interconnected, global nature of neuroscience research," said SfN Program Committee Chair Diana Bautista, an associate professor of molecular cell and biology at the University of California at Berkeley. "Listening to and engaging with scientists from other countries, with whom we might not otherwise interact, has unimaginable implications for the exchange of ideas and the advancement of neuroscience, and we're honored that Neuroscience 2017 is the leading event for such important dialogue."
As a part of its enduring commitment to supporting the global neuroscience community, SfN offers attendees several tools to help them plan their annual meeting experience and make the most of their time on-site with neuroscientists from nearly 80 countries.
SfN's recently redesigned Neuroscience Meeting Planner (NMP) can help attendees to customize their meeting experience. With the NMP, attendees can search for sessions, workshops, full-text abstracts, and more. These are also organized by topic in the following curated itineraries:
Advancing Innovative Neurotechnology
Brain and Spinal Cord Injury
Clinical Curated Itinerary: Neurodevelopment and Disease
Clocks and Sleep
Decision-Making
Mechanisms of Pain
Microbiome/Microbiota
Neurodegeneration
Neuroscience of Drug Addiction
Stress and Cognition
Synapses
Complementing the scientific itineraries are two additional itineraries created specifically for trainees by SfN's Trainee Advisory Committee:
Undergraduate
Graduate/Postdoc
Attendees can download these itineraries and add sessions to their own itinerary at SfN.org/NMP, on-site in the Neuroscience Meeting Planner Viewing Area (Walter E. Washington Convention Center, East Salon), or in the meeting mobile app, which syncs with the NMP to allow attendees to browse, edit, and save their itineraries without an internet connection for on-the-go access. The app is available for download to Apple and Android devices in the iTunes™ Store and the Google Play™ App Store.
If the number of events seems overwhelming, the recommendations feature in the NMP can help attendees to discover the presentations that might be of the most interest to them by suggesting related sessions based on items already added to a personal itinerary.
Bringing together scientists of diverse backgrounds is one of SfN's primary objectives, and it is a cornerstone of this year's meeting. Many of the speakers and posters presenting at Neuroscience 2017 exemplify global diversity, evidencing SfN's continued commitment to creating opportunities for scientists of all nationalities to share knowledge that could shape our world.
For example, special lecturers will share research from England, Germany, Sweden, Denmark, and Japan; the International Fellows Poster Session invites investigators from the Latin American Training Program and award winners selected by the International Brain Research Organization and the Japan Neuroscience Society; and the Global Approaches for Collaboration & Networking workshop will discuss strategic collaboration for making international advances in neuroscience.
Yazmine Huizar, a Latin American student at the University of Texas at El Paso who attended last year's annual meeting, is just one of many attendees who realize the global impact of connecting with other scientists.
"Being a member of SfN has exposed me to research all over the world that otherwise I would not have access to," Huizar said. "Getting feedback from eminences in the field and knowing how I can apply that to my own project is invaluable. Also, as an undergrad, the opportunity to network, to meet people from other schools, from other countries even is unbelievably valuable for me in applying to graduate schools, in deciding on mentors, in deciding on schools and specific programs. I can honestly say that [for] any neuroscientist looking to expand their research opportunities, their network, their social contacts … the [annual meeting] is invaluable."