Q&A: Research!America Leader Urges Scientists to Engage in Advocacy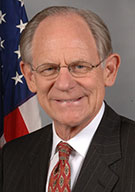 Mike Castle, chair of Research!America's Board of Directors, is a former two-term governor, nine-term U.S. congressman, lieutenant governor, deputy attorney general and state senator from Delaware. He is also a partner in DLA Piper's Government Affairs practice.
Similar to SfN, Research!America seeks to build support for research by raising awareness of its health and economic benefits. What role do scientists play in ensuring that lawmakers and the public are aware of the significant gains that result from robust investment into scientific research?
Scientists must be actively engaged in advocacy on a regular basis to ensure medical progress, which saves lives and drives the economy. They have a responsibility to inform the public about the benefits of federally funded research; the public deserves to know how its tax dollars are being put to work. It's not only awareness that needs to be raised, however, as policymakers must assign a higher priority to robust and sustained federal investments in medical and health research.
Researchers, patients, and other science advocates who reach out to members of Congress and their staff play a critical role in helping to secure funding increases for federal science agencies including the National Institutes of Health (NIH), which funds important research such as the Brain Research through Advancing Innovative Neurotechnologies (BRAIN) Initiative. Every member of Congress is looking for solutions to what ails us — ails our physical, mental, and public health — and solutions to drive the local economy and fuel our nation's prosperity. Members of Congress all have constituents who are suffering from a disease for which NIH-funded research can lead to new understanding that in turn leads to new therapies to improve quality of life, cures, and ultimately prevention.
Neuroscientists and other advocates do not have to wait for the appropriations process to build relationships with policymakers. They can make the case for research throughout the year. If scientists haven't already participated in SfN's Capitol Hill day or reached out to state legislators, they should make time to do so. An overwhelming majority of Americans (86 percent) say that it is important for scientists to inform elected officials and the public about their research and its impact on society.
SfN and Research!America can provide guidance on how to effectively engage with your local representatives and senators. If you have already connected with your member of Congress, stay in touch through emails and letters. Those willing to go a step further should consider becoming a volunteer science advisor to elected officials and candidates. Cultivating new champions for science on the federal, state, and local level should be top of mind for every scientist.
From your perspective as an experienced elected official, how can scientists effectively engage lawmakers to support robust funding of biomedical research?
As governor and then as a member of Congress representing Delaware, I found it particularly effective when a patient or scientist related their personal story. Talk about what prompted you to become a scientist; briefly and succinctly explain how your research helps move the needle in neuroscience. You might also talk about how research has benefited you as a patient. It is also compelling to provide evidence of the economic impact of research. Delaware benefits tremendously from life sciences research and the biotechnology sector. Today, Delaware is home to more than 7,000 bioscience industry jobs, and the average annual wages in the bioscience sector are about $67,000 higher than the private sector overall. The investments we make today can boost the health and prosperity of future generations. Engage policymakers on both the facts and your aspirations — it's a potent formula for effecting change in the policy arena.
Scientists deepened my understanding of the promise of embryonic stem cell research during a time when there was huge opposition in Congress and the White House for federal support of such research. This interaction led to the development of bipartisan legislation introduced by me and Rep. Diana DeGette (D-CO) in 2005 that expanded federal funding of embryonic stem cell research. The bill won approval in the U.S. House of Representatives as a result of our outreach to members of Congress and working closely with leading health care groups in our states and Washington, DC, including Juvenile Diabetes Research Foundation International, the Christopher Reeve Paralysis Foundation, and the Parkinson's Action Network. Resistance was so strong that my colleagues and I had to broker an agreement to even allow Members to debate the issue and vote on whether regulations for embryonic stem cell research should be changed. Our bipartisan bill generated 200 co-sponsors, nearly half the House's membership, and made it to the President's desk. President Bush vetoed the bill — not the outcome we hoped for — but it was a pivotal moment in raising the public's passion and interest in the issue.
In 2010, Rep. DeGette and I introduced bipartisan stem cell legislation to build on President Barack Obama's executive order overturning existing restrictions on federal funding of embryonic stem cell research. The measure generated over 140 co-sponsors. The bi-partisan 21st Century Cures Act of 2016 also includes provisions intended to assure timely regulatory review of regenerative therapies, including cell therapies enabled by stem cell therapy research. Unfortunately, we are again facing threats to important avenues of research. Over the past couple of years, attempts have been made at both the federal and state level to stifle fetal tissue research, and there have been rumblings of renewed attempts to impose restrictions on federally funded stem cell research. Scientists must continue to educate nonscientists about the value of stem cell and fetal tissue research, particularly the ways in which these areas of research provide unique opportunities for medical progress.
Considering the competing priorities that scientists must manage, from grant writing to conducting experiments to publishing, what strategies can organizations like Research!America and SfN use to encourage scientists to engage in advocacy?
The March for Science in April 2017 illustrated that scientists, along with friends of science, are committed to amplifying how science serves society. We must go farther than a one-off event, however. It is imperative for many more scientists to repeatedly say and convey, "I work for you; I serve the public's interest."
Research!America challenges scientists to develop an advocacy program within their own institutions. The University of Maryland School of Medicine Department of Biochemistry and Molecular Biology Chairman Dr. Richard Eckert developed a program led by a science advocacy committee and managed by a faculty member. The program includes annual visits to members of Congress, training on current issues, engaging government affairs/communications departments, relationship building, and regular communication between meetings. Participation is not tied to tenure or promotion but it is expected of all faculty and students. Imagine the influence this would have on federal funding for research if just one university from every state adopted a similar commitment to advocacy and broadened it beyond a single department! Simultaneously, attending advocacy and science communications workshops that address many opportunities for advocacy, including social media strategies, can help scientists to recognize and practice the different ways they can connect with decision-makers.
How can organizations like SfN and Research!America collaborate to grow science advocacy efforts and increase support for research in Congress?
SfN and Research!America are both deeply committed to empowering scientists with the knowledge and skills to be effective and persuasive advocates for research. We are working together to host webinars for neuroscientists who are interested in strengthening their advocacy skills. A joint webinar series will focus on science communications, providing guidance on opportunities for connecting with the current Congress and Administration, measuring advocacy outcomes, leveraging data, and connecting with nonscientists by hosting community events.
In addition to cultivating new advocates, Research!America and SfN often work as a part of larger collaborations to execute advocacy and communications strategies. For example, our organizations support the Rally for Medical Research, a Capitol Hill day held annually in September focused on increasing support for NIH-funded research. Over several years, we have worked together to advance research during congressional negotiations on "sequestration" (across-the-board spending cuts and stifling budget caps that jeopardize federally funded science and other national priorities), and we worked together on the "Save Research" initiative, a multi-stakeholder communications effort stressing the negative impact of sequestration on lifesaving medical progress. Our organizations were early endorsers of the March for Science and encouraged scientists from around the world to participate. Together, we are always looking for opportunities to champion the promise of science among policymakers and the public.
In 2015, Research!America had the opportunity to recognize the value SfN brings to the science community with the Paul G. Rogers Distinguished Organization Advocacy Award, which honors organizations that stand out as extraordinarily strong advocates for medical and health research.
In the face of an uncertain political environment and unprecedented scrutiny of science, how can advocates effectively combat misinformation and ensure that science remains a policy priority?
To stimulate a meaningful and productive public dialogue about science, researchers and advocates must be a part of the national conversation around "lightening rod" and noncontroversial science issues alike. The more visible scientists are, the more trust we can build among policymakers and the public. When policymakers debate contentious issues that involve science in some way, scientists must be at the table. Participation and a sincere interest in building bridges are both important. Science skepticism can undermine public support for research, and so can an unwillingness to try to understand and engage. It was the effort to convey the value of stem cell research that led to solid bipartisan support. A majority of Americans (82 percent) say scientists are the most trusted spokespersons for science, according to a Research!America commissioned survey, but only one in five can name a living scientist and only a third can name an institution where research is conducted. Scientists must overcome their invisibility in the public and political context in which their work is conducted! Scientists must explain to nonscientists how research plays a role and will continue to play a role in their quality of life and economic security. As the late Congressman Paul G. Rogers stated, "Without research, there is no hope."