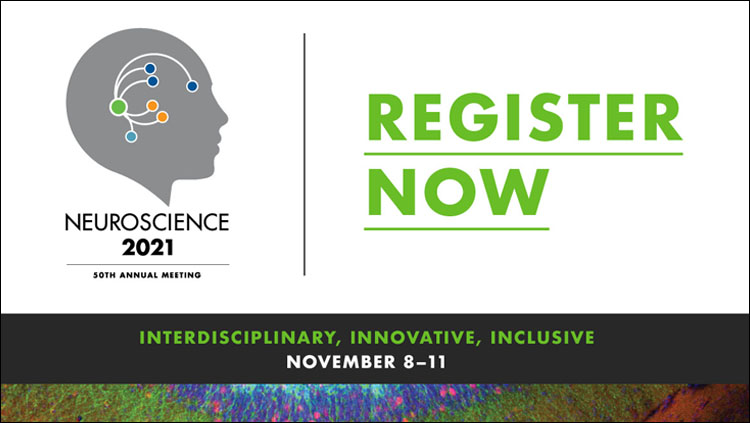 Presenter Best Practices
Discover best practices and engagement ideas to create awareness and engagement of your research before, during and after Neuroscience 2021.
One of the biggest goals of Neuroscience 2021 is to spark conversation. Social media sites like Facebook, Twitter, LinkedIn, and Instagram are vibrant online forums for your guests and others to discuss the topics and ideas you'll be sharing before, during, and after your session. Plus, it's one of the most effective ways to share your event with the world. Below you will find some best practices and engagement ideas to create awareness and engagement of your research before, during, and after Neuroscience 2021.
Don't forget to follow SfN on Facebook, Twitter, Instagram and LinkedIn to stay up-to-date on everything leading up to the main event.
How to Use Social Media Before, During, and After Your Session
Before the event: Build your content and make connections
Share the event: Using your own social media accounts, help raise visibility for the organizer. Always try to promote the event first, your presentation second.
Use the Profile Image Badges: Brand your Twitter handle by updating your Twitter photo with a #SfN21 badge; that way, every time your tweet shows up in someone's feed, they'll know you're a presenter at Neuroscience 2021.
Send personal invitations: Use Facebook messages, Twitter direct messages, and LinkedIn messages to invite key, influential attendees, top speakers, and other event organizers to attend your presentation.
Make sure to tell them the why, where, and when you'll be presenting, and invite them to connect with you afterwards.
When you get positive responses, save their names in a list for the day of the event.
Use Twitter polls: Ask questions and find out what your potential audience wants to know. Take a survey or poll in advance to find out what your audience is most curious about, then use your findings to adapt your content.
Post teasers: For your presentation, take the slides that feature a few of your key statistics and quotes and share them in the days leading up to your presentation. Remind people where they can come and see you to learn more.
Use event hashtags: Start using the event hashtag before you even get to the event venue. #SfN21
Social media handles on slides: Include your preferred social media handle and the event hashtag on presentation slides.
On the day of your talk: Get excited!
Live Video: Consider recording a Twitter live video the morning of your session explaining: what the event is, the event hashtags, and then give one or two "sneak peeks" into what your content is going to include. Share a static or two and mention why people should come see your talk. See SfN's best practices for mobile recording.

Ideas on what to post:
What you are excited about sharing.
Who you are looking forward to seeing.
Participate in the conference: Attend the sessions of the other speakers, quote them, and share their content. Also, you can share unique insights about the conference itself.
Always be making connections: When you're networking with attendees and organizers, immediately connect with them on social media. You can also collect their business cards to email them afterward, but don't negate one for the other.
Post photos: Whether you are sharing this on Instagram, Twitter, Facebook, or even LinkedIn, show that you are active at the event. Take selfies with people, a view from where you're attending the virtual experience, or the entrance to the "room" where your session is going to be.
Send reminders: Remember that list you made with the positive responses from influencers? Pull that list back up and send them a quick reminder of the time and how you are looking forward to talking with them afterward.
Live Tweet the event: Queue up some posts to go up while you're presenting! You can use apps like Buffer, Hootsuite, or the help of a friend/colleague/assistant. If you know your presentation is 20 minutes long, and at the 7-minute mark you have a great slide with an impactful quote, schedule it to go live around the same time you say it in your talk.
Post from "backstage": Channel any nervousness you have into motivating energy, and use this to excite your audience.
On stage: Tell them how to connect with you
Give direction after your intro: Directly after you give an impactful introduction to your presentation, quickly share with the audience how they can connect with you on social media. Whether this is Twitter, Facebook, LinkedIn, or another platform, being clear and direct about how people can connect with you is essential.
Tell them to post: Encourage the audience and organizers to share and post. Remind them about the event's hashtag (#SfN21) and that the conversation will continue after you get off the stage if they want further insights.
Remind people to share: got a quick statistic or great quote? Tell people to share. Say something like, "This is a very tweetable statistic...did you know that there are 500 million tweets sent each day? That's 6,000 tweets per second."
Level-up this by having a clear and concise slide that can accompany the statistic.
Be clear about your contact info: make sure there are multiple ways for people to engage your content, where they can learn more about your topic and message, and connect with you personally.
Whether this is on your social media, SlideShare, YouTube, SpeakerHub, or your speaker website, be very clear how people can get in touch with you and continue learning.
Off the stage at the event: Interact and keep participating
Interact, interact, interact: If people have liked your post, quoted you, or shared an insight about your presentation, reply to them.
Collect social media posted testimonials: review the posts about your presentation and save them, or grab screenshots so that you can use them later.
Use LinkedIn: when possible, connect with people on LinkedIn and ask them to leave you a LinkedIn recommendation for your presentation.
Keep participating in the conference: remember that the conference doesn't end when you step off the stage.
Stay in the conversation by attending other sessions and connecting with the influencers, speakers, and organizers on your list.
Post-event: Keep sharing your message.
Post the photos from the virtual experience: share them on Twitter, and tag the names of the people in the photos. If you have photos of the people on your list, influential attendees, speakers, or organizers, tag them in the photo and mention how great it was to meet them in person, furthering any projects or ideas you discussed.
Set up a TweetWall: with a collection of the top tweets about your presentation. Include a few of your own tweets and some that are about the conference in general. These are fantastic to share with future event organizers.
Make a quick video about how the conference went: this could include 1-2 testimonials, laced with your personal thoughts, reiterating your key message. Share this on Facebook, LinkedIn, and YouTube.
Say thank you: share an authentic thank you post to the event organizer for having you. While you can do this privately through email or by letter afterward, a public post showing gratitude increases the chances of you being invited back to speak.
Be relevant: continue posting about subjects that are relevant to your topic. While you want to be authentic (and the occasional picture of your dog might be appropriate) remember who your audience is and what they want.
Create shareable media: use the presentation of your session to make lots of kinds of shareable media. This could include: "audio blurbs" with a section of your talk, small and large videos, add to your speaker reel, or create a podcast from your video.
The presentation from a single session can be made into multiple forms of media appropriate for sharing on social media and sharing individually to event organizers.
Cross-pollinate: use your social media platforms to strengthen one another. For instance, using LinkedIn to get more Twitter followers or Facebook likes. This will give your Twitter/Facebook marketing efforts more power.