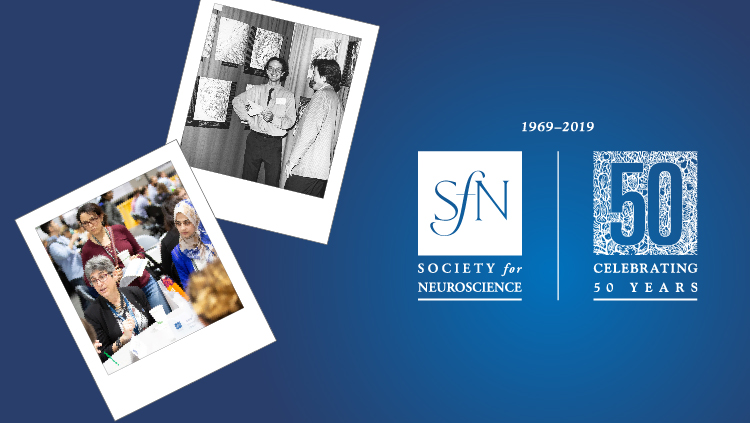 Celebrate with SfN!
Honoring SfN members around the world, past and present, is a big part of how the Society is commemorating it's 50th Anniversary. Become a part of this celebratory effort in your community by sharing photos!
SfN invites its members to join our 50th anniversary celebrations by sharing photos! Eligible photos submitted between Monday, June 3, and Tuesday, September 3, will be entered for a chance to win one of two $100 Amazon gift cards.
Photo submissions can include:
Historical images related to your time as an SfN member
Images of you and your colleagues working in the lab
Photos from previous annual meetings
Other images that showcase your experience as a neuroscientist and member of SfN… and/or where you are in the world.
Submitted images will be used during SfN's upcoming 50th anniversary celebrations and at Neuroscience 2019 and 2020, on social media channels and on our website.
Please review SfN's Photo Consent Policy before submitting a photo.
Mail your photos and captions to:
Kym Kilbourne, c/o Society for Neuroscience
1121 14th St. NW, Suite 1010
Washington, D.C. 20005
Win an Amazon Gift Card!
Submit a photo to help SfN celebrate its 50th anniversary, and be entered for a chance to win one of two $100 Amazon gift cards!
Eligible submissions are due by Tuesday, September 3.
Winner Selection Rules and Agreements:
Winners will be selected by random drawing and announced on the website by Friday, September 20, 2019.
The Society for Neuroscience will make every attempt to fulfill prizes. Prizes unclaimed after 60 days will not be awarded.
Any depiction of the Amazon gift cards is for illustrative purposes only. All prizes are awarded as-is and without warranty of any kind, expressed or implied.
Winners are responsible for all taxes on prizes received.
Prizes are not redeemable for cash or transferable. No substitution allowed.
Only two $100 Amazon gift cards will be available to be won.
Email questions to 50photos@sfn.org.
Photo submissions should include:
A high-resolution image (at least 300 dpi)
Use the JPEG file format
A caption, including names of pictured individuals, institution, location, and a brief description of the photo.
SfN may reach out with questions about submitted photos.