JNS Meeting Travel Awards
Submissions Open: Mar 16, 2021
Submissions Close: Apr 27, 2021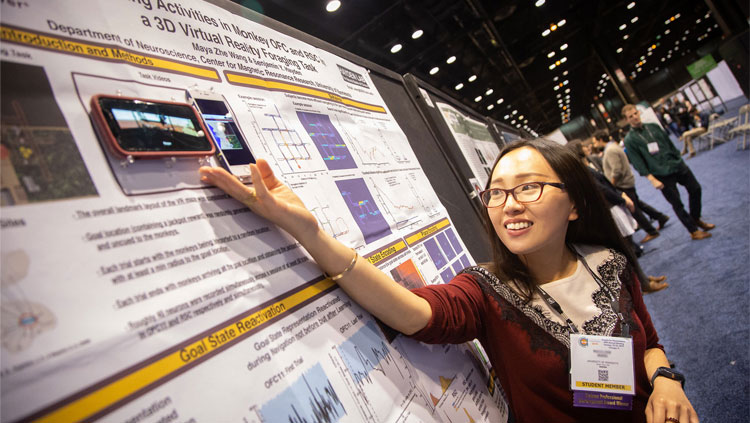 The 2021 application is now closed.
Every year, SfN and the Japan Neuroscience Society (JNS) provide a joint travel award exchange program for graduate students who have reached PhD candidacy or postdoctoral fellows to attend their respective meetings.
For 2021, SfN travel awardees to JNS will be participating virtually.
SfN will provide a registration fee waiver members from the United States, Canada and Mexico to participate in the JNS Meeting. The 44th Japan Neuroscience Society Meeting will be held in Kobe, Japan, from July 28-31, 2021, visit their webpage for more information. Prior to applying, applicants must submit an abstract to the JNS Annual Meeting by the deadline at their own expense. Please note, you must be a member of JNS to submit an abstract to the JNS Annual Meeting. Abstract submission for the JNS Annual Meeting closed April 2, 2021.
Recipients are selected based on the scientific merit of the abstract submitted to the forum and the strength of related application materials.
Applicant may not receive additional travel awards from IBRO, FENS, or JNS to attend this event.
Before Applying With SfN
Become a member of the Japan Neuroscience Society
Submit an abstract for the JNS Annual Meeting (deadline is April 2, 2021)
How to Apply
Submit the following materials:
One-page curriculum vitae (CV) including country of residency and education (date of achieving PhD candidacy), honors, awards, and publications
One letter of recommendation from an academic adviser
A copy of the proposed abstract that has been submitted for the meeting. Awardees must submit the abstract and meet the JNS acceptance deadline of April 2, 2021, 12:00 p.m. (JST). SfN will request proof of submission from awardees
A 500-word or less essay on career goals, planned research, and the value of attending the JNS meeting
Contact awards@sfn.org with questions.
Eligibility
Must be living and working in the United States, Canada or Mexico at the time of travel to the conference
Enrollment as a graduate student who has advanced to PhD candidacy or postdoctoral fellow
Current, active SfN membership
Applicant is the first author on an abstract to be presented at the JNS meeting
Applicant may not receive another SfN travel award in the same year
Preference is given to those who have not previously had extensive experience living or working in Japan