Neuronline Spotlight: Teaching Children About the Brain Using the World Around You
Summer is the perfect time to step out of the lab and educate the community around you about the brain, and there are many ways to get involved. Neuronline, SfN's learning and discussion website, regularly features neuroscientists engaging in outreach around the world.
The following example shares creative ways to use the environment as a classroom. King's College London neuroscientist Richard Wingate, editor-in-chief of BrainFacts.org, and Leigh Wilson, research scientist, talk about how they planned fun and instructional lessons and offer inspiration for how you can do the same. For more outreach planning resources, explore BrainFacts.org.
When communicating brain science, one strategy can be surprisingly effective — using the world around you. By asking your audience and yourself what neuroscience looks like in a forest, an urban playground, or on the beach, you can enhance your impact.
We've been developing a reflexive approach to neuroscience outreach by using the resources we encounter in different environments to teach children about the brain. Using your imagination and the tools at hand, you can turn almost any environment into a classroom, where the lessons are always fresh and exciting.
Introduction to The Event, Brainwaves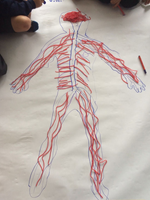 Brainwaves was a one-day seashore-based neuroscience adventure conducted at the Sidmouth Science Festival in Devon, United Kingdom in October 2018. The science festival is one of a number of community-led festivals in the United Kingdom.
There were 65 children, aged eight to nine. Twelve neuroscientists, ranging from PhD candidates to principal investigators, designed and delivered the workshop. We recruited three local schools as participants to bring together children with different educational experiences.
We used the fabric of the seashore — pebbles, tidal creatures, buckets and spades, and the terrain — to explore the structure of a neuron, how signals pass along cells, and how brain cells build connected networks. We explicitly wanted to use what we found on the beach and in rock pools to illustrate these concepts and show that connections to neuroscience are all around us.
Workshop Activities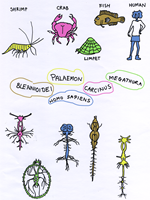 It was important to us to give the children a chance to build brain cell networks and simulate neural activity. By dividing the children into teams, each led by a scientist, we gave each participant a chance to ask questions and explore together.
Before the session, we collected local fauna and beach resources. To explain comparative neuroanatomy, we used limpets, shrimp, crab, and fish from rock pools. To explain nerve conduction and how synapses work, we held bucket-and-water races. We also constructed neurons out of pebbles from the beach and invested in four giant rolls of paper and enough pens and pipe-cleaners to give children space and resources to draw and build.
We divided the workshop into several activities:
Introducing the scientists: Who are they, and what do they do?
Testing prior knowledge: What do brain, spinal cord, and brain cell mean?
Drawing life-size silhouettes on giant rolls of paper and filling in the brain and spinal cord.
Making and eating an edible peripheral nervous system out of strawberry laces.
Building different types of model neurons from polystyrene and pipe cleaners.
Matching drawings of nervous systems to different seaside animals to explain comparative neuroanatomy, asking "Whose brain is this?"
Constructing meter-wide neurons from differently sized pebbles.
Linking the pebble neurons with sailing cord to form circuits.
Holding a water balloon race to demonstrate nerve signal conduction.
Lessons
We wanted the children to be able to understand:
Scientists are friendly, creative, and fun and vary in shape, size, and age.
Our bodies have brains and spinal cords.
Neuron cell bodies are located in the brain and spinal cord but connect to all parts of the body.
Brain cells have a polarity and consist of soma, dendrites, and axons with a range of characteristic shapes.
Animals with different body plans have different nervous systems.
Brain cells are organized into networks.
Information is transferred as electricity along chains of cells.
Reflection
While taking neuroscience into the classroom can involve bringing part of the laboratory with us, our workshop has shown the outside world is also a resource that can engage the creativity and imagination of children and scientists.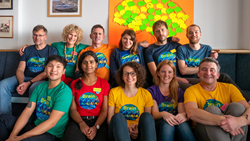 Teachers told us they loved seeing the students excited to learn about the brain. The students also clearly enjoyed the activities. "My two favorite parts were making the nerve cells and the balloon race! I learned each animal has a different nervous system," one student said.
Brainwaves offered a new approach to the team-building goals of a "lab retreat" that involved giving back to the community. We see Brainwaves as a first foray using this approach and hope to repeat it in new environments generating fresh ideas.
The above summarizes a half-day workshop on which Leigh Wilson and Richard Wingate presented a poster at the Brain Awareness Campaign Event at Neuroscience 2018. The Brain Awareness Campaign Event is an opportunity for scientists from around the world to showcase activities conducted as a part of Brain Awareness Week, a global campaign to increase public awareness of the progress and benefits of brain research.
The Brainwaves team includes Darren Williams, Connor Sproston, Sinzi Pop, Tristan Varela, Vicky Rook, Christopher Rookyard, Rachel Moore, Vineetha Vijayakumar, and Jon Clarke, from King's College London. Jon Ball and David Bramley from the Sidmouth Science Festival collaborated throughout. The Wellcome Trust funded the workshop through a research enrichment enhancement to Jon Clarke's Investigator Award.
Neuronline, SfN's learning and discussion website, helps neuroscientists to advance in their training and career and connect with the global scientific community year-round.