Register for the World's Largest Neuroscience Gathering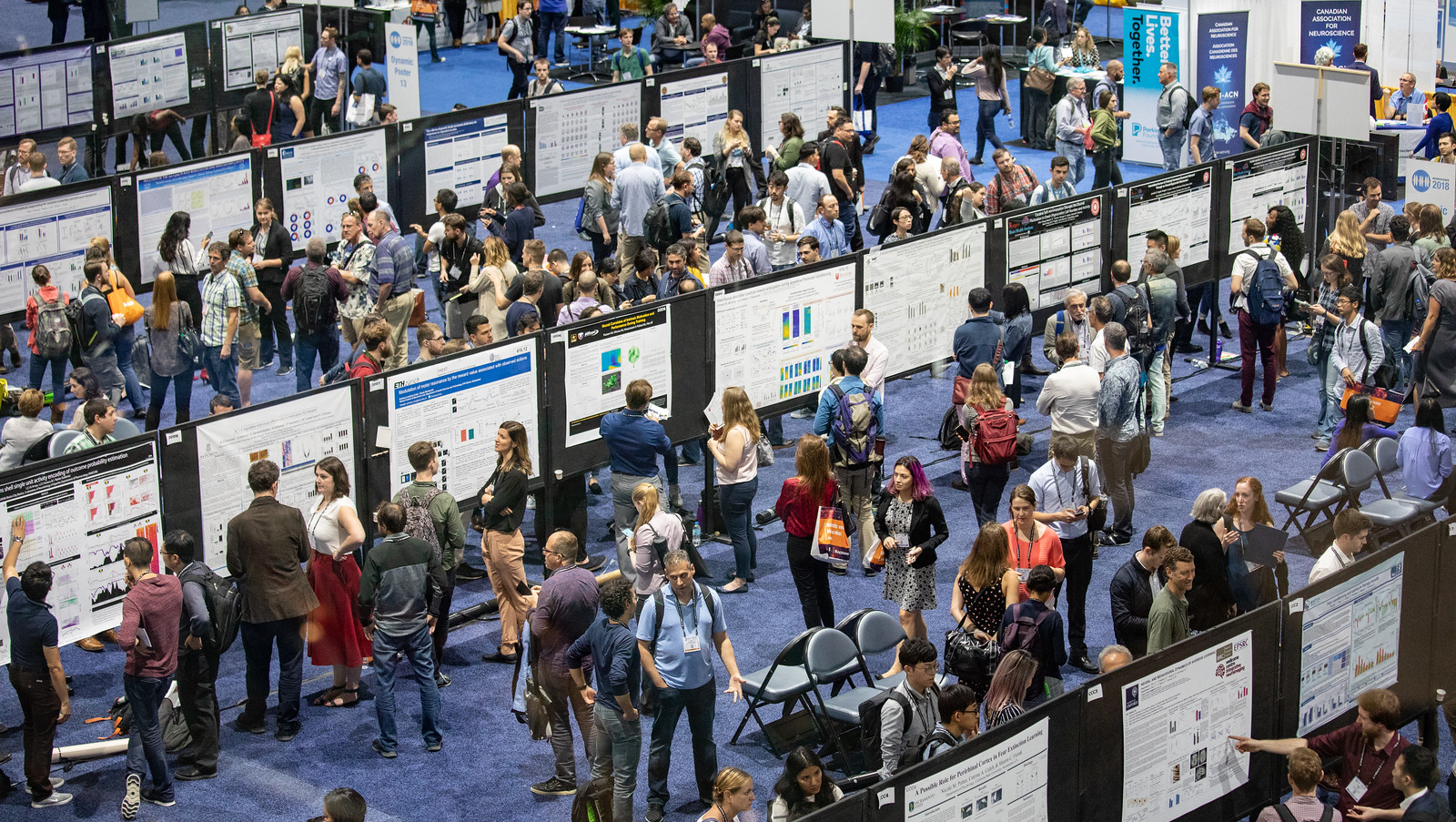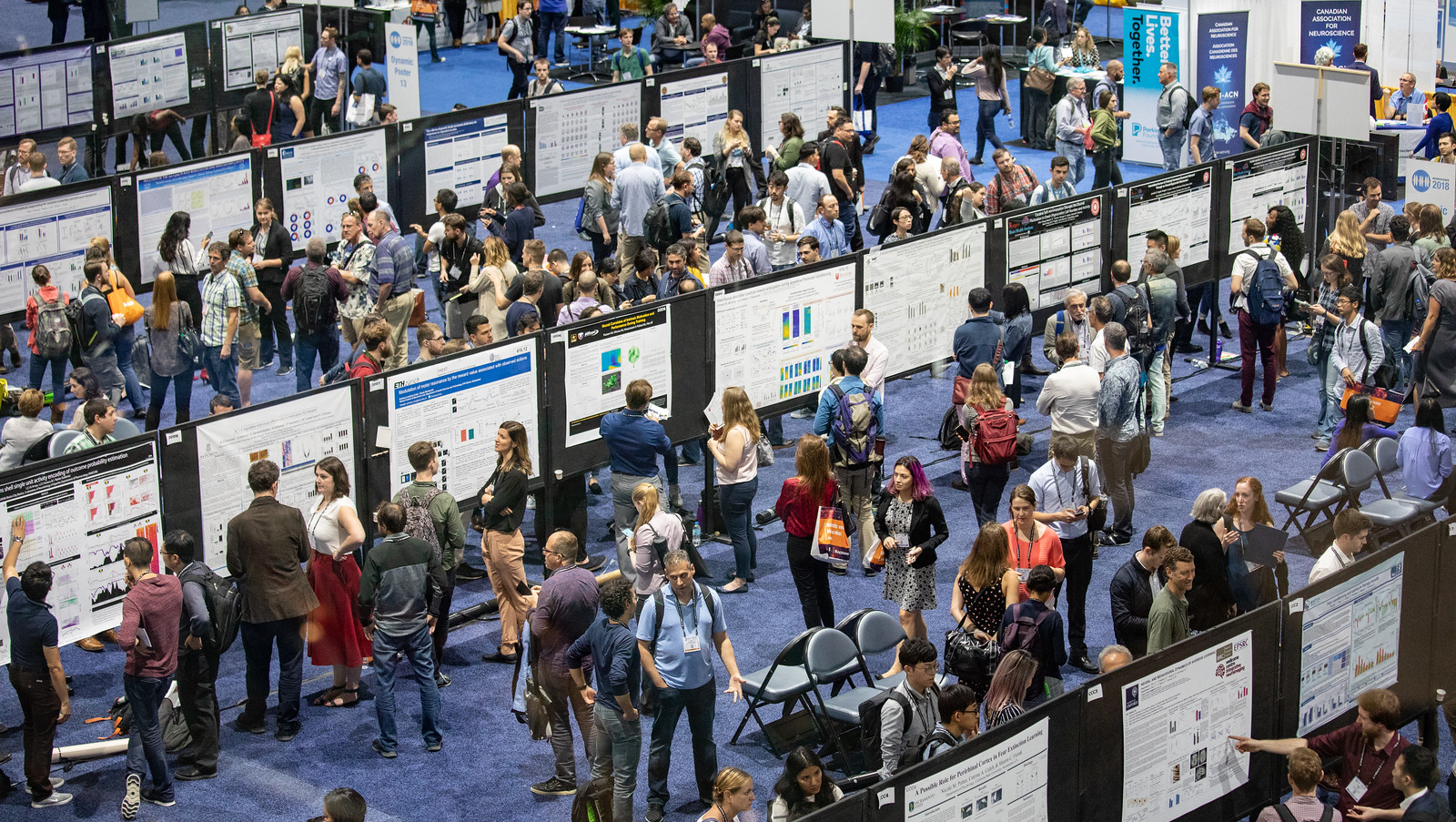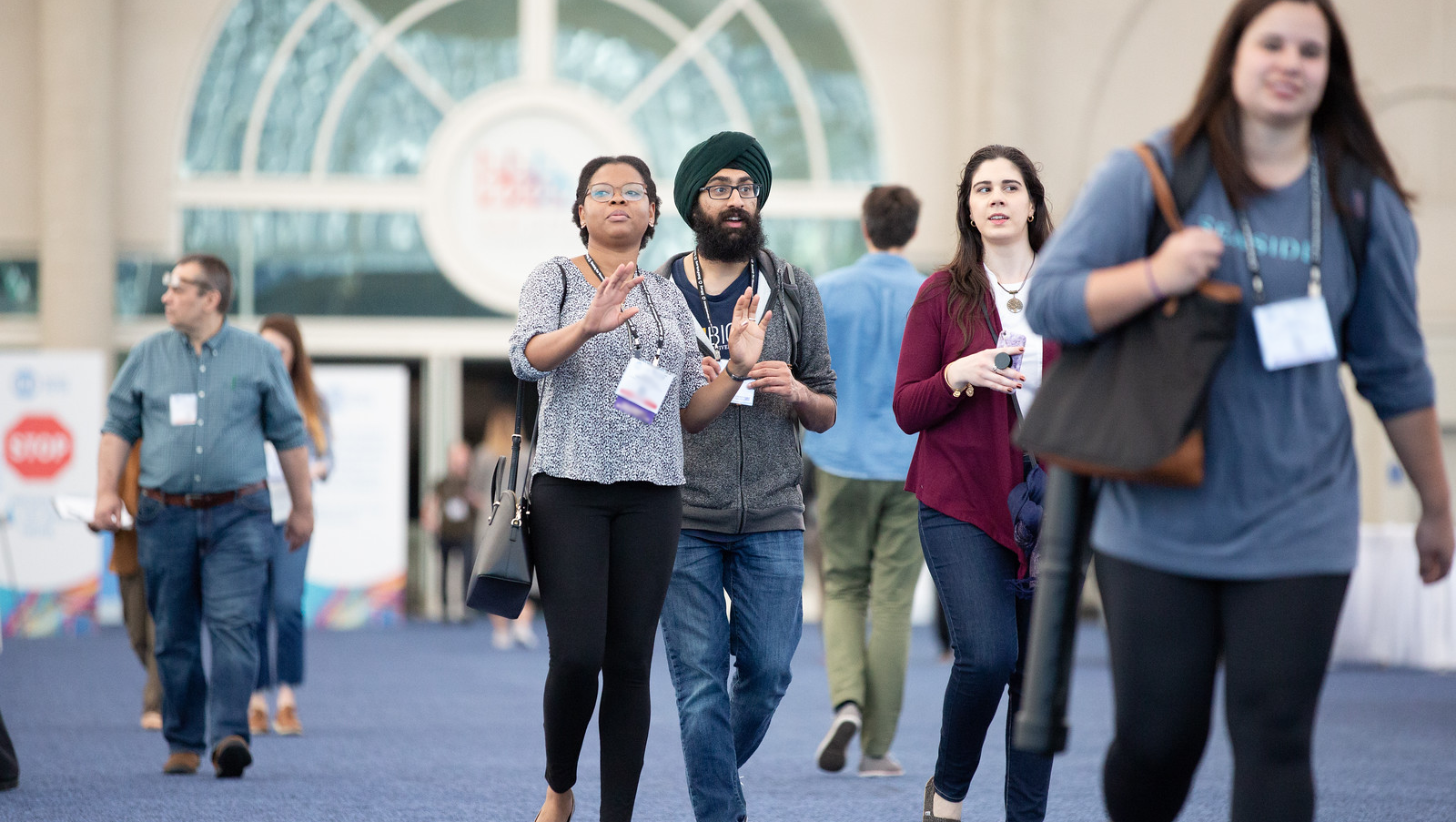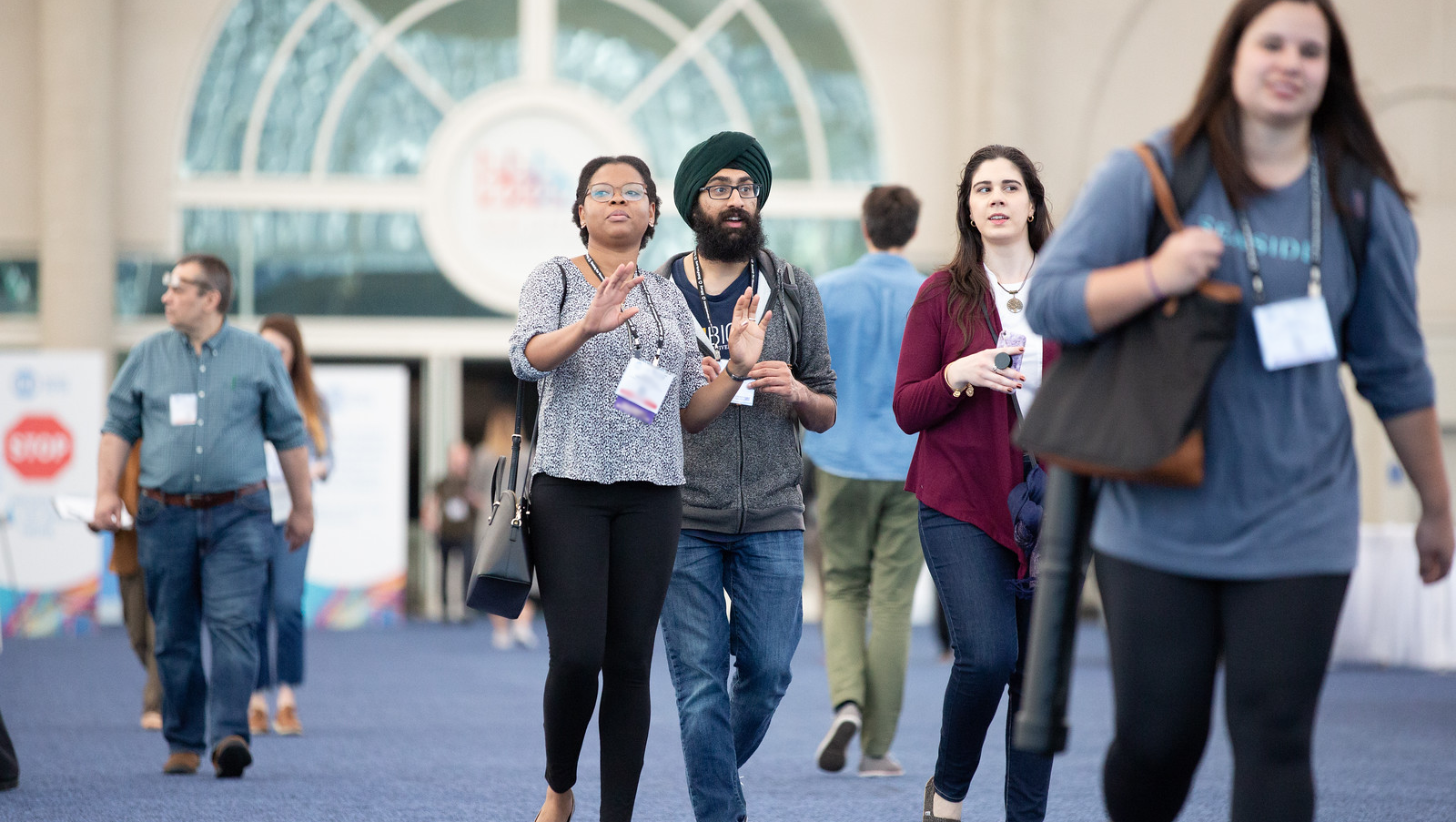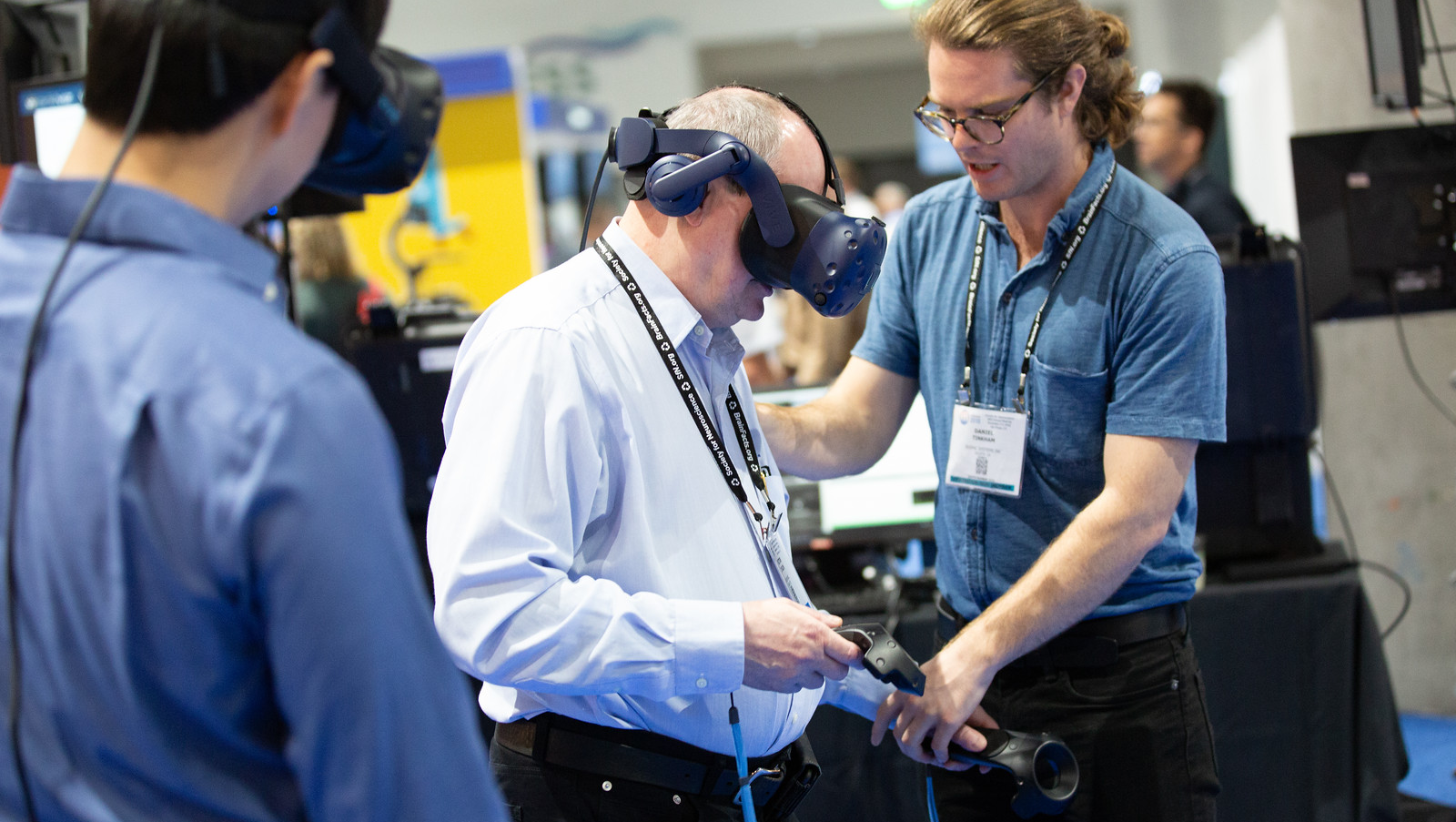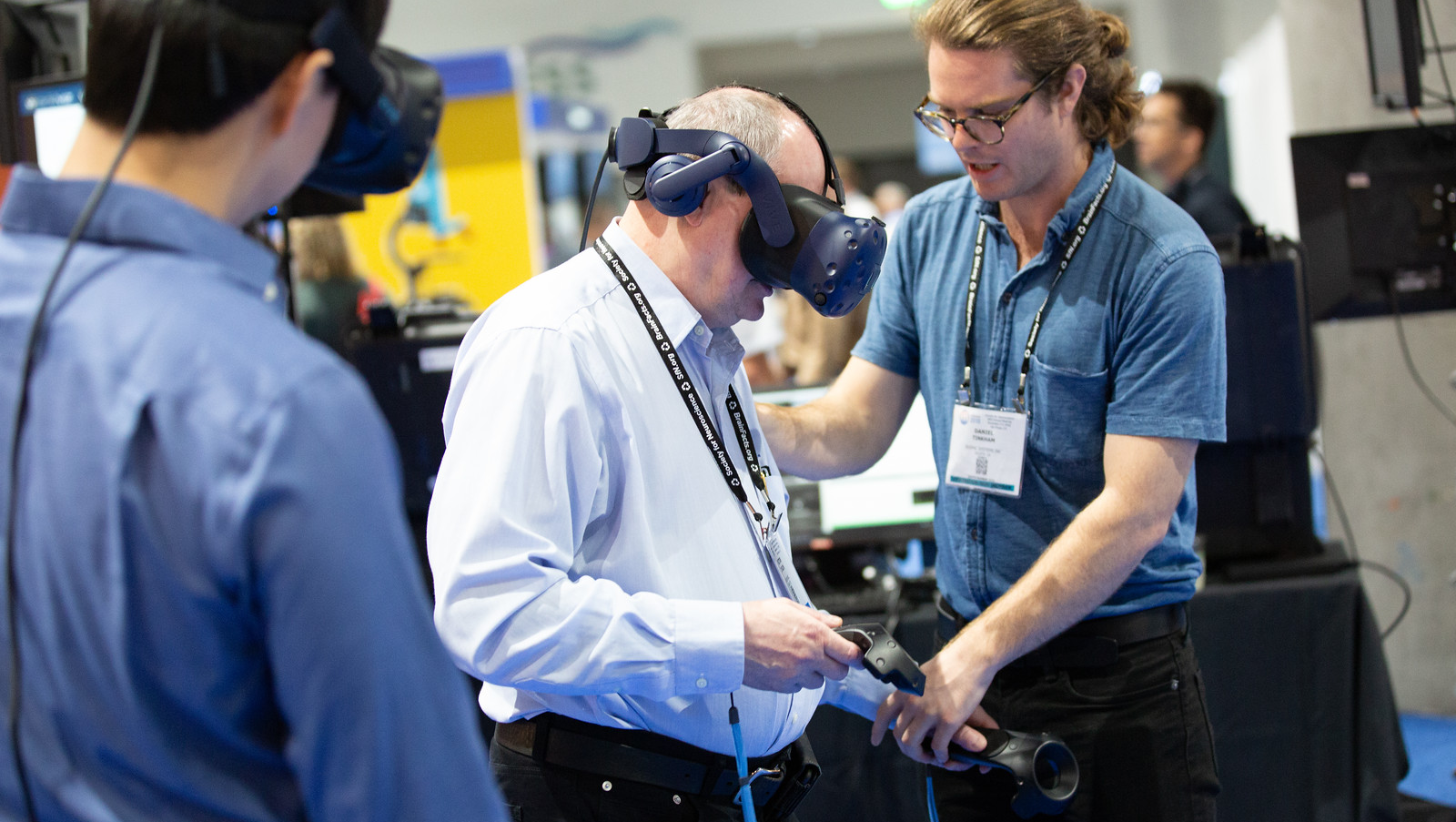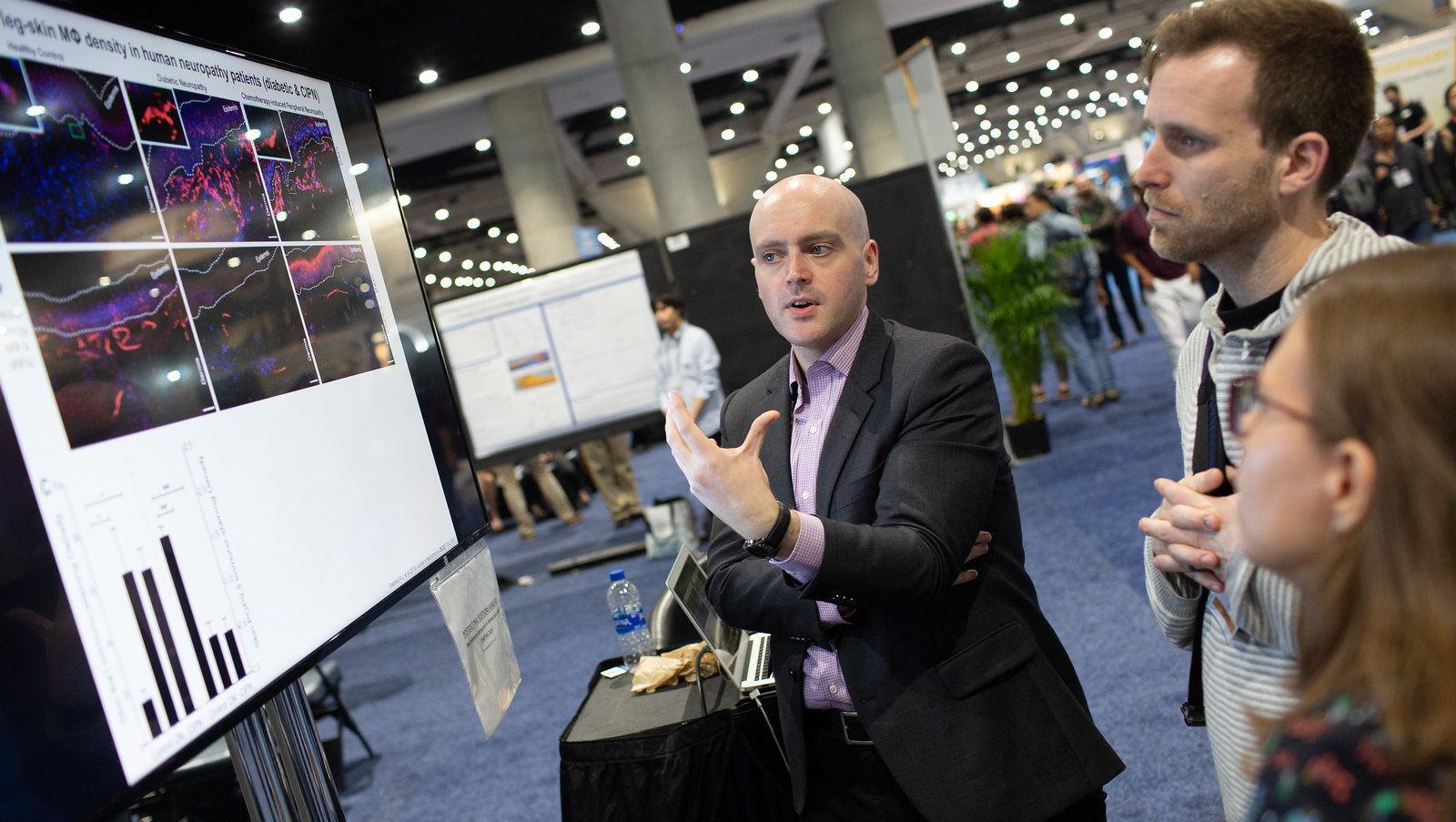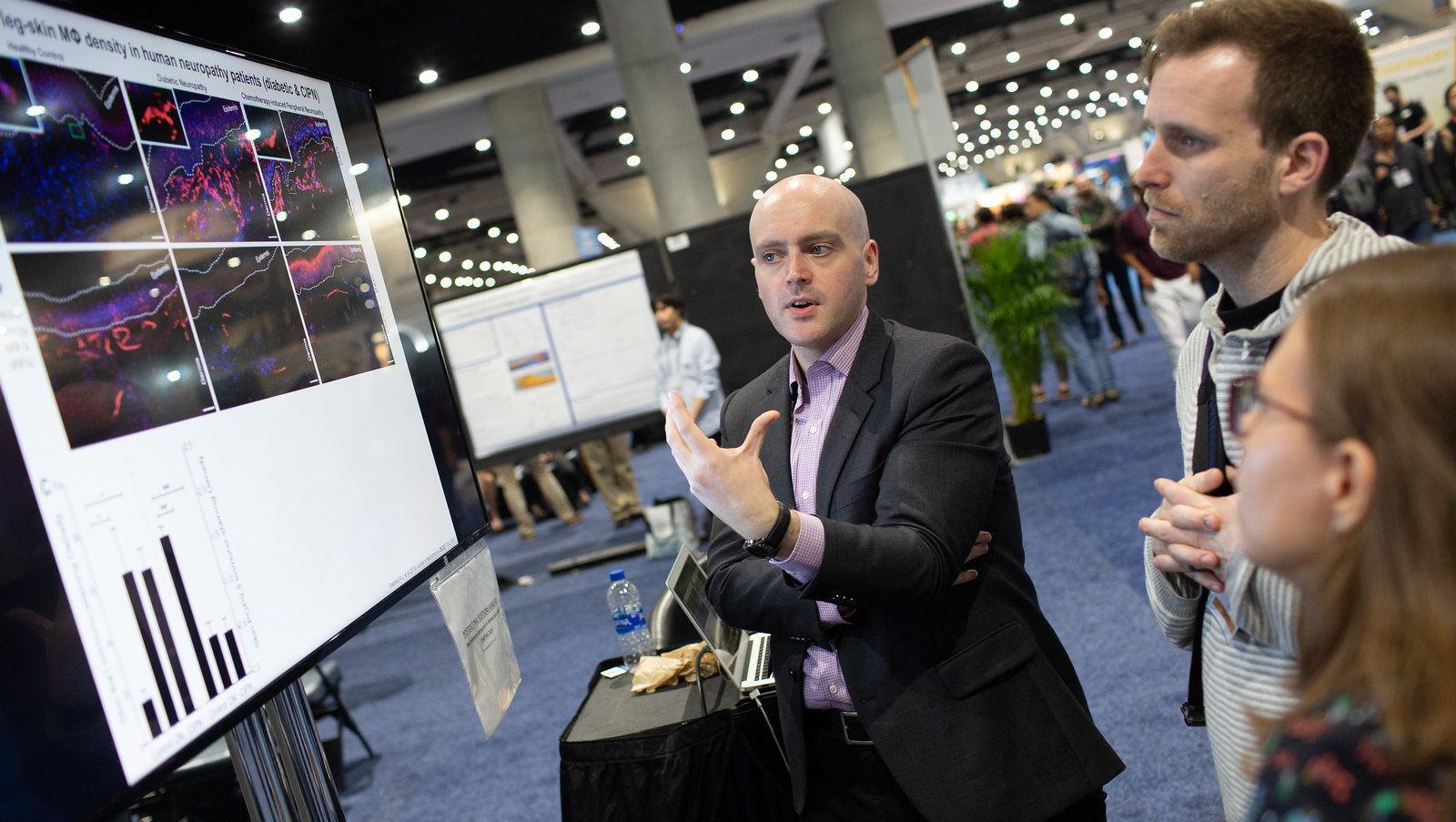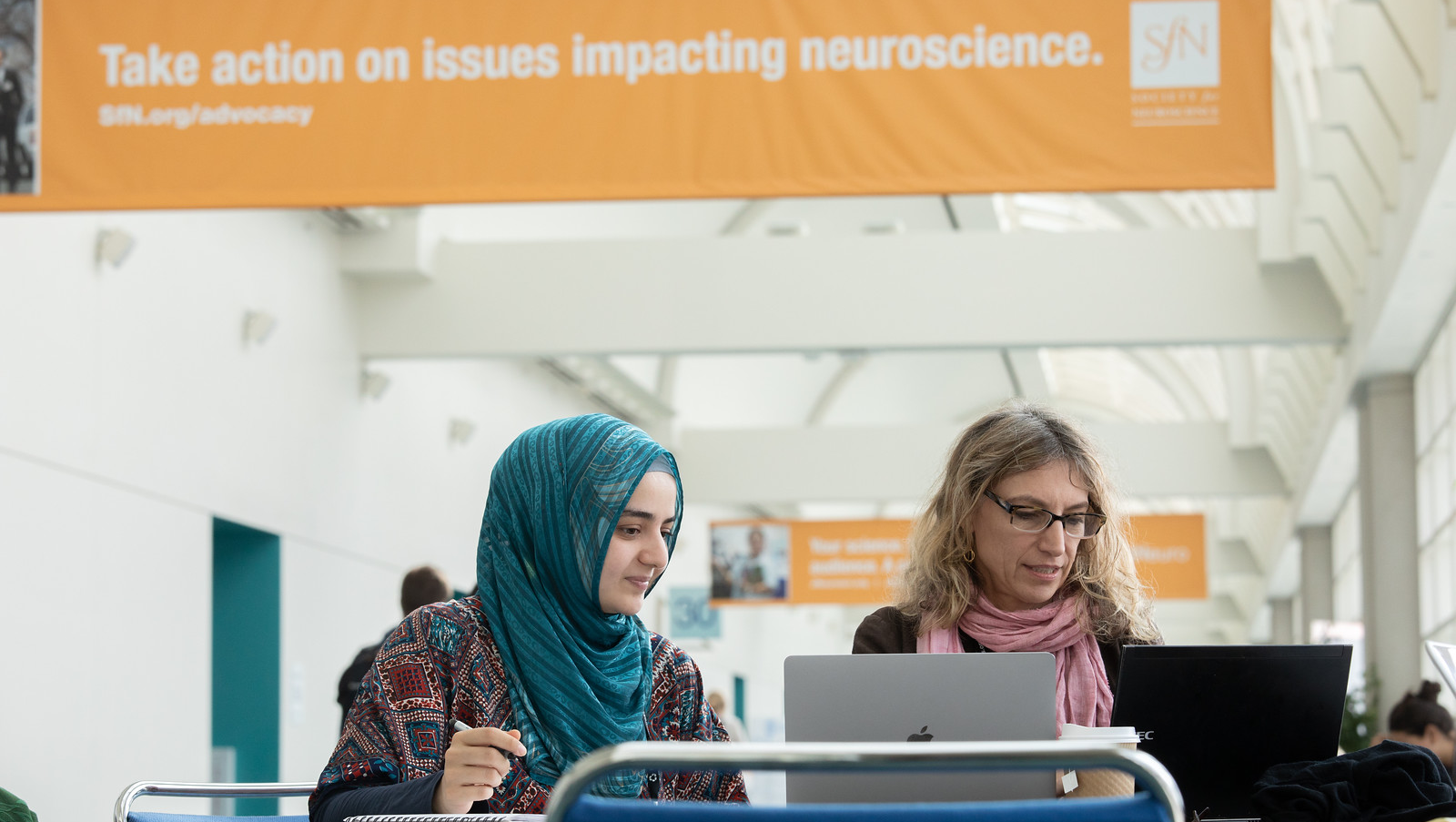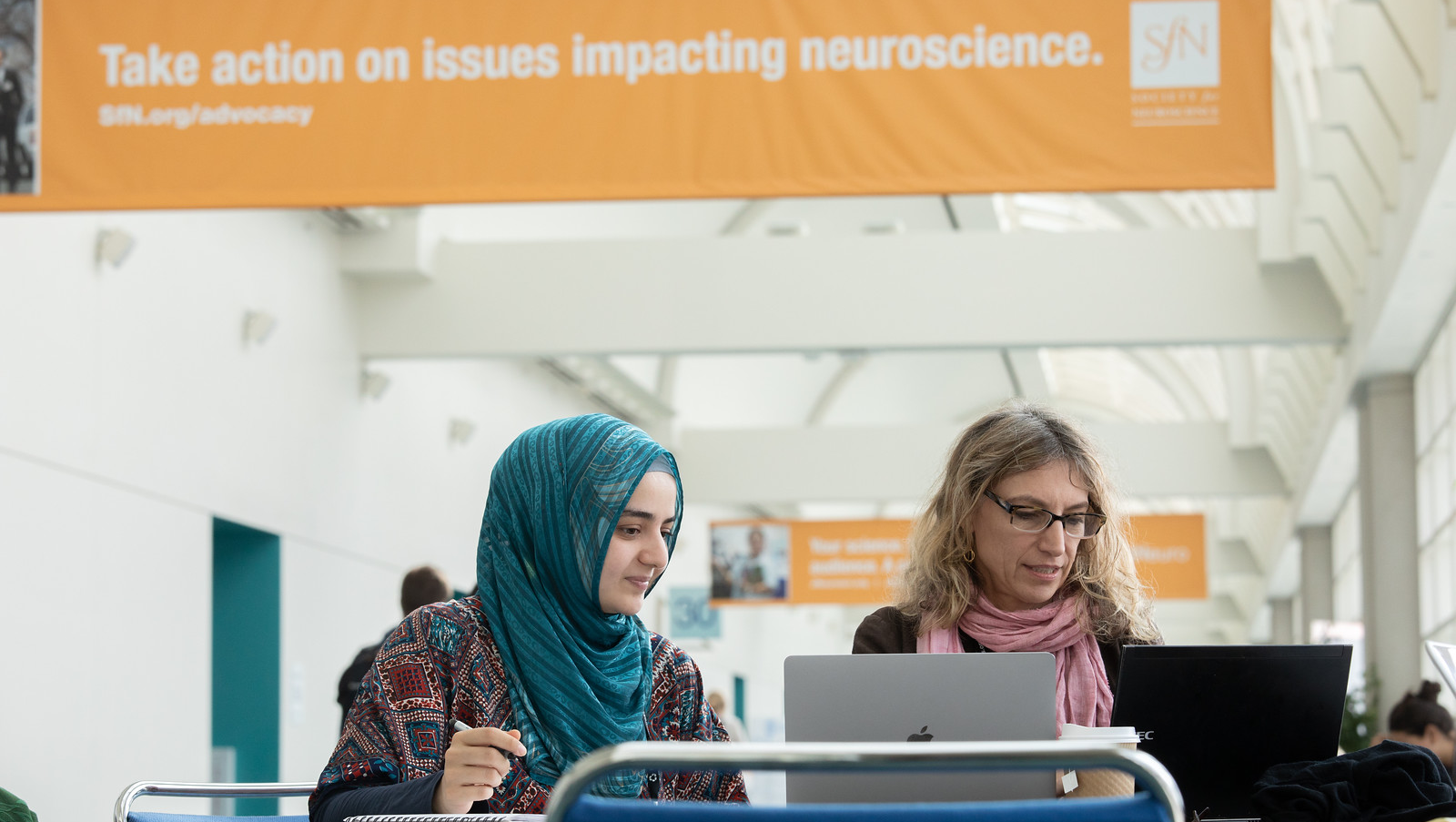 SfN's annual meeting is the largest gathering of neuroscientists in the world, bringing together nearly 30,000 neuroscientists each year to present their research, connect with experts, discuss new technologies, and collaborate with peers. Be a part of the biggest brain science event this year by attending Neuroscience 2019 at McCormick Place in Chicago, October 19–23.
With lectures by world-renowned scientists, returning high-demand sessions like the Dual Perspectives and Storytelling sessions, and the new Science Knows No Borders program, Neuroscience 2019 will celebrate the importance and recent achievements of collaboration between neuroscientists of all backgrounds, research interests, and career stages.
Read on to learn more about these exciting new programs, as well as the lectures, symposia, minisymposia, and professional development opportunities at this year's meeting.
Featured Lectures
Albert and Ellen Grass Lecture — Neural Learning Rules in the Cerebellum
Speaker: Jennifer L. Raymond
Stanford University School of Medicine
The cerebellum is known for its role in motor learning and is increasingly implicated in cognitive functions such as navigation, reward prediction, emotion, and social behavior. This lecture will discuss how the cerebellum's simple, repeated circuit architecture facilitates study of the functional links between events occurring at the molecular, cellular, circuit and behavioral levels as the cerebellum computes. By leveraging this analytical advantage, recent work has yielded new insight in the principles governing how neural circuits tune their performance through experience.
David Kopf Lecture On Neuroethics — The Neuroethics Frontier
Speaker: Nita Farahany
Duke University
How should we think about our emerging capabilities of accessing and altering human brains, particularly in light of advances in genome-editing technologies? This lecture will discuss the ethical, legal, and social issues arising from accessing and altering human brains. It will discuss consumer neuro-technologies, corporate interests in accessing and changing brains, and government attempts to do the same. It will also consider the current and future potential directions of these neuroethical issues, particularly in light of recent controversies about human genome editing.
Dialogues Between Neuroscience and Society
Speaker: Fei-Fei Li
Stanford Human-Centered AI Institute
Fei-Fei Li is professor of computer science and co-director of the Stanford University Human-Centered AI Institute (HAI). A pioneering expert in AI, inventor of ImageNet, and thought leader, Li challenges us to be the stewards of technology to serve humanity at its broadest and most diverse extent. Li has also been recognized as a 2016 Global Thinker by Foreign Policy and formerly served as the vice president of AI and machine learning at Google Cloud. In this session, Li will discuss the transformative potential that AI and machine learning pose for society from her unique perspective as a scientist and an ethical leader who advocates for future technologies to incorporate an understanding of how to augment, not replace, elements of the human experience.
History of Neuroscience Lecture — Exocytosis of Synaptic Vesicles: From Quantal Release to Molecular Machines
Speaker: Reinhard Jahn
Max Planck Institute for Biophysical Chemistry
At chemical synapses, depolarization-induced calcium influx triggers neurotransmitter release, a key step in synaptic signaling. In the 1950s, Katz found that transmitter release is quantal, and synaptic vesicles were discovered. In the following decades, recycling routes for synaptic vesicle and for neurotransmitters were worked out, but only since the mid-1980s are the molecular mechanisms governing the steps in synaptic vesicle cycling becoming known. The history of the field will be briefly reviewed, focusing on exocytosis and membrane fusion.
Peter and Patricia Gruber Lecture — Molecular Basis of the Circadian Clock in Mammals and Its Fundamental Role in Aging and Longevity
Speaker: Joseph S. Takahashi
University of Texas Southwestern Medical Center, Howard Hughes Medical Institute
The molecular basis of circadian clocks involves a 24-hour autoregulatory transcriptional network that is cell-autonomous and widely expressed. The suprachiasmatic nucleus acts as master pacemaker, but peripheral oscillators can respond to proximal signals. In addition to behavior and physiology, the clock gene network interacts directly with many other pathways in the cell. With respect to metabolism, the timing of nutrient consumption is critical, and restricting the timing of feeding has many health benefits that impact aging, health span, and longevity.
Presidential Special Lectures
From Base Pairs to Bedside: Antisense Modulators of RNA Splicing to Treat Neurological Diseases
Speaker: Adrian R. Krainer
Cold Spring Harbor Laboratory
Nusinersen, the first FDA-approved drug for spinal muscular atrophy (SMA), exemplifies a successful path from basic studies to an effective therapy. It is an antisense oligonucleotide (ASO) that modulates alternative splicing of SMN2, increasing functional SMN protein in motor neurons. After clinical trials in SMA infants and children, nusinersen was approved in 2016. This lecture will describe the development of this drug and its clinical impact. Using a similar approach, an ASO was developed to correct defective RNA splicing of IKBKAP, which causes familial dysautonomia.
The Cell Biology of the Synapse and Behavior
Speaker: Daniel A. Colón-Ramos
Yale University School of Medicine
When, where, and how synapses form underpins the architecture of the nervous system and behaviors. Synapses are both precisely assembled during development and flexible during learning and memory. How can synapses be both precise and malleable to facilitate both the assembly and function of the brain? This lecture will discuss new findings that link the fundamental cell biological properties of single synapses to how they underpin the emergent property of the nervous system: behavior.
Understanding Cortical Development and Disease: From Embryos to Brain Organoids
Speaker: Paola Arlotta
Harvard University
Much remains unknown regarding the cellular and molecular mechanisms governing mammalian brain development. Focusing on the cerebral cortex, in this lecture data will be presented on the mechanistic principles that control the developmental generation of cellular diversity in vivo and consider to what extent processes of cortical development can be replicated outside the embryo, within brain organoids. This lecture will also discuss the challenges of modeling human corticogenesis in the dish, and the promise that brain organoids hold to investigate complex human neurodevelopmental disease.
Wavefront Engineering: Illuminating the Neural Landscape
Speaker: Valentina Emiliani
Vision Insitut (CNRS, INSERM, Sorbonne University)
The revolution of optogenetics has opened perspectives in both fundamental and medical neuroscience unimaginable 10 years ago. This lecture will discuss how joint progress in the design of microbial opsins and in the shaping of wave fronts to precisely guide light through tissues is now bringing the field into a new phase of circuit optogenetics, where neural circuits distributed across several brain areas can be optically interrogated and controlled with millisecond precision and single-cell resolution.
2019 Storytelling Session

The Storytelling Brain: How Neuroscience Stories Help Bridge the Gap Between Research and Society
Chair: Susana Martinez-Conde
State University of New York Downstate Medical Center
This storytelling session brings together neuroscientific discovery, science reporting, and personal storytelling in a synergetic and memorable way. Broad-appeal lectures will interweave with personal stories to showcase the effective ways in which neuroscience researchers and journalists can collaborate, how storytelling provides a common ground between science and art, and the power of narrative to hold captive our storytelling brains.
Basic-Translational-Clinical Roundtables
The relationship between basic research and clinical practice is not one-way; in fact, observations made by clinical practitioners often illuminate new lines of inquiry and help to shape basic research. In these three roundtable sessions, clinician-scientists will discuss the latest in neuroscience technology and treatments.
Exoskeletons and Robotics for Neurorehabilitation
Organizer: Ann M. Spungen
Icahn School of Medicine at Mount Sinai
This session will include a state-of-the-art overview of the use of robotics and exoskeletons in populations with neurological impairments. Specific presentations will include upper body robotic interventions for functional and neurological gains, robotic interventions for children with neurological impairments, and lower extremity exoskeletons for over ground ambulation. The lower extremity exoskeletal-assisted walking data will be presented from a randomized, controlled clinical trial.
Gene Therapy in Neurological Diseases
Organizer: Asa Abeliovich
Columbia University
Gene therapy has advanced rapidly in the past five years, with technological advances and encouraging early clinical studies. This roundtable will focus on the opportunities and challenges as the field progresses, with a focus on the development of disease-modifying therapies that address urgent unmet needs of patients with neurological disorders. Discussion topics will include: technologies that are driving the field, with a focus on AAV platforms; leveraging advances in neurogenetics to identify validated therapeutic targets and patient subpopulations; rare monogenic disorders and clinical therapeutic strategies; the pursuit of gene therapy approaches for genetically complex disorders; and CNS region- and cell-selective approaches.
Mechanisms of Drug Addiction: A Translational Perspective
Organizer: Trevor W. Robbins
University of Cambridge
This roundtable will focus on translatability of basic research in animals to human research in addiction in order not only to understand neurobehavioral mechanisms of addiction, but also to define new strategies for discovery of clinical treatments, especially regarding the current opioid crisis. Topics to be discussed include the neural systems underlying addiction, neuronal adaptations occurring within those systems, how different drugs of abuse produce addiction, and the role of aberrant learning and vulnerabilities in the drive to addiction.
Science Knows No Borders
SfN has a long-standing commitment to facilitating global collaboration in science and recognizes the vital importance of working together to advance scientific discovery.
In keeping with that commitment, the Society, led by the Program Committee and supported by the SfN Council, has established the Science Knows No Borders program for Neuroscience 2019.
The program provides opportunities for scientists who have been denied a U.S. travel visa to share their research with their colleagues at Neuroscience 2019.
Discover More About Neuroscience 2019
Visit the Neuroscience 2019 website to learn more about registration, deadlines, and the new photo and recording policy. View up-to-date descriptions of lectures, symposia and minisymposia, Basic-Translational-Clinical Roundtables, SfN-sponsored socials, preconference sessions, professional development workshops, other sessions and events, and satellite meetings.