Neuronline Spotlight: Advocate to Raise the Profile of Brain Research
Advocacy creates a culture in which neuroscience is valued by more than those who study it. By working together, neuroscientists can raise the profile of brain research. Consult the following resources to learn what advocacy communication entails, ways to connect with any audience, and how you can get started in advocacy no matter your career stage or institution.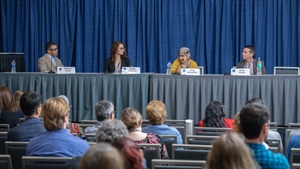 As a scientist, you see your science from beginning to end and are knowledgeable about its potential. Use that narrative arc to tell the story of how basic research becomes clinical applications that improve lives.
This recording of the Public Advocacy Forum at Neuroscience 2018 will teach you how to communicate the impact of your research in small ways and over time.
"The question is less if you're an advocate and much more how you will advocate as a scientist," says Bill Martin, of BlackThorn Therapeutics. "The transition from 'if' to 'how' determines whether or not you will be able to amplify your impact as a scientist and advocate intentionally."
"Our congressional leaders are meant to represent us, but without us speaking out, we can't be represented."

Kristin Anderson
PhD candidate
Lehigh University
This webinar explains how to nurture productive relationships with policymakers to achieve measurable outcomes for the duration of their time in office, and after.
"Is Congress reading the primary literature articles or the grants we write? No. How is Congress supposed to know what we are doing unless we let them know?" asks Kristin Anderson, a PhD candidate at Lehigh University. "Our congressional leaders are meant to represent us, but without us speaking out, we can't be represented."
Watch the webinar on demand to learn how you can shape science policy.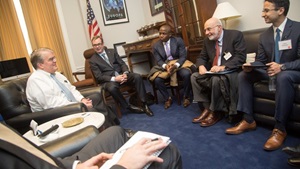 If you're new to advocacy or looking for ways to get involved in your community, read this article written by a former SfN Early Career Policy Ambassador (ECPA) for inspiration.
Oluwarotimi Folorunso, a postdoctoral fellow at The University of Texas Medical Branch (UTMB), writes of how volunteering, networking, and his involvement with the ECPA Program introduced him to opportunities in his community and enabled him to find new ways to advocate.
For example, "When I searched online for science education volunteer opportunities at the city level, I realized one of the Galveston Independent School District Board of Trustees members is a faculty member at UTMB," he writes. "I reached out to him, and he connected me with the City of Galveston Families, Children, and Youth Board," of which he became a member and served on the Education Task Force.
It's important for science advocacy to be a worldwide effort, but how scientists advocate may look different country by country.
"The first step is to get involved with your national society," says Lars Kristiansen, executive director of the Federation of European Neuroscience Societies, in a forthcoming Neuronline interview. "They'll have advocacy tools and programs available, and it'll be valuable to be a part of a group that knows how to prepare a message."
Watch this webinar on demand for more advice on how to make your advocacy message relevant within your own cultural context and for inspiration from success stories told by advocates around the world.
Neuronline, SfN's members-only learning and discussion website, helps neuroscientists to advance in their training and career and connect with the global scientific community year-round. See how SfN members advocated for neuroscience research in March during the 13th Annual Capitol Hill Day.