Neuronline Spotlight: Browse Collections of Related Resources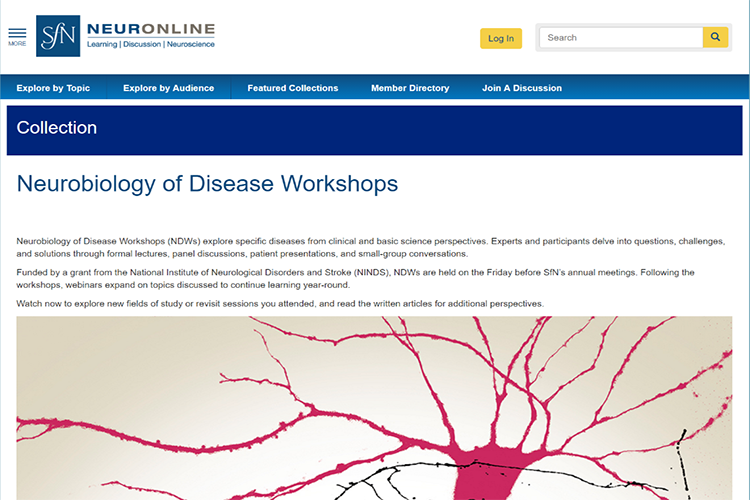 Are you looking for recordings of events from past SfN annual meetings? Are you interested in reading about the latest neuroscience research findings? Do you want to quickly browse resources on a specific topic?
Now you can with Neuronline's new featured collections. These collections compile videos, webinars, interviews, articles, and other resources on related topic areas so that you can more easily learn and share information.
Visit Neuronline to explore the collections below:
Neuroscience 2015 and Neuroscience 2014
Watch for the first time or revisit professional development workshops, the Celebration of Women in Neuroscience keynote speech, and other events from past annual meetings.
SfN Journals: Research Article Summaries
JNeurosci and eNeuro authors explain highlights from their studies and significance for the future.
Increasing Women in Neuroscience Toolkits
Increase awareness about issues facing women in academia with these toolkits and related resources that are adaptable for your use at your institution or local chapter meeting.
Neurobiology of Disease Workshops
Explore specific diseases from clinical and basic science perspectives through these recordings and read follow-up articles for additional perspectives.
Promoting Awareness and Knowledge to Enhance Scientific Rigor in Neuroscience
SfN has partnered with NIH and leading neuroscientists who are experts in the field of scientific rigor to offer this series of resources as a part of NIH's Training Modules to Enhance Data Reproducibility (TMEDR).
Training for Diverse Careers Paths
In this collections, PIs make the case for comprehensively developing graduate students' skillsets and supporting their pursuit of broad career development opportunities.
Meet-the-Experts
Listen to audio recordings of leading scientists providing a personal glimpse into their careers and mindsets as they work to solve complex challenges and navigate evolving field opportunities.
Neuronline Webinars
Watch SfN webinars featuring experts discussing highly relevant professional development and scientific training topics to gain new insights and advance your career.