50th Anniversary Events and Featured Panel Sessions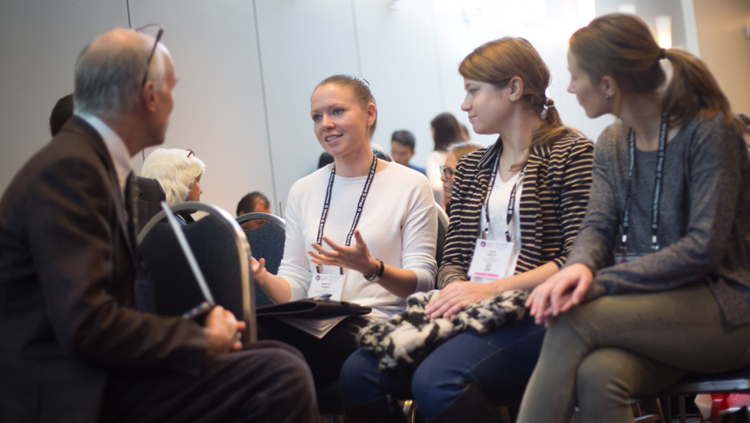 50th Anniversary Events
SfN is proud to celebrate 50 years of promoting scientific discovery and connection at its annual meeting. In 2019, SfN celebrated the 50th anniversary of its founding. The 2021 meeting marks 50 years of the SfN annual meeting. To commemorate these anniversaries, SfN has created special sessions showcasing the evolution of the field and the promising future.
Celebration of Women in Neuroscience Session
Moderator: Diane Lipscombe, PhD
Brown University
Panelists: Carmen Sandi, PhD; Shubha P. Tole, PhD; Nora Volkow, MD
Date & Time: Monday, November 8, 2021, noon–1 p.m. CST
The annual Celebration of Women in Neuroscience event honors female leaders in neuroscience. During this year's event, Diane Lipscombe, PhD will moderate a panel discussion featuring Carmen Sandi, PhD, Shubha Tole, PhD, and Nora Volkow, MD. The panelists will discuss their paths to success, the importance of gender equity for advancing scientific discovery, and the gaps in and potential solutions toward an inclusive, global neuroscience community.
Dialogues Between Neuroscience and Society
Life of a Neuron


Sandro Kereselidze
ARTECHOUSE
Date & Time: Tuesday, November 9, 2021, 3:30–4:30 p.m. CST
The SfN-ARTECHOUSE collaboration Life of a Neuron exhibit is an innovative approach to exploring the great mystery that is the human brain. As the co-founder of ARTECHOUSE, Sandro's experience with innovative, technology-driven storytelling acts as a bridge between art and science. This exhibit aims to immerse the audiences into the limitless possibilities of human creativity and imagination.
Dual Perspectives
Studying Human Neurodevelopment and Diseases Using 3D Organoids and Assembloids


Moderator: Marina Picciotto, PhD
Yale University School of Medicine
Panelists: Kristen Brennand, PhD; Sergiu P. Pasca, MD
Date & Time: Thursday, November 11, 2021, noon–1 p.m. CST
Induced pluripotent stem cells (iPSCs) are increasingly being used to understand the neuronal and glial phenotypes related to neuropsychiatric disease. Similarly, brain organoid models are providing information on neuronal development and how this is altered in disease, while assembloids are providing insights into cell-cell interactions and circuit assembly. This 50th Anniversary Dual Perspectives session will bring together experts in these two areas to describe and debate the relative contributions of iPSCs-derived neural cells, organoids, and assembloids.
Featured Lecture
History of Neuroscience — A New Department, a New Transmitter Compound, a War and a Movement — The 1960s to the Present of a Neurobiology Career


Edward A. Kravitz, PhD
Harvard Medical School
Date & Time: Thursday, November 11, 2021, 2:30–3:15 p.m. CST
No field called neuroscience existed in 1960. Only two substances, acetylcholine and norepinephrine, were accepted as neurotransmitters, and only overseas — in the U.S., prominent investigators believed that communication between nerve cells and targets was entirely electrical. Two international conferences concluded that GABA was not a transmitter compound, while a devastating war and a civil rights movement were disrupting American society. This lecture will describe the studies that completed the evidence required to demonstrate that GABA was a transmitter compound and discuss our responsibility as scientists in great societal events that divide the nation.
Storytelling Session
Oh Sh*t — Great Scientists Tell Stories About Their Greatest Failures


Chair: Megan H. Hagenauer, PhD
University of Michigan
Host: Stuart J. Firestein, PhD
Panelists: John F. Cryan, PhD; Andre A. Fenton, PhD; A. David Redish, PhD; Vidita A. Vaidya, PhD; Nora D. Volkow, MD
Date & Time: Wednesday, November 10, 2021, noon–1:30 p.m. CST
Science can be brutally difficult. The daily experience of science is often failure; most experiments fail, most grants are rejected, most job candidates never get an interview. Despite this, failure is rarely discussed in public and the long stumbling chain of failures that lead to scientific findings are hidden between the lines of publications. In this session, established scientists will tell their personal stories of crashing and burning: mistakes, fiascos, and deeply humbling moments.
Then and Now Panel
A Conversation About 40 Years on Different Routes to the Same Destination


Chair: Elizabeth A. Phelps, PhD
Harvard University
Panelists: Michael Gazzaniga, PhD; Joseph E. LeDoux, PhD
Date & Time: Monday, November 8, 2021, noon–1 p.m. CST
Michael Gazzaniga presented a lecture on split-brain patients at the Society for Neuroscience's first annual meeting in 1971. Several years later, Joseph LeDoux became Gazzaniga's PhD student. Their research together suggested that inner narrations underlie our conscious sense of unity as an organism. In the 1980s, Gazzaniga's work was pivotal in establishing the field of cognitive neuroscience, while LeDoux's research helped revive the study of the emotional brain. In this session Gazzaniga and LeDoux will discuss how their collaboration influenced their separate scientific paths, including their common interest in consciousness.
Then and Now Panel
What Makes a Model Nervous System?


Chair: Michael Yartsev, PhD
Panelists: Erich D. Jarvis, PhD; Catharine H. Rankin, PhD; Joshua Rosenthal, PhD
Date & Time: Tuesday, November 9, 2021, noon–1 p.m. CST
Model organisms have been essential for discovering how the nervous system controls complex behaviors. Organisms that can be interrogated with genetic, physiological, and behavioral approaches have been particularly important in neuroscience research. Recent advances in genetic tools have expanded the repertoire of tractable model organisms to include sensory specialists and species with fascinating, niche-specific behaviors. This featured panel will highlight the opportunities and challenges of establishing a new model species for fundamental neuroscience discovery.
Featured Panel Sessions
These interactive panel discussions encourage scientific collaboration and discussion.
Dual Perspectives
Can Artificial Intelligence (AI) Provide a Theoretical Framework For Understanding the Brain or Is It Too Far Removed From Physiology To Be Useful?
Moderator: Anthony M. Zador, MD, PhD
Cold Spring Harbor Lab
Panelists: Alona Fyshe, PhD; Cian O'Donnell, PhD; Sara A. Solla, PhD
Date & Time: Wednesday, November 10, noon–1 p.m. CST
The capabilities of Artificial Intelligence and deep learning systems have risen dramatically in the past decade, now rivaling human performance on certain tasks. This rise has provoked neuroscientists to ask if concepts from AI research can be adapted to inspire neuroscience research. However, one major issue is that current AI systems bear only cartoon similarity to real brains. Do all the physiological details matter? Or can we ignore them and proceed to map current AI theories to brains?
Dual Perspectives
What Does Dopamine Encode?
Moderator: Patricia H. Janak, PhD
Johns Hopkins University
Panelists: Ilana Witten, PhD; Wolfram Schultz, MD
Date & Time: Tuesday, November 9, 2021, noon–1 p.m. CST
The discovery of reward prediction error coding during reinforcement learning represents a dramatic success story in linking computational theory to experimental evidence. In addition to a teaching signal, recent studies report a diversity of information coding in tegmental dopamine neurons, including differential signals between dopamine release and cell body spiking for motivation and reward prediction error. Wolfram Schultz and Ilana Witten will directly address how these findings can be reconciled with traditional learning models of dopamine function.
SfN Members' Business Meeting
Chair: John H. Morrison, PhD
UC Davis
Date & Time: Wednesday, November 10, 2021, 1:30–2:30 p.m. CST
Join us at the Members' Business Meeting! Take advantage of this opportunity to share your thoughts and suggestions with the Society's leadership, learn more about SfN's latest accomplishments and how to get involved in SfN committees.