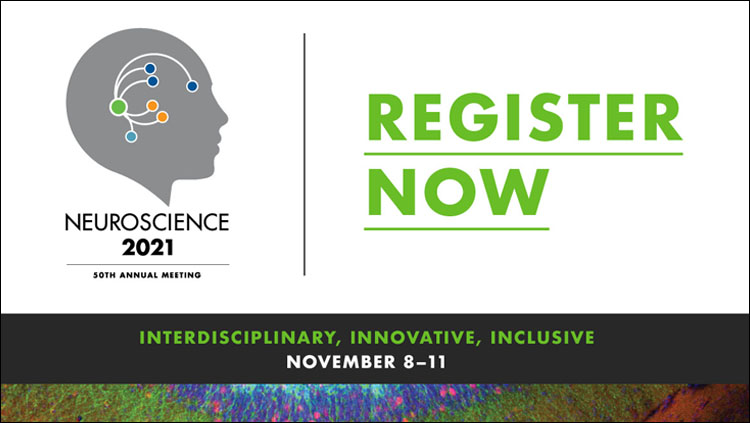 Registration is Now Open
Member and nonmember registration are open.


Registration for virtual access will stay open until November 30th, when on-demand access ends.
Before registering, verify access to your SfN account and reset your password if you have not done so already. Your username is the email address SfN has on file. If you have trouble accessing your account, call Member Services at (202) 962-4911 or email membership@sfn.org for assistance
Join SfN or renew your membership now for maximum savings.
Neuroscience 2021: Interdisciplinary, Innovative, Inclusive
The Society for Neuroscience will hold Neuroscience 2021 as a fully virtual experience, eliminating all in-person options that had been planned for McCormick Place in Chicago, Illinois.
Neuroscience 2021 will take place online November 8-11, 2021, with Preview Days taking place November 3-7, which allow attendees to preview posters as well as full symposia and minisymposia talks prior to the official meeting dates.
Reminder: Become a member of SfN to enjoy annual meeting and year-round benefits, including premium scientific content, training and professional development opportunities, and significantly reduced registration fees for Neuroscience 2021. Trainees and residents of developing countries can take advantage of additional discounts on both membership and annual meeting registration.
Neuroscience 2021 Registration Opening Dates
Bonus Day Registration

Tuesday, August 10, noon EDT

Member Registration

Wednesday, August 11, noon EDT

Nonmember Registration

Monday, August 16, noon EDT

Media Registration

Tuesday, August 17 noon EDT

Exhibitor Registration

Thursday, August 19, noon EDT