Gear Up for Neuroscience 2016: Science, Learning, Networking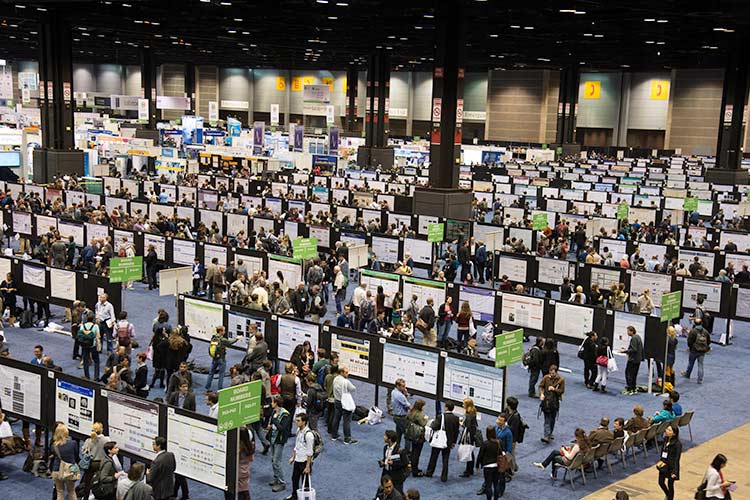 This year, more than 30,000 neuroscientists, clinicians, and advocates will convene for Neuroscience 2016 from November 12-16 at the San Diego Convention Center. Join your peers at SfN's 46th annual meeting to explore emerging science, hear from renowned experts, develop your career, and establish collaborations.
"I love coming to SfN," said Yin Li, a graduate student at the University of Pennsylvania. "There's just so much information here. You always learn something new, and the poster sessions are just incredibly informative."
In addition to the thousands of poster presentations, attendees can choose from lectures, symposia, and workshops covering the breadth of the field. Plus, a variety of networking opportunities connect neuroscientists from around the globe.
NPR referred to the meeting as "science's hottest hangout" where you can find "Nobel Prize winners, the director of the National Institutes of Health, and scores of researchers regarded as the international rock stars of neuroscience."
"What brings me back every year is the quality of research and being able to talk to people about what they are working, about what I'm working on, to get new ideas of how I can tackle some of the questions for my research," said Johnnie Moore-Dotson, a postdoctoral researcher at the University of Arizona.
Visit the annual meeting page to stay up to date on the latest developments and to sign up for Neuroscience 2016 e-Alerts. Abstract submission closes at 5 p.m. EDT on Thursday, May 5. Registration and housing opens for all SfN members July 13.
Presidential Special Lecture Series
SfN President Hollis Cline selected "Learning Across the Lifespan" as the theme for this year's Presidential Special Lecture Series. She has invited the following speakers to present their science:
Ann-Shyn Chiang, PhD, is dean of the College of Life Science, director of the Brain Research Center, and Distinguished Chair Professor of National Tsing Hua University in Taiwan. His research aims to understand how genes and circuits orchestrate complex behavior in Drosophila brain. His presentation is titled "Toward Whole-body Connectome in Drosophila."
Frances E. Jensen, MD, is professor and chair of the Department of Neurology at the Perelman School of Medicine at the University of Pennsylvania. Her research focuses on the maturational dependence and age-specific mechanisms of certain forms of brain injury and epilepsy. She will present "Neurobiology of the Adolescent and Young Adult Brain Reveals Unique Strengths and Vulnerabilities: Debunking Myths."
Lynne Kiorpes, PhD, is professor of neural science and psychology at New York University. Her lab investigates the neural mechanisms that underlie the development of adult levels of visual sensitivity in infants, as well as how the normal developmental process is affected by postnatal visual experience. Her lecture is titled "Limitations on Visual Development: Neurons and Behavior."
Sarah M.N. Woolley, PhD, is associate professor and chair of the Department of Psychology at Columbia University. Her research focuses on the neural basis and behavior of social communication, including how perception in the context of social communication is accomplished in the brain. She will present a talk titled "Tuning Auditory Circuits for Vocal Communication."
Meet-the-Clinician-Expert Session
On the morning of Saturday, November 12, SfN kicks off its inaugural Meet-the-Clinician-Expert session — an exciting scientific presentation led by a clinician-researcher. Attendees interested in translational clinical research will get a glimpse into the research techniques and motivating influences of the expert's career.
Basic-Translational-Clinical Roundtables
Another new offering for those interested in translational medicine is the Basic-Translational-Clinical Roundtables. These sessions will focus on three areas of translational research: neuroinflammation and psychiatric disorders, the impacts of medical marijuana, and critical topics in pain therapeutics. Designed for clinician-scientists at all levels, as well as students in MD and PhD programs involved in disease-oriented research, each roundtable features four speakers who will introduce their science and then hold a panel discussion.
Start Planning Today
These presentations are just a sampling of the many lectures, events, and courses planned for this year's annual meeting. The SfN annual meeting remains one of the best values in science, with deep discounts for members and opportunities to save on room expenses through the online roommate matching forum and other assistance. See you in San Diego!