Q&A: BrainFacts.org Editor Discusses Public Outreach Efforts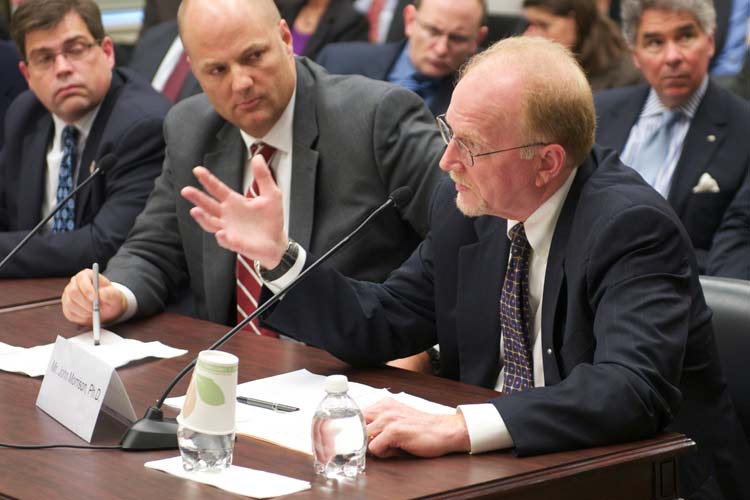 John Morrison is the editor-in-chief of BrainFacts.org and director of the California National Primate Research Center at the University of California, Davis.
For much of your career, and in several of your roles within the Society for Neuroscience, you have been very involved in efforts to inform the public about neuroscience, including what is known and unknown. Why do you think it is important to dedicate time and effort to public outreach?
I believe outreach with the public is essential to our work as scientists. As representatives of the field, we have a responsibility to inform discussion and debate about neuroscience to ensure that the public dialogue is accurate and appropriate. We also increase awareness and understanding by educating the public regarding the importance of our work and why it matters to society. When we provide information about advances in research, we inevitably connect with the many individuals whose families may be affected by brain diseases or disorders and assure them that progress is being made.
Our collective voice is also critical in discussions of the future of research, and we particularly need to communicate with legislators and policymakers who are making decisions about funding. If our science is funded through government dollars, we have a responsibility to report our research to the public whose tax dollars are supporting those revenue streams.
Throughout my career, my communications with lay audiences have provided some of my most rewarding experiences. There is an incredible thirst for knowledge about the brain, and I am constantly reminded of how fortunate we are to be involved in such an exciting endeavor.
You were involved in the advisory board that led to the development of BrainFacts.org, the public information initiative developed in 2012 by SfN, The Kavli Foundation, and the Gatsby Charitable Foundation. Why did these organizations feel it was important to have a website devoted to providing neuroscience information to the public?
SfN is very fortunate to have wonderful partners that are committed to the common mission of providing an educational resource about the brain and brain science for the public. These organizations all recognize the importance of sharing advances in brain research with lay audiences and ensuring that the information is fully vetted scientifically. Educating and engaging the public via BrainFacts.org helps promote understanding of science and the scientific method, inspires curiosity about brain science and health, and motivates future generations of potential scientists.
Another initial goal of BrainFacts.org, and one that continues today, is to dispel common "neuromyths" about the brain by providing factual, scientifically sound information to counter misinformation in the public sphere. As trusted, respected organizations, SfN and the founding partners are uniquely positioned to inform the public about the field and provide information about the biological foundations of neurological and psychiatric diseases that affect about 1 billion people worldwide. We hope that the website sparks dialogue about the progress, potential, and importance of neuroscience research.
What do you see as the mission of BrainFacts.org?
BrainFacts.org is a global platform for accurate, scientifically vetted information about the brain and nervous system. I see it as an authoritative source for people with a general interest in science, as well as educators, students, and even policymakers and news reporters who want to learn more about the brain. We have heard from people from across the globe who use materials on the site for purposes as diverse as teaching a high school biology class, preparing for public remarks, and advocating for science funding. The mission really is to share great science and to do so in a way that is interesting, engaging, and accessible to audiences everywhere. Some of the fastest-growing audience segments in recent years are in China, India, and the Philippines.
The site also shares information about the vital role that animals play in research and includes a special section on these issues made possible through a grant from the Klingenstein Fund, a supporting partner. Through descriptions of the roles that fruit flies, zebra fish, worms, mice, and a variety of other animals play in advancing understanding of brain mechanisms, processes, and disease, the site raises public awareness and understanding of why animal research is essential to furthering the scientific endeavor.
BrainFacts.org has just surpassed the three-year mark and has become more adaptable to audiences around the world. In your role as editor-in-chief of the website, can you talk about the site's evolution and your editorial vision?
Since its launch in 2012, BrainFacts.org has become a foundational element of SfN's public outreach efforts. It has seen significant growth in terms of content and traffic and now reaches more than 250,000 page views each month, with nearly 30 percent of traffic coming from mobile devices.
As incoming editor-in-chief, I immediately recognized the great work of my predecessor, Nick Spitzer, in putting together an engaging, visually compelling website. His great skill in science communication, along with a very talented and committed editorial board and outstanding staff members at SfN, set the site up for success. My goal is to build upon that solid foundation, taking advantage of opportunities to grow the model of effective engagement using strong content strategies.
Advances in communications technology and social media over the past few years have allowed the site to reach diverse audiences around the world and provide them with more eye-catching, interactive, and innovative content. We will continue to expand that content, taking advantage of new and exciting tools to enhance visuals, grow animation and video offerings, and allow for more information-sharing. For example, the site recently hosted its first webinar — produced in partnership with the White House Office of Science and Technology Policy and the American Brain Coalition — looking at advances in research made possible by the Brain Research through Advancing Innovative Neurotechnologies (BRAIN) Initiative. We are looking to expand these types of partnerships with organizations that can provide additional opportunities for new and exciting content types.
In recent years, neuroscience has been in the spotlight with global initiatives to advance understanding of the brain in the U.S., Europe, China, Israel, Japan, and other countries. Given this attention, is there a role for individuals in the field to play in educating and informing the public?
There is no question that this is an exciting time for neuroscience. These major projects around the globe give us great opportunities to let the public know about why our work is important. Near daily news reports about new technologies, new understandings, and even new hypotheses are raising the public consciousness about scientific research that will have great impact on human health and disease.
As neuroscientists, we can keep the momentum going about what's new and exciting about the field, and also what is fundamental in our understanding of the brain. We can speak to community groups, schools, educators, and even the press about what we do, why we do it, and why it matters to the public. One important way we do this every year is Brain Awareness Week, which will be held next year from March 14-20. SfN encourages members to participate in this annual global effort, sponsored by the Dana Foundation, to share the wonders of the brain with new and ever-expanding audiences.