For immediate release
2020 Gruber Neuroscience Prize
Jun 11, 2020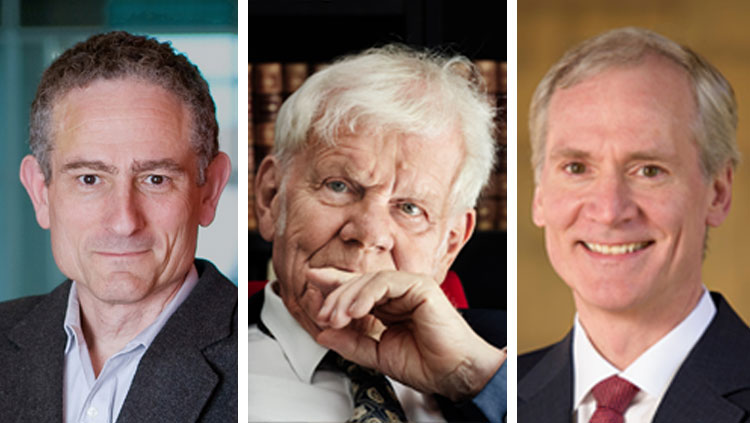 June 11, 2020, New Haven, CT – The 2020 Gruber Neuroscience Prize is being awarded to Friedrich Bonhoeffer, of the Max Planck Institute for Developmental Biology, Corey Goodman, of venBio, and Marc Tessier-Lavigne, of Stanford University, for their groundbreaking work in elucidating the molecular mechanisms that guide developing axons to their targets, a key step in the formation of neural circuits.
The prize, which includes a $500,000 award, will be presented to Bonhoeffer, Goodman, and Tessier-Lavigne on Oct. 25 at the annual meeting of the Society for Neuroscience.
"All three of these neuroscientists were instrumental in breaking open the field of axon guidance," says Dr. Susan Amara, NIMH Scientific Director and chair of the Selection Advisory Board to the Prize. "Their discoveries have fundamentally changed our understanding of how neural circuits are formed and have led to greater insights into a wide range of neurological disorders and injuries."
Bonhoeffer developed innovative and elegant assays that made it possible to isolate the molecular cues that enable the development of an orderly projection from the eye into the brain, a so-called topographic map. Using these assays, he demonstrated – unexpectedly at the time – that guidance is driven not only by attractive but also repellent signals. He then went on to identify key repellent molecules and other guidance mechanisms. Using insects as models, Goodman pioneered the use of genetic screens, identifying different families of signals, their receptors, and regulators that guide growth cones across specific choice points and to their targets. In his groundbreaking research, Tessier-Lavigne identified multiple guidance mechanisms in mammals and showed how they collaborate to "wire up" the spinal cord. Together, the parallel and often collaborative work of Goodman and Tessier-Lavigne helped underscore that the attractive and repellent molecules guiding axons during development are highly conserved throughout the animal kingdom, a transformative discovery at the time.
"Taken together, the work of these three scientists comprises one of the greatest success stories in developmental neuroscience," says Joshua Sanes, Professor of Molecular and Cellular Biology and Director of the Center for Brain Science, Harvard University and member of the Selection Advisory Board to the Prize. "It's a great honor to be awarding them the 2020 Gruber Neuroscience Prize."