JNeurosci Mobile App Provides Easy Access, Optimized for Smaller Screens
Nov 08, 2013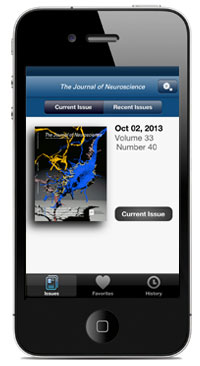 Use your mobile device to access The Journal of Neuroscience app, available for iPad, iPhone, and Android. Install now to easily download and share content from the six most recent issues.
The free, interactive JNeurosci app allows users to search abstracts and full-text articles, complete with side navigation and internal hyperlinks (such as linked article references) that load external websites inside the app. The app makes it easy to browse images, article sections, and references in text and downloadable PDF formats.
The app optimizes The Journal for smaller screens on mobile devices, making it easier to navigate, browse and read with full-screen text options and font size controls.
The Journal of Neuroscience Website Redesigned
On the website, www.jneurosci.org, readers can access all archived material of the most highly cited journal in the field within a new format that provides easier navigation and a more functional search.
The more user-friendly navigation allows readers to email articles, add alerts, download citation manager, request permission, and share research with colleagues. Easily connect with researchers and authors with features that display contact information, list additional articles in The Journal, and work in outside sources, such as Google Scholar and PubMed.