Undergraduate Brain Awareness Travel Award
Submissions Open: Jun 19, 2019
Submissions Close: Aug 1, 2019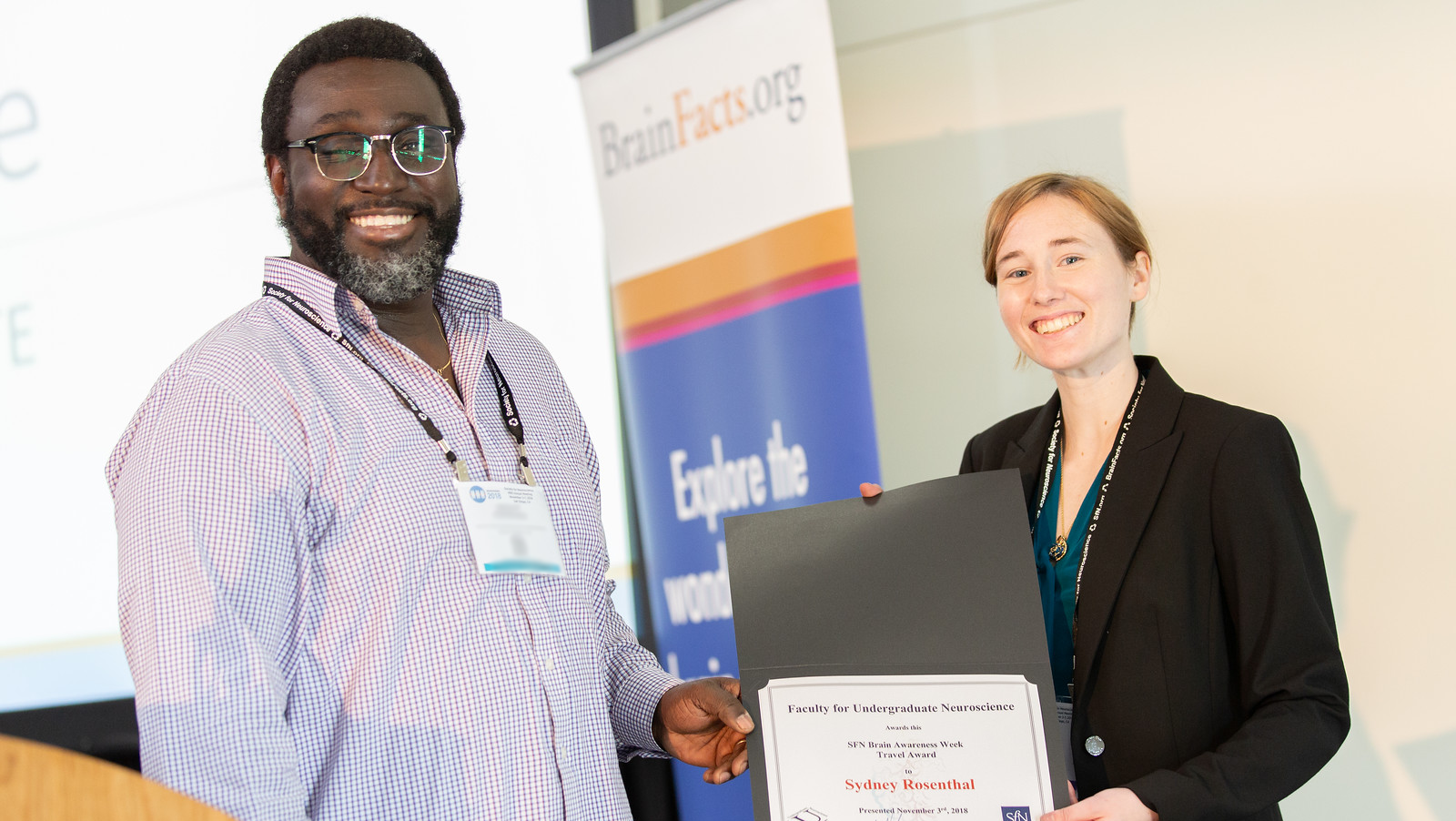 Sydney Rosenthal (right) from Saint Louis University receives the 2018 Undergraduate Brain Awareness Travel Award.
SfN and the Faculty for Undergraduate Neuroscience (FUN) cosponsor a travel award to honor an outstanding undergraduate student active in neuroscience education and outreach. The award includes complimentary registration to the SfN annual meeting and a $750 stipend to offset travel expenses.
Applications are evaluated on:
The importance, quality, and originality of the Brain Awareness work.
The student's contribution to the Brain Awareness project.
The candidate's potential as a scientist or a science educator.
How to Apply
Interested applicants should visit the Faculty for Undergraduate Neuroscience (FUN) award website for more information.
Eligibility
Qualifying neuroscience education and/or outreach work may have occurred at any time during the year, not necessarily during Brain Awareness Week.
Students who have graduated are eligible if the Brain Awareness project was done during their undergraduate years.
All applications must be sponsored by a dues-paying member of the Faculty for Undergraduate Neuroscience.
Past Awardees
2018: Sydney Rosenthal, St. Louis University
2017: Carin Papendorp, Brown University
2016: Ashlyn Brown, Westminster College
2015: Ellen Emery, Azusa Pacific University
2014: Alexandria R. D'Ambruoso, University of New England
2013: Ashleigh Gonzales, Arizona State University
2012: Sasha Halasz, Moravian College
2011: Daniella Brutman, Lake Forest College
2010: Tayler O'Connell, Ohio Wesleyan University
2009: Allison Batties, Lycoming College, and Michael Miller, Binghamton University