Suzannah Bliss Tieman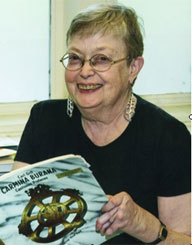 Highly respected neuroanatomist Suzannah B Tieman, 63, died on Oct. 15, 2006 after a 40-year battle with arthritis. Her research centered on the effects of experience on the development of connections in the visual system. She was fiercely independent and refused to let her problems and disabilities define her or limit her life's work.
Tieman grew up near Albany, N.Y., and received her BS in psychology from Cornell and a PhD in psychology from Stanford. After postdoctoral work in neuroanatomy at both CalTech and UC San Francisco, Tieman became a research professor in neurobiology and biological sciences at the University at Albany (SUNY), where she worked from 1977 until her death.
Her research, supported by grants from both the National Eye Institute and the National Science Foundation, resulted in numerous publications. Tieman was best known for her painstaking analysis of the effects of visual deprivation on geniculocortical synaptic terminals and cortical dendritic morphology. She was uncompromising in her pursuit of scientific excellence and helped train generations of biologists at UAlbany. Tieman served as a role model for women entering science, and she was much valued by her colleagues for her sage advice, razor sharp intellect, and her editorial help in writing grants and papers.
Blessed with an active mind, she enjoyed reading, music, and the NY Times crossword puzzle. She sang for the University Chorale and Albany ProMusica, and was also an avid bird watcher. She is survived by David, her husband of 37 years, and by the many undergraduate and graduate students that she helped shape.