Hank Yamamura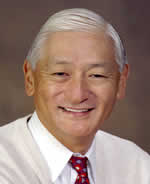 Henry I. "Hank" Yamamura passed away at his home in Tucson, AZ September 4, 2008 after a long, valiant battle with cancer. Even while battling cancer he continued his research and scholarly activities.
Hank was born in Seattle in 1940. He obtained a B.S. in Pharmacy at the University of Washington, continuing on for a Ph.D. in Pharmacology with Aki Horita in 1969. He was a Captain in the Army Medical Service Corps (1970-1973) after which he Post-Doc'd with Sol Snyder at Johns Hopkins. He joined the Pharmacology Department at the University of Arizona College of Medicine in 1975, spending the remainder of his career there. He held joint appointments in Psychiatry and Biochemistry. In 1997 he was named Regents Professor in the College of Medicine.
Hank pioneered radioligand binding assays, contributing valuable knowledge about neurotransmitter transporters and muscarinic, opioid and other G-protein-coupled receptors, publishing more than 600 articles and editing 10 books over 40 years. His work is cited more than 14,000 times in the scientific literature. He trained and mentored more than 100 students, fellows, and visiting faculty, including 57 post-docs and 18 Ph.D. students. He taught Medical Pharmacology and Neuroscience. He served many committees of professional societies and was President of the Western Pharmacology Society, 1987-1988. He was Associate Editor of Life Sciences (1975-1989), Editor (1990-1992) and Executive Editor-in-Chief (2002-2005).
Hank received numerous awards including the prestigious American Society for Pharmacology and Experimental Therapeutics (ASPET) Award for Experimental Therapeutics in 1995.
Despite his fame, Hank was a humble person who fondly quoted Walt Disney: "If you can dream it you can do it, it all started with a mouse."
Above all Hank was a great humanitarian who was loved by his students, fellows and colleagues, who were his highest priority. "He was always there for you." said long-time collaborator Victor Hruby. "He was fun to work with because things got done. He had a habit of always doing the right thing."
"Hank was a great mentor and friend." said Lin Mei, Ph.D. 1989, Professor at the Medical College of Georgia. "I was in a complete cultural shock when I arrived from China. He was very patient with me and always positive."
"Hank always had a wonderful rapport with students both in the classroom and as mentor." Said Josephine Lai, a 1988-1990 post-doc, now a Professor of Pharmacology at Arizona. "He treasured every one of them."
"I measure my life before and after Hank Yamamura." said Bob Speth, an early post doc, Professor of Pharmacology, University of Mississippi. "I trace all the successes in my career back to the inspirational guidance Hank gave me."
"He generously shared ideas, insights, and credit with collaborators and associates to an extent seldom seen in this competitive environment." said Sam Enna, who co-edited several books with Hank. "While Hank will be greatly missed by his many friends and associates around the world, his greatest legacy is the devotion of his students and their continuing contributions to medical research."
"The Hank Yamamura Endowed Fellowship in Pharmacology" to support Graduate Student training in Pharmacology at the University of Arizona has been established. Gifts can be made to: UAF/Yamamura Endowment, UA College of Medicine, Development Office, P.O. Box 245018, Tucson, AZ, 85724-5018 or by contacting the Office of Development, 520-626-2827, health@email.arizona.edu.